Invitation to a March was first performed on Broadway in 1960, with cast members Jane Fonda and Celeste Holm. The play later became a TV movie in 1972 with Blythe Danner and Danny Bonaduce.
In 1960, Howard Taubman of the New York Times wrote:
Under a mantle of fantasy Arthur Laurents has fashioned Invitation to a March into a crisp, wise-cracking, Broadway-style comedy.

The new play, which opened Saturday night at the Music Box, takes its stand against conformity, and the conformists are routed brightly if glibly. Nearly every character is an aphorist, which enables the author to put on a bravura display of pungent wit. The price he pays for this self-indulgence is that the play often become a conversation piece.

Invitation to a March is in the form of an adult fairy tale. Its initial premise is a sleeping beauty whose soporific is the conventionality of a safe, commonplace world.

– Howard Taubman, The New York Times, October 31, 1960
Invitation to a March takes a stab at conformity – American conformity. The play takes place at a beach house on the south shore of Long Island. The main character, Norma, is about to get married to Schuyler Grogan (actor Matt Benincasa), a man who represents Yankee "conformity" – he has a good corporate job and they have plans for three children and a house in Connecticut. Meanwhile, Norma's mother, Lily, represents southern conformity of social status, family, lineage, American tradition, and the military. The play's three matriarchs, Camilla Jablonski (actress Meg Dooley), Deedee Grogan (actress Sally McCarthy), and Lily Brown (actress Jennifer Young) are all skillfully played and have the crisp, wise-cracking style, that you would find in an old Hollywood classic movie.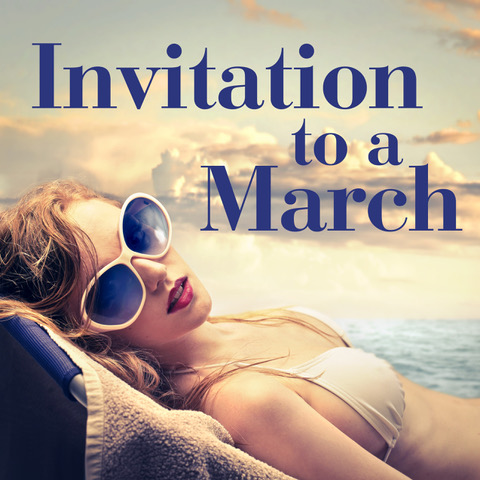 Norma falls asleep whenever they start talking about Connecticut.
She is woken up with a kiss by a "prince", the local plumber. The plumber, Aaron (actor Jerry Byrne), and the plumber's mother, Camilla Jablonski, represent the "road less taken". The Jablonskis live on the beach and sunbathe naked daily.
Twenty-two year old, virginal, Norma (actress Leigh Fisher-Troche), must determine which life to lead. (After seeing the show, you may understand why Jane Fonda took this role.)
Actress Leigh Fisher-Troche plays a believable accidental and sometimes confused feminist.
There is a love triangle with the father, Tucker Grogan (actor Mark Wilson) and Norma's brother, Cary Brown (actor Noah First-Huneau) for some comic relief. As NY Times' Howard Taubman noted, there are plenty of aphorisms (definition: a terse saying embodying a general truth, or astute observation, as "Power tends to corrupt, and absolute power corrupts absolutely" – Lord Acton). Aphorisms such as, "Happiness is 50% knowing what you want, and 50% doing what you want."
In Acts Two and Three the plot speeds up, truths are revealed, and tempers flare!
I could not help but thinking of Ibsen's A Doll's House while watching this play. With a little research, I discovered that the the main character in A Doll's House, Nora, is just one letter away from the main character, Norma, in Invitation to a March. I do not think that's just a coincidence. Both plays, written by men, highlight the social options of women in 1879 Norway and 1960 Long Island. Much has changed over the years, but much has not.
This is the forty-eighth season of the Ghent Playhouse. In the Director's Note, J. Peter Bergman writes, "A good play should not be allowed to disappear the way this one did…With a cast as fine as ours, the delights and discreet secrets in this play have emerged beautifully."
The music was written by Stephen Sondheim.
I think if Jane Fonda saw this production, she'd be proud, and happy to see that this play is getting some attention.
The play runs the first three weekends in February.