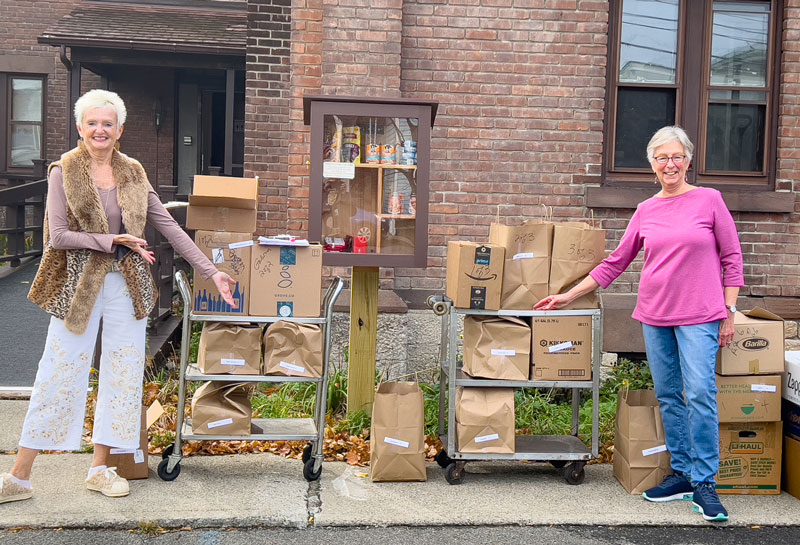 Karen Rostang and Jan Wallace
Over seventy volunteers including cooks, distributors, drivers, and texters gathered at Hudson's Christ Episcopal Church on November 12th, to meet one another, share experiences, and hear about the Columbia County Recovery Kitchen's (CCRK) plans for the future.
Established in 2020 by Carole Clark and Pam Kline, CCRK was founded to address food insecurity throughout Columbia County. A small group of cooks and drivers began delivering one hundred meals a week to recipients referred by county social service agencies, including Head Start and the Department of Social Services. Currently, over 1000 meals are delivered to twenty-six towns and the city of Hudson by ninety volunteers "We are now a solid organization," says founder Carole Clark, "addressing the continuing issue of food insecurity among our county's residents."
The meals, prepared by chefs Jamie Parry and Tommy Carlucci, use food donated by many of the area's farms and food stores. Feed Hudson Valley and Long Table Harvest gather contributions from participating farms and deliver direct to the church kitchen in which food is prepared. "For many of the recipients who are homebound or elderly," says Pam Kline: "CCRK is providing more than a meal. It offers a chance for conversation and the acknowledgement that they are being cared for and noticed."
As successful as CCRK is, it is always in need of and welcomes volunteers. Click here for more information.
Text and photos by Columbia County Recovery Kitchen