In case you didn't know, I'm gay. Not just a little bit gay, but drag-queen-planning-pride-parades gay. Yet, I do not hold a rainbow-colored, unicorn-scented candle to the latest production at the Mac-Haydn – Xanadu. By the show's own admission, it is "children's theater for 40-year-old gay people."
Did you see the 1980 movie, Xanadu starring Olivia Newton-John? Do you remember any of it? Probably not, it did not win any Oscars… However, the soundtrack was amazing. You don't need to watch the movie to understand the play. (However, I would recommend that you watch the 1981 version of "Clash of the Titans", to better appreciate the references to Laurence Olivier, Maggie Smith, Ursula Andress and Claire Bloom.)
Here's a little Greek mythological backstory: the Greek God Zeus had nine daughters with the goddess of memory, Mnemosyne – they became the nine muses – or demi-goddess who inspire artistic creativity in mortal humans. There are seven "sister" muses on stage – it's all very gender fluid. Two of the muses, and one nipple, take the show to a level of gaiety that drag queens can only aspire.

One of the muses, Clio, comes down to earth. She chooses Venice – Venice, California, not Venice, Italy – in the 80s, not the 1780s, but the 1980s. She "disguises" herself with a different name, Kira, leg warmers and and Australian accent!
Mayhem ensues. There's love, a curse, and roller-skating. The evil sisters were my favorite – who doesn't love fun, sassy villains?
As a Gen Xer, I knew all the songs – I'm Alive, Suddenly, Magic, Evil Woman – you've heard them all before. The colorful costumes and dance routines are fantasmic! There's a incredible tap dance routine by performer Tezz Yancey – based on the movie's performance by Gene Kelly (what was Gene Kelly doing in some bizzarro film about a roller disco in 1980?!).
The multi-talented lead actress, Kira/Clio, played by Lucy Rhoades, can belt out a song, dance up a storm, roller-skate around a small stage, and squawk out an Australian accent with gusto! The male lead, beefy and hunky, Andrew Burton Kelley plays the 1980 Californian artist Sonny Malone – his mortal character and simple ways offset the scheming muses.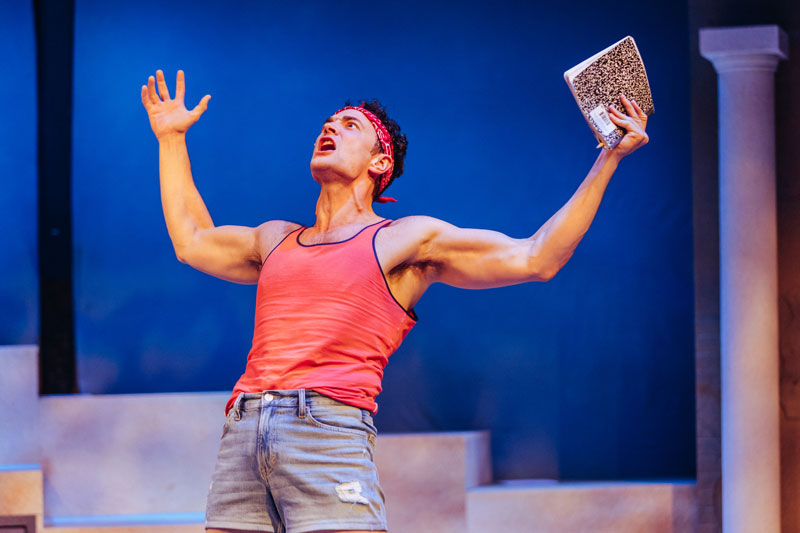 They end up at Mount Olympus, via Pegasus. Kudos to the set and costume designers, Kevin Gleason and Angela Carstensen, for a scene filled with life-sized Greek mythical characters, such as a white centaur with gold glittering hooves.
Singing, dancing, sets, costumes, and comedy – it's all there at Xanadu – a gift from the Gods! Sweeter than ambrosia, Xanadu is a delight!
Like a chalk drawing on the sidewalk in the rain, Xanadu reminds us that art, and life, can be fleeting. Enjoy it now, and go see this show. Don't walk – skip jauntily – or better yet, roller-skate to the Mac-Haydn and get tickets. You DO NOT want to miss this show! Yes, it's playing until October 2nd, but still, get your tickets now.
If anyone wants to go, I will go with you. I want to see this show at least three more times before it's over. I thought I needed a late summer trip to Provincetown, but why would I leave Columbia County now when Xanadu is just twenty minutes away!