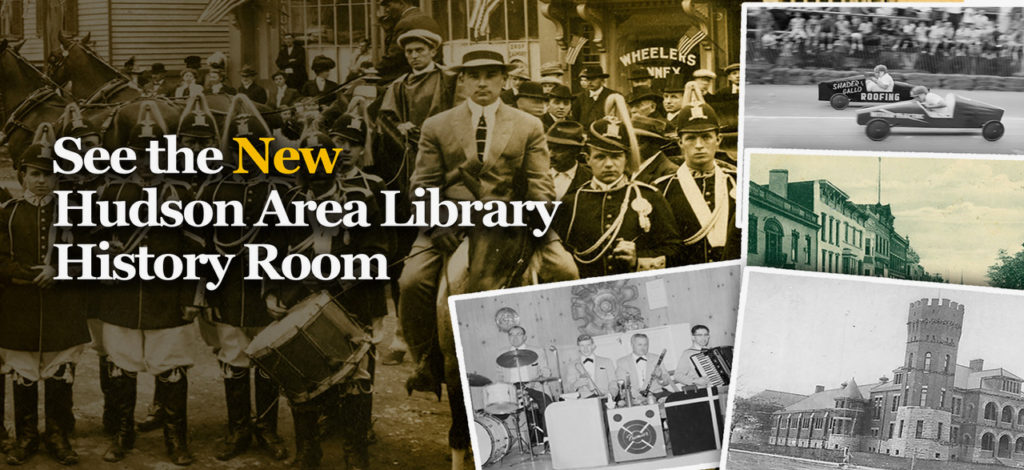 Learn about the History of Hudson and Give the Gift of Hudson's History!
Locals, transplants, and visitors alike are all fascinated with the history of Hudson. With the planning of the city by a group of merchants and whalers from their homes in Rhode Island and Massachusetts; the seedy stories of Diamond Street brothels, Legs Diamond and other characters; the historic shad fishing shacks at North Bay; and Hudson's decline and rise time and again, the city has a colorful history and lessons for all of us.
Responding to the ever increasing interest in the history of Hudson and the surrounding area, the popularity of its local history talks, and the increasing use of its archives, the History Room of the Hudson Area Library has launched its own website: historyroom.hudsonarealibrary.org.
"Hudson is hot now but in many ways, it has been a fascinating place for more than two centuries," said Gary Sheffer, library board trustee and chair of the History Room Committee. "There have always been people who saw Hudson's beauty, its gritty and friendly nature, and its potential. The history of the city has ups and downs and unexpected outcomes. Our website will give visitors an idea of the valuable collections we have about Hudson's history including photographs, oral histories, historic maps, city directories from 1851, yearbooks from 1914 – 2021, news clippings, articles, books, pamphlets, physical items, and much more."
In addition, there is an online shop on the website with archival quality copies of historic maps, aeroviews, and posters of Hudson; sets of night-scene and Warren Street postcards and a set of note cards of prominent buildings from an 1871 map of Hudson; tote bags and tea towels with a line drawing of the historic Armory by local artist and musician Tony Kieraldo.
"Consider giving the Gift of Hudson's History this holiday season! Your friends and family will receive unique items and you will be funding the work of preserving and making accessible to the public the history of the Hudson area", stated Brenda Shufelt, History Room Coordinator, "Our current projects include developing online websites for our oral history collections, digitizing City of Hudson directories from 1851 – 1940, and archiving the Arthur Koweek Urban Renewal Papers. All our funding is from grants, donations, and History Room Shop sales. We have a federal grant for our oral history project, and AmeriCorps workers for our directory digitization, but are hoping to fund our latest archiving project through our holiday sales."
The Hudson Area Library has a dedicated History Room whose primary mission is to acquire, preserve, and make accessible the history of the library's service area, which includes Hudson, Greenport and Stockport. These holdings are maintained, preserved, and protected in a secure, conservation-quality repository that is open to the public by appointment only at this time, due to concern for the health and safety of our patrons. For an appointment contact Brenda Shufelt by email: brenda.shufelt@hudsonarealibrary.org or phone: 518-828-1792 x106. Online research requests for information on local history are available on the History Room website. This is a free service to the public.