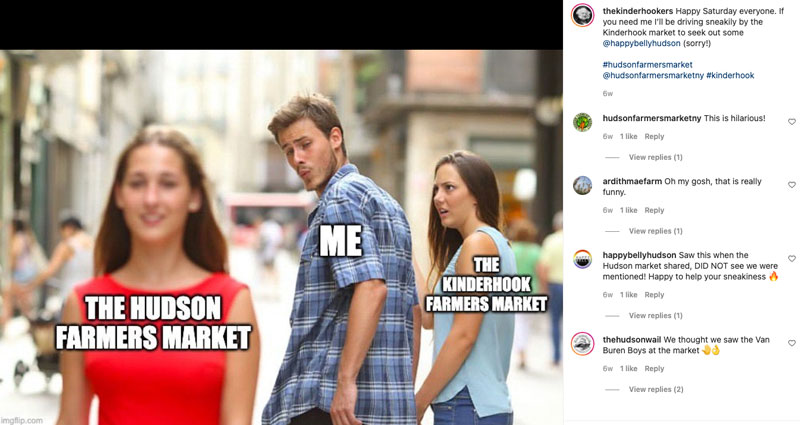 All of us have so many questions for "TheKinderhookers" – a new Instagram meme account that helped put Kinderhook on the internet map. This meme account is the most exciting thing to happen to Kinderhook since Martin van Buren's "automatic" coffee maker. (Watch the video below at the bottom; it's actually very funny.)
I "met" TheKinderhookers one day at the Hudson Farmers' Market. I agreed to do a little write-up on Trixie's List, and I requested (jokingly) some Cosmic Donuts and a Samascott apple. Someone in a hoodie with a Martin van Buren mask approached my cookie table, and without talking, handed me a box of Cosmic Donuts and a Samascott apple. It was very eerie, like Columbia County's version of "The Plague".
And yes, you should follow us both on Instagram. Links in the interview below: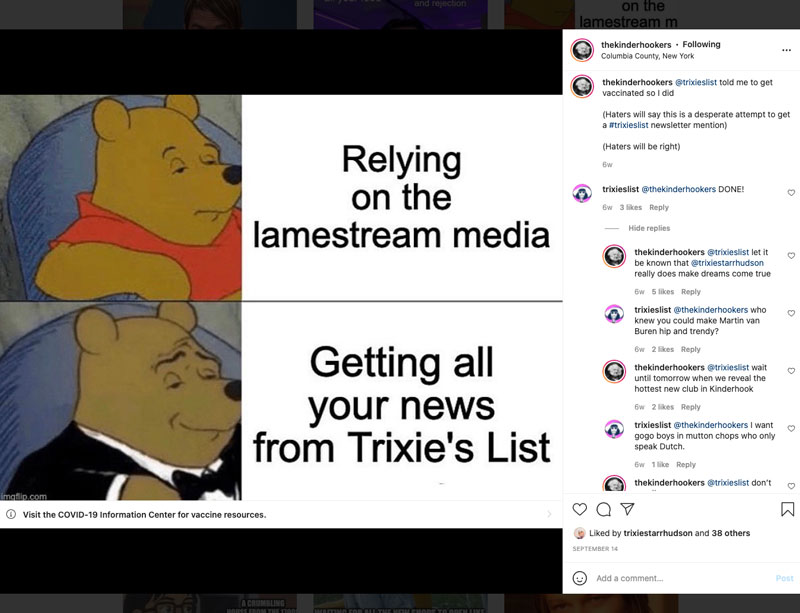 TheKinderhookers: So – first and foremost it's an honor to be on the show. I grew up watching your work and I'm the biggest fan. Incredible to be here on the Dick Van Dyke show.
TrixiesList: First of all, WHY? Why do a meme account about Kinderhook?
TheKinderhookers: Well, I love Kinderhook. It's a magical, kind community to be a part of. And I wanted to celebrate it in a fun way that admittedly also pokes fun at some of the weird eccentricities we have here. For example: we love talking about how old our houses are and what's currently wrong with them.
Plus – this is all a lead up to my mayoral run. Anonymous Meme Account for Mayor, 2022.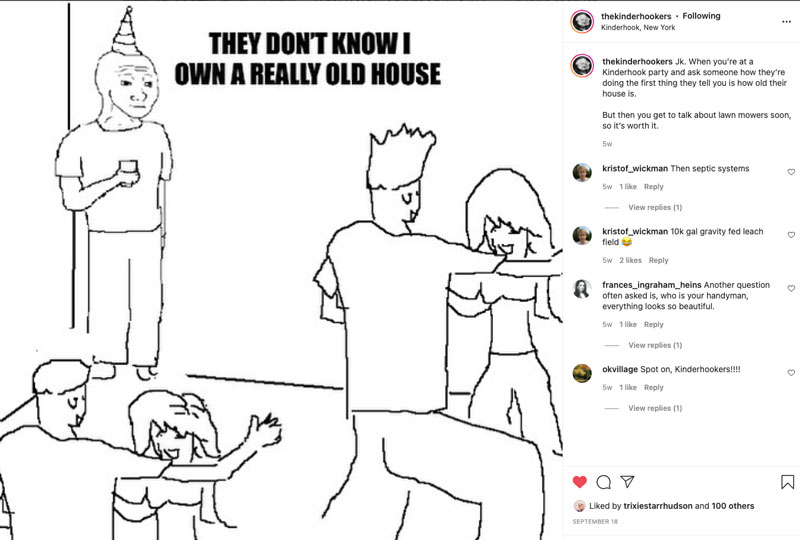 TrixiesList: You are very active on the meme account, does it impact other areas of your life? Or, do you have other areas of life outside of the meme account?
TheKinderhookers: Oh yeah. My marriage fell apart. My boss fired me. My kids won't talk to me. I'm not allowed at Broadstreet Bagels. My house is from the 1700s and needs new windows and boy is that expensive. (That last one is unrelated but we can't not mention these things when someone tries to engage us in conversation)
I'm joking. Believe it or not folks, to post a meme or two a day isn't a full-time job. But a fun side effect has been cultivating a community of 1200-some-odd people who really like kidding around about this place we love so it's a joy to engage with them.
TrixiesList: Is there hope that other meme accounts for Columbia County, like the Hudson Wail, and HillsdaleHamlet will maybe have a BBQ or cook out together?
TheKinderhookers: We actually have a whole groupchat, the Columbia County Meme Coalition (really we do). They're a terrific group of people. Really inspiring. Did you know the Hudson Wail is real life Rip Van Winkle? The Hillsdale meme account is actually a collective of super-intelligent monkeys on photoshop. And the Claverack one is Saturday Night Live's Bill Hader.
TrixiesList: Why are you anonymous? The account itself is fairly benign. Do you not want to be famous? Get a free cup of coffee? Have you been out and overheard people talking about your meme account?
TheKinderhookers: I think that half the fun of the account is accusing your friend, neighbor or partner that they are, in fact, the Kinderhooker. It's like a town-wide murder mystery game – who is it? We might even develop t-shirts that read "I am the Kinderhooker" so we can get a "I am Spartacus" thing going.
I've had loved ones accused. I've accused loved ones myself just to see them blush. I've also been accused a few times but no one would suspect the village librarian of doing it. OH NO! I ruined my anonymity. Oh well.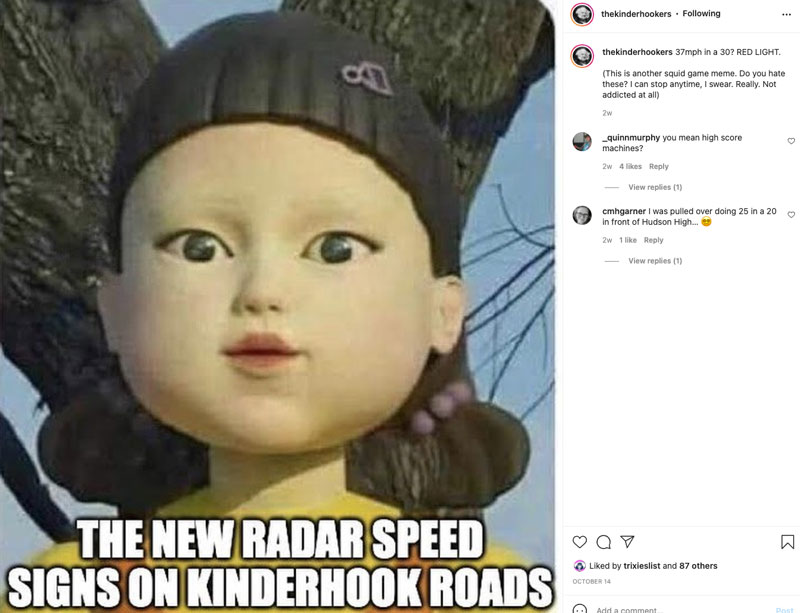 TrixiesList: Who is Gretchen Witherspoon?
TheKinderhookers: Okay. So this is a story and a half. When I started this account I was unaware of the long history around two of our bagel stores. I try to avoid anything negative or unkind about individuals, but people were submitting a lot of memes about the consistency of so-and-so's cream cheese or the way the eggs were made at the other place; harmless stuff. People came out in support of both bagel shops and the Great Bagels Wars of 2021 began.
I posted a meme making fun of a TikTok video one of them had shared, basically being like "It's a little weird that a grown man had teenagers dancing on and around his bagel van, right? Like, that's not how you appeal to the youth these days is it?"

And then Gretchen appeared. A private account with NO followers or photo DMing me about how I am an embarrassment to Kinderhook and must hate local businesses. So far I'm like, "Yes my mother tells me that all the time" and "Sorry ma'am, this is a meme account, gently poking fun at things is what we do."
Then she says she is Gretchen Witherspoon – newly arrived in Kinderhook from New Jersey but has already wiggled onto the village council and BOY IS SHE MAD. She's going to bring the meme account up at the next council meeting and I AM IN TROUBLE.
1) LOL but 2) wouldn't it be horrible if this is where Kinderhook tax dollars went? To talking about meme accounts?

Anyway, I had shared the original video from the bagel shop to my stories and Gretchen was like, "You re-posting that is you making fun of my granddaughter" and, as noted, I don't want anyone to feel bullied so I took it down.
Now, I am a chump. I didn't google this person before getting into a debate with them. I didn't question the lack of followers. I just saw someone saying they felt hurt and I don't want that. Once the video was down Gretchen deleted all of her messages then de-activated her account. The twist: there was no Gretchen Witherspoon. No council meeting where I would have been discussed. No granddaughter.
So, to answer your question, who is Gretchen Witherspoon? Maybe the bagel store? Maybe a ghost who died in my house in the 1800s (my house is from the 1700s and really could use a paint job)? Maybe Trixie Starr? You yourself can decide.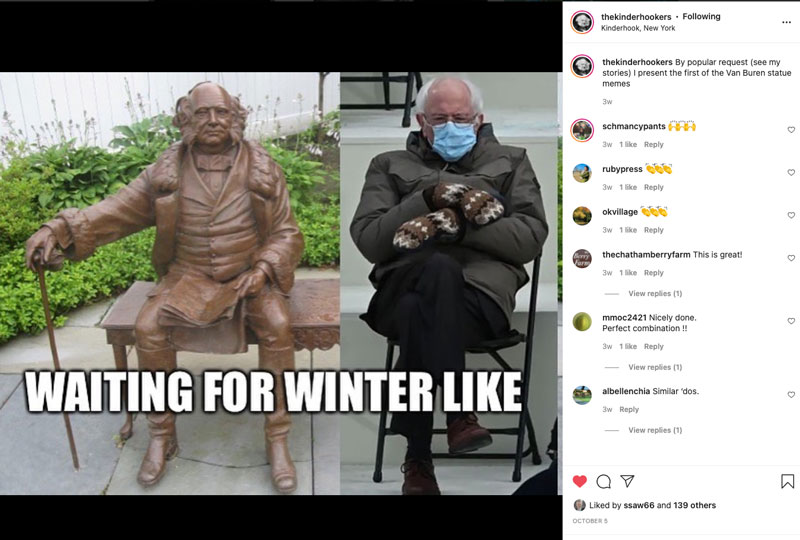 TrixiesList: Is there a meme that you regret doing? How many apologies have you written?
TheKinderhookers: None really. There was a moment when someone submitted an anonymous meme showcasing the Benedict Arnold house and being like "If you don't support the bike trail you live in this house" indicating they would be a traitor for Kinderhook if you don't love the bike trail which, I mean, valid. Then the ACTUAL owner of the house reached out and was like "WTF is this?" Since it's her house I explained the joke and she was like, "I get that it's a joke but please don't use my house." I took that story down.
I regret NOT posting some things. Every time I poke fun at a local business it's out of love and I want to love on some places around here but I haven't found anything funny about them! C'mon Valatie Bar and Grill – do a spooky dress-up karaoke night I can lampoon. Same to you, Mark's Pizza. Host a gluten-free cauliflower wing eat-off competition I can make fun of.
TrixiesList: Is there something that you would like to say to the people of the City of Hudson?
TheKinderhookers: Yes. We like you a lot. But when I become the first anonymous meme account to become the mayor of Kinderhook the first thing I will pose to the actual village council is invading and taking you over. (This is a joke, don't feel like you need to board up your 12 coffeeshops just yet)
TrixiesList: Has the meme account changed Kinderhook?
TheKinderhookers: Yes. Thanks to the Kinderhooker we no longer have crime, poverty, or racial injustice. The meme account fixed everything.

Thanks for having me on the show!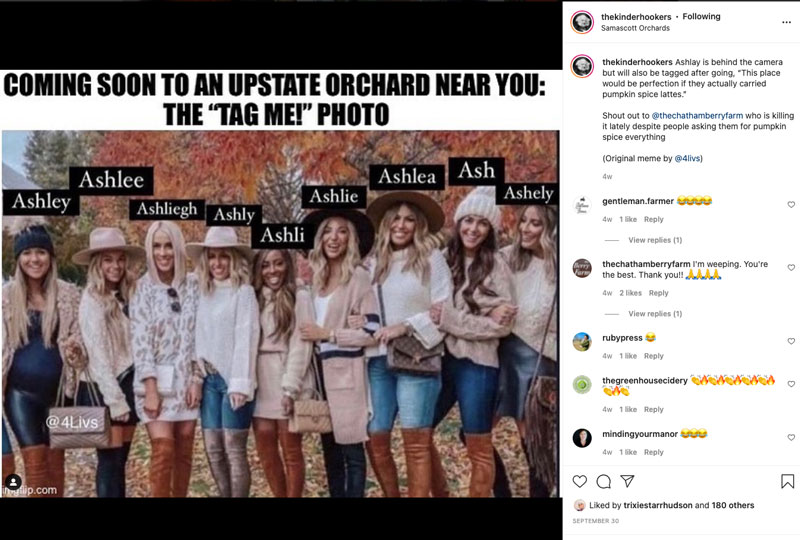 ---
TrixiesList: Now, about that Martin van Buren automatic coffee maker…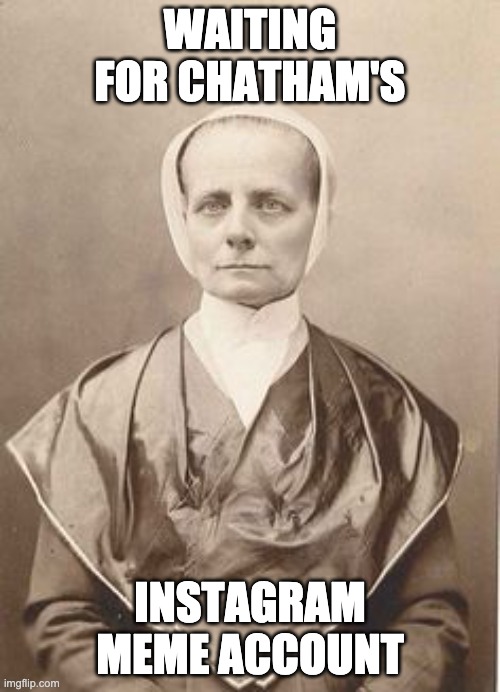 This is my meme about Chatham – however, NOW Chatham as a MEME ACCOUNT! YAY!