The last 2econd Saturday was October 9th, but many of the exhibitions continue through the end of the month or until the next 2econd Saturday Hudson Gallery Crawl on Saturday, November 13th!
This may not have been intentional, but several of the local galleries focused on environmental issues.
D'Arcy Simpson Art Works features local artist David McIntyre in his installation, "Requiem for Silence". Watch the video below to learn more.
This summer, David had an exhibition in the Greenport Conservation Area.
(You can read more about that installation here)
---
At Window on Hudson, the exhibit "Do Not Enter Waterways" by artist Bibiana Huang Matheis, is on for its final weekend, until Monday November 1. The artist's work is on display on 43 South 3rd Street. Each piece is created from plastic found within the waterways and oceans. The pink heart in the window contains 800 plastic bottles.
800 plastic bottles are within the pink heart.
Artist Bibiana Huang Matheis at Window on Hudson
---
Jim Denney's exhibit, "Bearing Witness" at Susan Eley Fine Art are a series of paintings that depict trees and forest fires. As per the gallery's press release, "the paintings fearlessly acknowledge both forces – the destruction and the rebirth – within the flames."
Jim Denney is a local artist, who now lives and works in Hudson, New York. He spent years in the west, as a firefighter, which inspires his work.
The exhibit is up until November 21st at Susan Eley Fine Art, 433 Warren Street.
---
At Caldwell Gallery Hudson, artist Nikolina Kovalenko's painting of coral reefs, from her Utopian Reefscapes series. 20% of all painting sales will be donated to the Coral Reef Alliance.
Jay Caldwell and artist Nikolina Kovalenko
---
Other galleries in Hudson were open late, such as 46 Green Street.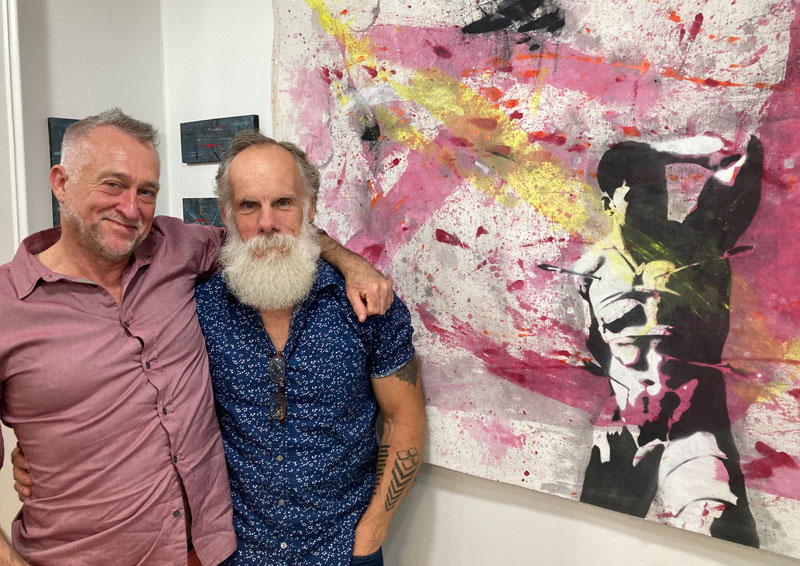 David Schwing and Tom McGill at 46 Green Street Studio