There are just a few days left to see Will McLeod's vibrant fabric paintings in "Perimeter Cameos", on view through Monday, October 4th, 2021. McLeod's large textile works fill the storefront windows, with additional sewn compositions and works on paper exhibited indoors.
The series "Perimeter Cameos" presents pieces that have two distinct focal areas in one composition. The Cameo (the elliptical centerpiece of the composition) was created as the initial target, the lure, of the whole piece. The "Perimeter" (the visual periphery around the Cameo) was created to support, inform, and define the "Cameo."
McLeod begins each piece by painting with watercolors on paper. He uses the watercolor as a blueprint for the final piece, an extraordinarily large representation of the original work. Each color in the painting is assigned a fabric (found and recycled textiles.) The forms in the painting are recreated on a large pattern, cut and meticulously pieced together, like one might piece together a soft and fluid stained glass window.
If you would like to make an appointment to see the indoor works please email jeremy@windowonhudson.org.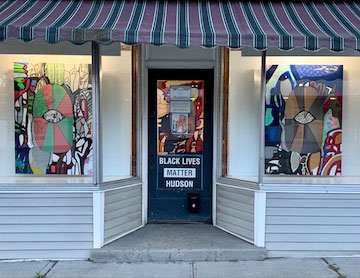 About Window On Hudson
Window On Hudson offers storefront window exhibition space for artists of all mediums who are in Hudson and the Hudson Valley. Window On Hudson is committed to providing a platform for established and developing artists to display their work, of all mediums, while also offering professional development opportunities for emerging artists. Window On Hudson exhibits a new artist on a monthly basis. Artists interested in submitting their work may do so by emailing submissions@windowonhudson.org or visiting the website www.WindowOnHudson.org