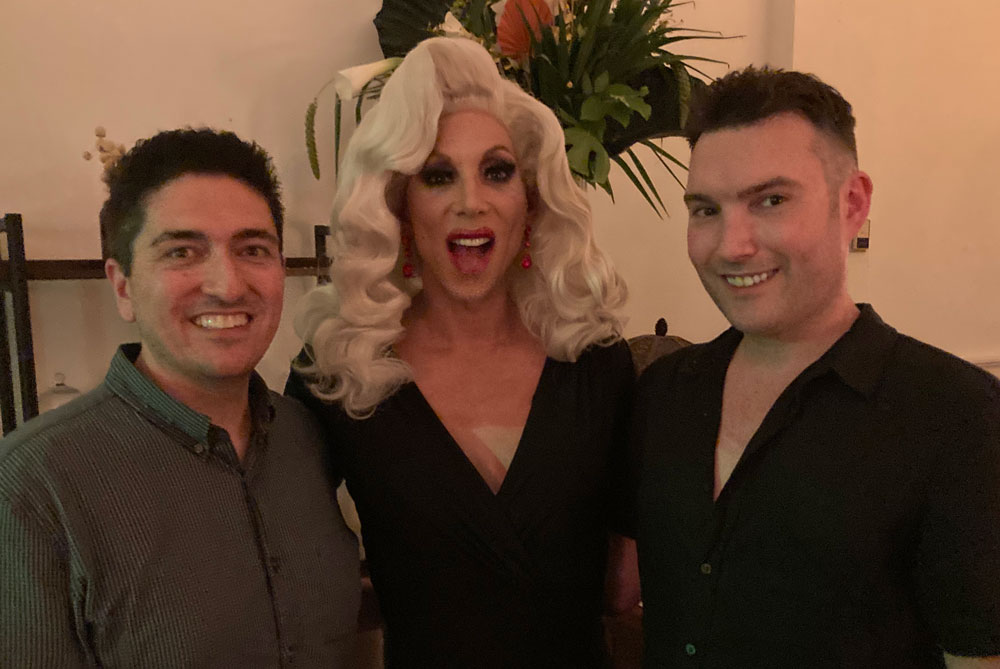 The FABULOUS Sherry Vine (center) with Ricky Tiscareno (left) and Dennis Green (right)
of Poured Candle Bar (PCB)
The wonderfully talented Ms. Sherry Vine returns to Hudson for her one-woman show, "I Love Being a Whore!" This was NOT a family-friendly event. If there were terms and phrases that you needed translated, Sherry Vine and others were more than happy to help.
Ms. Vine is known for her colorful parodies of popular tunes, such as the re-make of Laura Branigan's "Gloria" ("Glory Holes"). Remakes of Madonna, Cher, and Lady Gaga were also in the mix.
At the end of the show, Sherry sold t-shirts and other merchandise, such as a "stained" eye mask. Sherry Vine says that after doing drag for thirty years(!), starting in small clubs in the East Village, she sells merchandise because she has no "Plan B".
A couple of years ago, when Sherry was in Hudson, I bought a pink Sherry Vine t-shirt, which I wore last night to the show. The shirt says, "I'm a whore", and even though I'd like to wear it to the Farmers' Market, maybe it's not the best idea…
These pink Sherry Vine T-shirts are now vintage, and unavailable. They matched the pink pumps of an audience member. She wanted it so badly, that she handed me a wad of cash and bought me a new shirt. I literally gave her the shirt off my back. True story.