Last April, the Wylde Market – on Saturdays from 11 'til dark -sprang up on S. 3rd Street between Partition and Union streets.
A curiously-curated collection of artisans' wares from the Hudson Valley (and beyond), the WYLDE market comprises three groups of vendors in rotation throughout the summer. Each group makes several visits until the end of October. Jewelry, apothecary, clothing (vintage and new), woven goods, and a few surprises, are to be found. Wylde Market has taken root and become a "thing" when it comes to life on alternate Saturdays.
Sandwiched next to the market is the tiny WYLDE shop. The funky, Western-y shop features an array of items that, although may not seem to have any continuity, do have harmony.
You want to linger here.
At the WYLDE café, you can do precisely that – linger – seven days a week. The café is nestled in a former auto body shop that, fittingly, is along the 9G truck route (aka S. 3rd Street).
WYLDE defies description. It's open to the public as a coffee shop; and with their membership option, you can use the community space for hosting events. The great high-speed wifi in the café and flat-screen TV in the members' conference room make it workplace-friendly.
But what is WYLDE, really? Maybe it's best defined by what it's not.
"[The café] is not really a co-working space; it's more lively than that," says founder and Hudson resident Hillary France, "WYLDE is a hang-out place."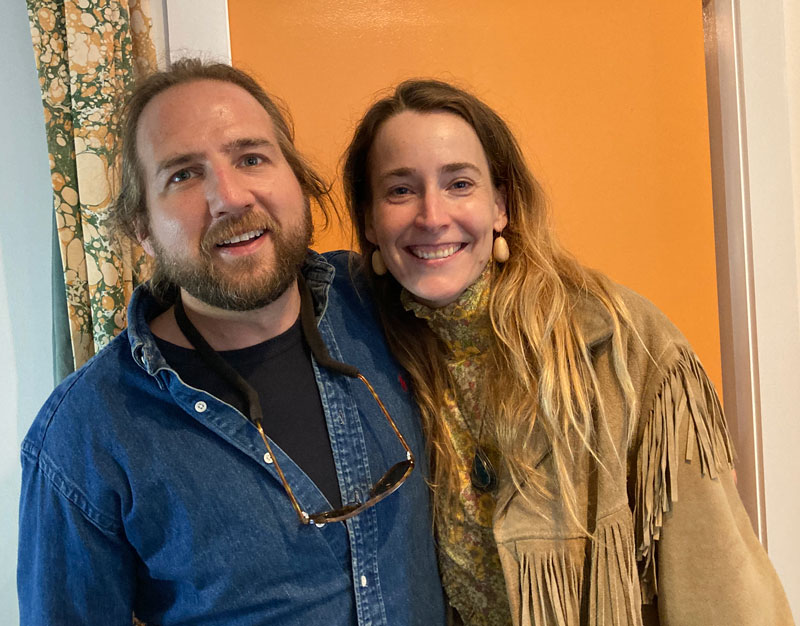 Lucas and Hilary of Wylde Hudson
The beverages – coffee and tea – are excellent. Most are sourced locally, priced on par with various coffee spots around town. If you're a cold brew addict like me, you can't go wrong with RISE – I promise it will put a spring in your step.
The space itself is airy and inviting, with conversation groupings, comfy furniture, trees that bring the outdoors in, and a fireplace that promises to warm both body and soul when the time comes.
WYLDE showcases local products and furniture, except for the ultra-Italian, pumpkin-colored espresso machine designed to keep the caffeine in high gear.
The beautifully appointed café has everything – from design to photographs to furniture – representing the products of local artists and craftspeople in Hudson and the surrounding communities.
To kick off their opening, WYLDE is holding an Open House on Thursday, August 12. Start your day with a complimentary yoga session at 8:30, and enjoy free coffee until 11. Check the website or IG (@wyldehudson) for more information and registration.
So bring your "open heart and open mind" and drop by WYLDE.
Meet a friend – old or new!
Say hi to Annie, WYLDE's wonderful manager