Written by: Katherine Kim
katherine@trixieslist.com
Instagram @wanderingberet
Last weekend, the first ever Picnic in the Park happened at Art Omi in Ghent, NY. It was a sensational evening of creativity, fine food, conversation and of course, art. Each visit to Art Omi is always unique. That evening, we arrived by car and passed Olaf Breuning's metal and steel sculpture, Clouds. We checked in at the Benenson Visitor Center and entered a huge idyllic setting of tall grass and wildflowers with picnic sites peppered throughout. In the center, Andrea Bowers' neon and steel sculpture Somos 11 Millones and in the distance, large massive trees. We walked through the grass, passed Will Ryman's Pac-Lab resin sculpture and his bronze and granite sculpture, Sisyphus, until we reached the main picnic site. The weather that evening was stupendous. It felt like a Jane Austen novel – with contemporary ideals.
The invitation said Fabulous Fantasy Picnics so we went all out. We brought a small table, sterling silverware and fine china and gourmet foods. Why not? Each fantasy picnic was unique. Some chose a minimalist route, others set up an elegant spread of fine wine and a picnic from the Bartlett House in Ghent. A number of people brought real plates and wine glasses, like we did. Again, why not?
We spread out our picnic blanket near Agustina Woodgate's series of concrete sculptures, Source I – IV, to be front and center of the Hat Parade. After dinner, guests mingled and glided around Jean Shin's recently installed wood installation, Allée Gathering, while other guests stood near Beverly Pepper's steel sculpture, Paraclete.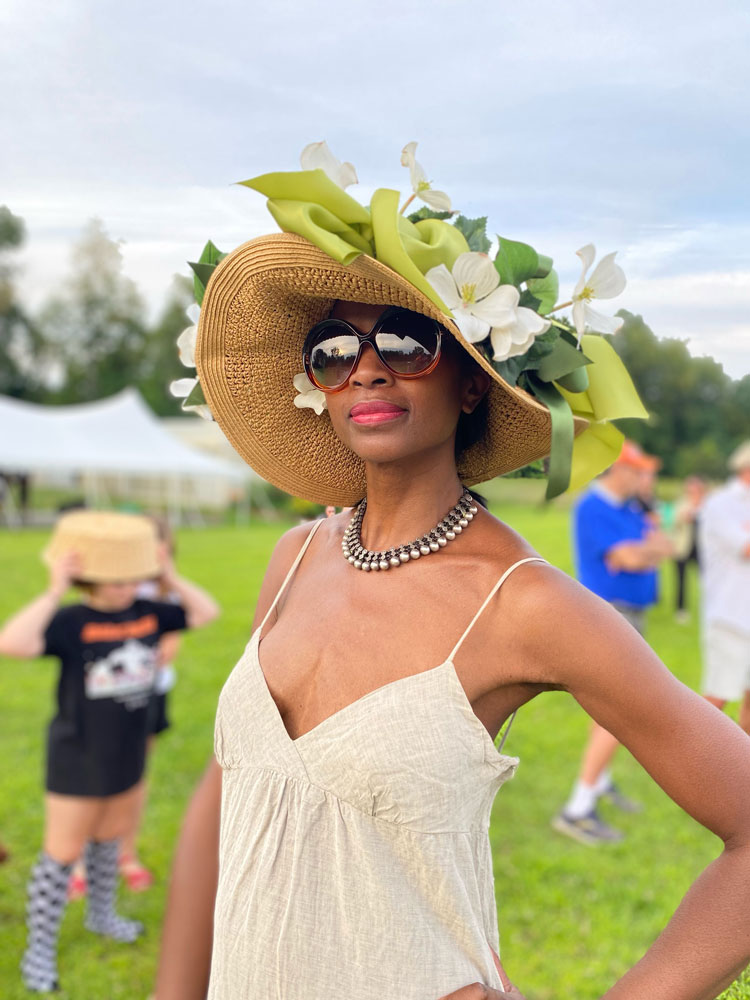 AND THE HATS!
Creativity showed up in all shapes and sizes from a dynamic living garden hat, to a maritime inspired hat, to nature and Art Omi inspired hats. Hosts and Judges Karen Suen-Cooper and Martin Cooper spoke about their children visiting Art Omi and participating in their programming since their children were toddlers.
We spent the evening watching a parade of hats waltz by our picnic blanket.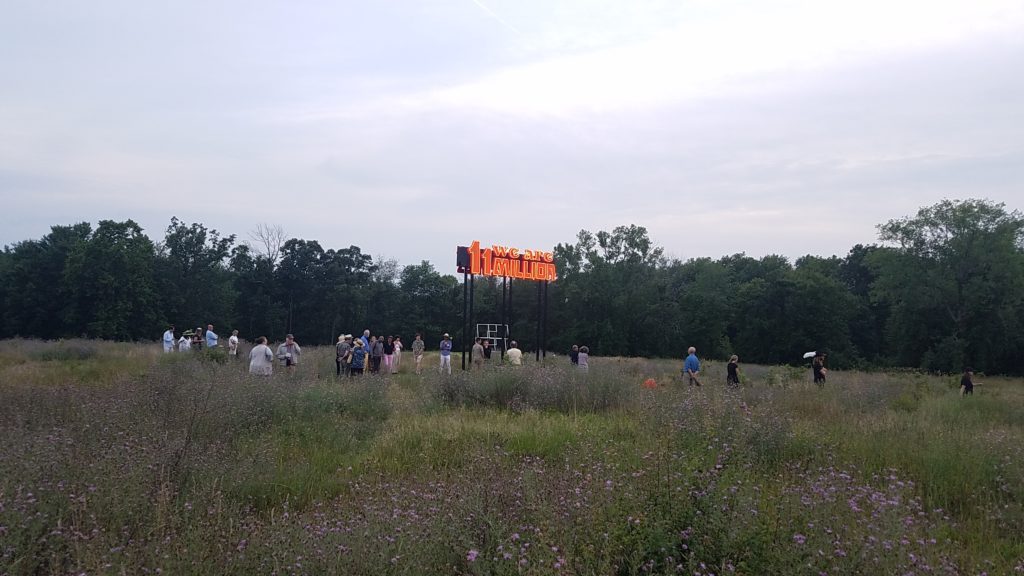 After the awards ceremony, we gathered under Somos 11 Millones to experience Phil Kline's world premiere of last words before disappearing from the face of the earth, which was a sound sculpture embedded into the side of a hill. He spoke about the origins of the piece and the journey he took to develop it. In order to fully experience the entire piece, as soon as you heard a sound, we were instructed to walk around and feel the sounds. It was the perfect prelude to the subsequent soft sunset (alliterations intentional).