Written by: Rich Volo and Katherine Kim / katherine@trixieslist.com Instagram @wanderingberet
To kick off the inaugural Second Saturday Hudson Gallery Crawl on June 12th, there were numerous art openings on and off Warren Street.
Window on Hudson features local Hudson artist, Chiarra Jonelle Hughes Mba, or Chimba, until June 28th in her exhibit, Reproducing Life: Conception.
Chimba started painting on wood in 2020, during the pandemic. For her, this exhibit is self-exploration and examines the concepts of conception, birth, renewal and her own feelings about not having children.
At 432 Warren Street, you'll find a two person exhibition at Susan Eley Fine Art. Featured are abstract mixed media by New York artist Jim Napierala and New Jersey artist Lisa Pressman.
At D'Arcy Simpson Art Works you'll find glassworks of Chad Davis in the front, wild ceramic sculptures that look like melting AR-15 weapons by Will Squibb on the back wall as well as multi-panel paintings by Michael Simpson and figurative works by Gretchen Kelly.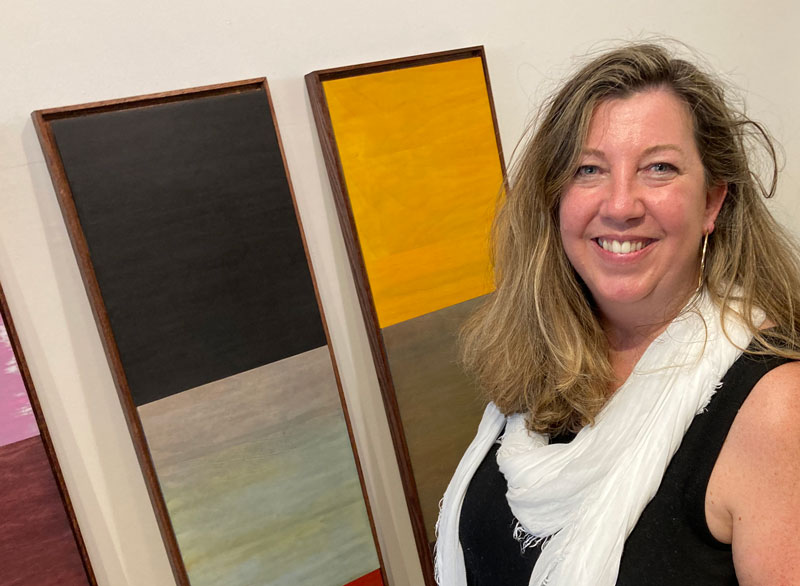 Ellen D'Arcy Simpson in front of multi-panel paintings by Michael Simpson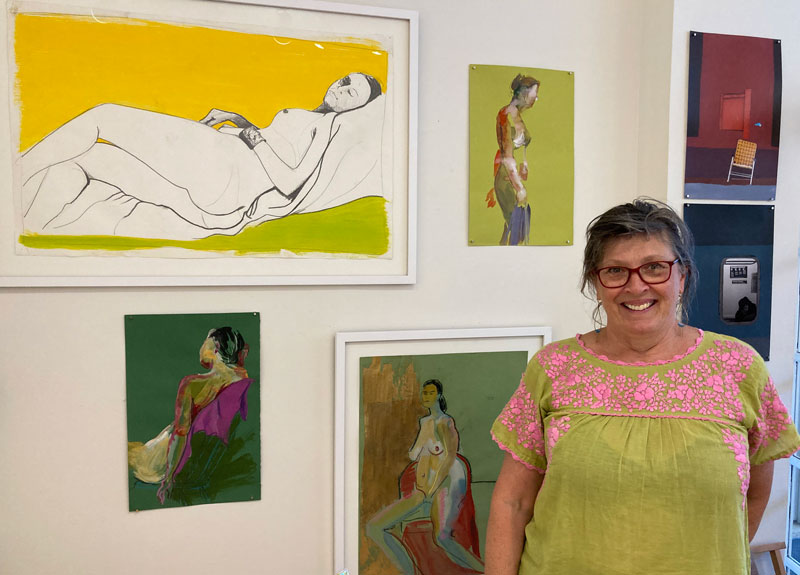 Hudson artist, Gretchen Kelly, in front of her art at D'Arcy Simpson Art Works
At September Gallery is Strong Winds May Exist, fellow midwesterner Annie Bielski's solo exhibition. Bielski current resides in Albuquerque, New Mexico and creates rich, organic, semi representational mixed media works inspired by her natural and material environment. This show runs until July 25.
There's a relatively new and charming art gallery that is a few steps from Warren Street. The Tanja Grunert Salon resides in the Princess Beatrix House at 21 Prospect Avenue just across the street from Columbia Memorial Hospital. This month's exhibition features works by local painter Lawre Stone.
Moving her Chelsea gallery up to Hudson in 2017, Grunert has created a unique and inviting salon space to view and talk about local art. There are two huge rooms, a foyer and outdoor space where people can gather. The Princess Beatrix House was the official receiving post of Princess Beatrix of the Netherlands in 1959 to celebrate Henry Hudson's discovery of the Hudson River long ago.
Lawre Stone works from a sunny palette creating lush abstract square shaped oil paintings on canvas. The Princess Beatrix House is a private home and the first floor is the gallery space. Thus the works are curated next to windows and furniture creating a warm, homey setting. This show runs until July 11.