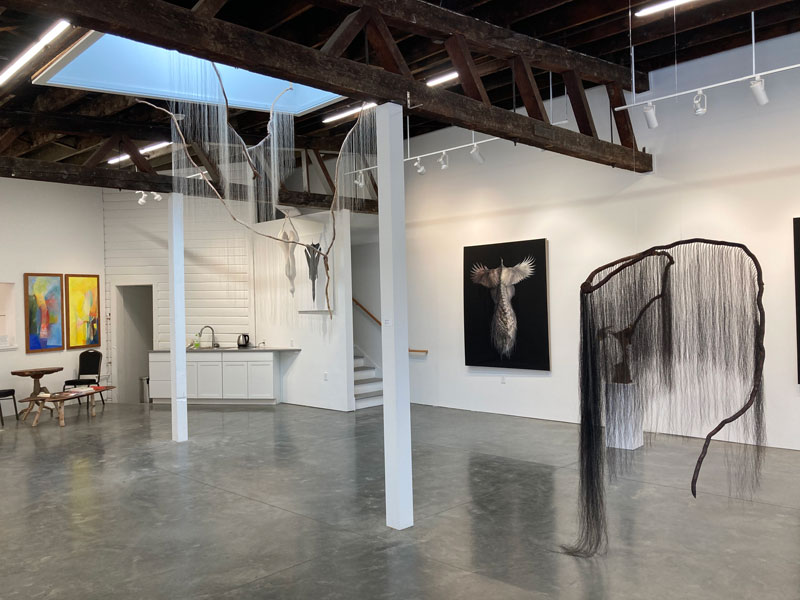 The first thing I said to myself as I walked into the Lightforms gallery, was that 'no photo was going to do this exhibit justice'. The use of natural light, (from above and from the side) and the use of space in the gallery give the art an otherworldliness – even though many of the pieces are made from everyday objects, like a found log (below).
Stepping into the room reminded me of the Temple of Dendur or the American Wing at the Metropolitan Museum of Art. Lightforms offers a room bathe in natural light and a sense of stillness, similar to that of a museum. For those of us who have not ventured into a museum in a long while, this is a nice reminder of a past life of public events and public space.
It's right here in Hudson – I urge you to go and visit! The number of people in the space is limited, and it is free (donations accepted) and open to the public. It's a simple, short contemplative respite, and a COVID-safe alternative to staying indoors and constantly cleaning the kitchen after every home-cooked meal.
Lightforms, 743 Columbia Street, is open to the public,
free of charge, donations accepted.
Friday – Sunday, 11am-5:30pm
The exhibit is up until April 3, and almost all of the artwork was created in 2020 during the time of the pandemic.
As stated in their press release, the pandemic itself "upended normal life and created a never-before experienced inner and outer environment of lockdown, quarantine, social distancing, loss of life, mourning, disappearance of livelihoods, misinformation and censorship, and a stymied cultural life.
The exhibition explores how artists are finding ways to grow and create through times of isolation, uncertainty, duress, death, and new perceptions about our social relationships and issues – ideally finding a few slivers or
wings of hope and light to both reflect and try to lift us above the current situation."
The exhibition includes paintings and sculptures by Lily Morris, an installation (composed of horsehair and ceramic pieces) and mixed-media works by Millicent Young, paintings by Osi Audu, paintings and sculpture
by Martina Angela Müller, sculpture and drawing by Patrick Stolfo, paintings by Richard Neal and Laura Summer, and four sculptures/assemblages by Elmer Orobio.

Lightforms is open to the public free of charge weekly from Friday to Sunday, 11:30 to 5:30pm
Donations are gladly accepted and needed to cover the expenses of such exhibitions. For more information call Lightforms at 518-822-1003, email contact@lightformsartcenter.com, or visit the website at
lightformsartcenter.com.