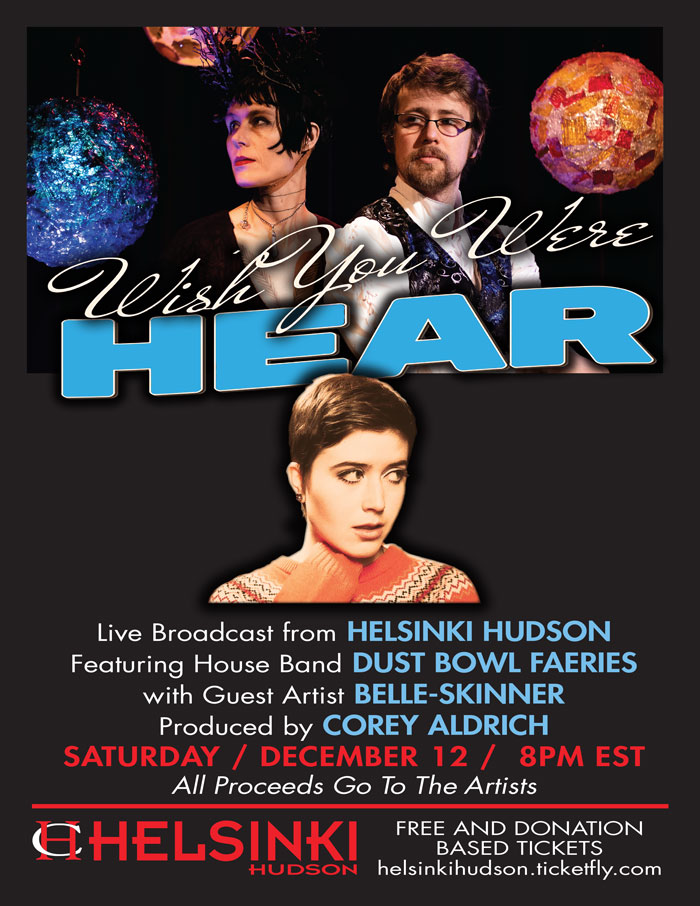 We all miss Club Helsinki, Hudson Tuesday night Open Mics were always a must-see. The Dust Bowl Faeries bring their original dream-landscape sounds to Club Helsinki Hudson for a monthly winter Helsinki stage show. The show will be broadcast on the Helsinki stage and presented virtually on December 12, at 8pm.
This is the second monthly show produced by design artist Corey Aldrich. The show was mostly the brain child of Ryder and Corey. Corey says, "The management team at Club Helsinki have been super supportive as project partners. Specifically Cameron Melville who has been a big believer in the concept since we first approached him." Mike Schoonmaker, from Club Helsinki, is the Production Manager.
The show will feature the unique blend of wistful verses and morbid amusements of the Dust Bowl Faeries duo Ryder Cooley and Jon B. Wooden, and the sultry sounds of Hudson Valley/Brooklyn musician Belle-Skinner.
All tickets are FREE and the shows are streaming live from the stage of Club Helsinki. People can feel as if they're back at the club. Don't wait – get your tickets here.
Corey adds, "We live in strange and trying times. It is particularly hard for artists and creatives. We are trying to figure out a way to engage with the audience."
During the pandemic, the Dust Bowl Faeries have been busy! They have a new video out, Candy Store, produced and directed by Lisa Thomas of Thin Edge Films. The video takes place at the Mayflower Candy Store in Catskill, NY.
Don't forget to tune in Saturday, December 12th and monthly, for Dust Bowl Faeries at Club Helsinki Hudson – 8pm. Tickets are free and available on-line here.
For more information, visit their website or Facebook event
Here's the first episode of "Wish You Were Hear", in case you missed it!