Delivery.com, Hudson's newest, locally-owned and operated delivery service, expands their options!
Starting today, Friday, November 6th, you can order from Hudson's own Red Dot and have your order delivered to your door! You can also now order alcohol from Wunderbar and Coyote Flaco via Delivery.com!
AND – starting this Saturday, November 7th, order Half Moon's pizza and have it delivered!
Your favorite Wunderbar cocktail is now available on-line at Delivery.com
The new Delivery.com options come at the perfect time for local restaurants struggling with limited indoor seating amid the COVID pandemic.
Alana Hauptmann agrees, "I would like to say how pleased I am to have signed up with Delivery.com. Now, the folks who don't want to come to the restaurant because of COVID-19 can enjoy their favorite Red Dot food at home!"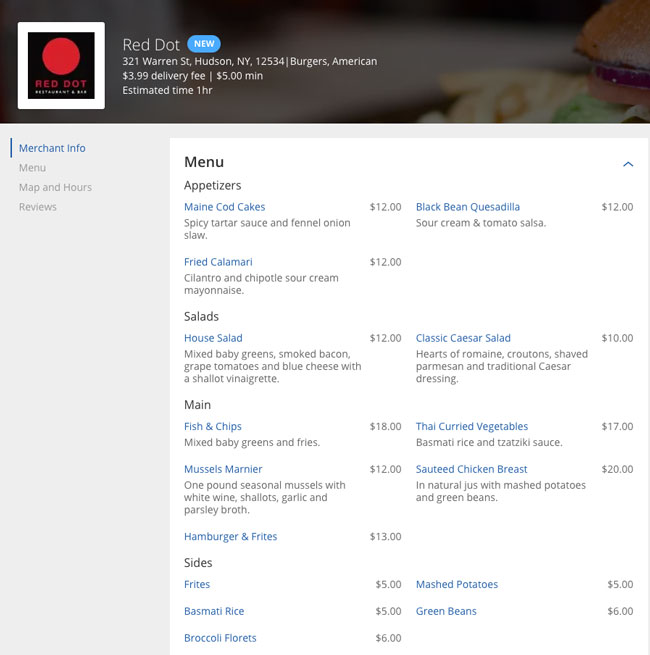 Sample menu on-line at Delivery.com.
The Fish & Chips are amazing, as well as so many other items on their menu!
Delivery.com's on-line ordering system makes it very easy to order, and reorder your favorites. The website's interface allows users to click on the items from the menus you are used to seeing! You can pay via credit card, venmo (if you use the app), or cash. You receive text messages along the way – when your order is prepared, and when your driver leaves the restaurant and arrives at your door! You are even able to follow your driver's location and progress on Delivery.com's map! It's very convenient.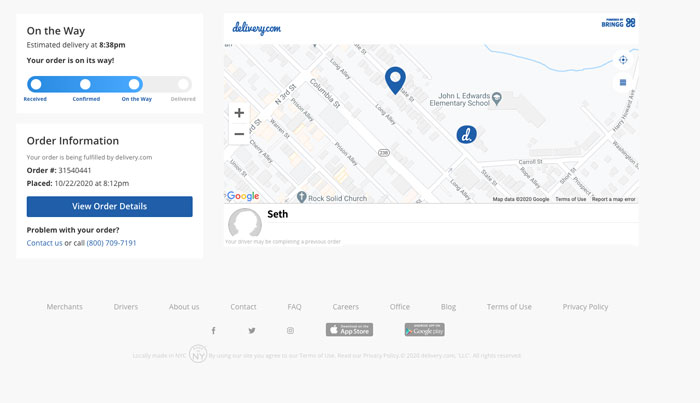 Wunderbar Bistro's famed burgers and now their cocktails are available on Delivery.com!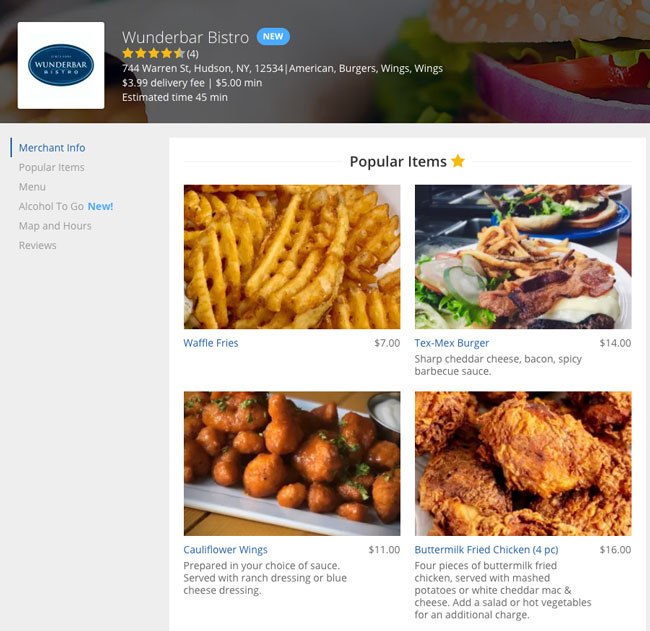 Sample Menu from Wunderbar.
Lyle Lentz from Wunderbar would like to add, "We cannot bring new drinks to our patrons. Wunderbar bartenders deeply miss the ability to reach out to the guest and showcase a new, wonderful flavor profile, they never would have tried, without that interpersonal relationship you have from across the bar. But Delivery.com can now bring our thoughtfully crafted quarts of delight directly to you."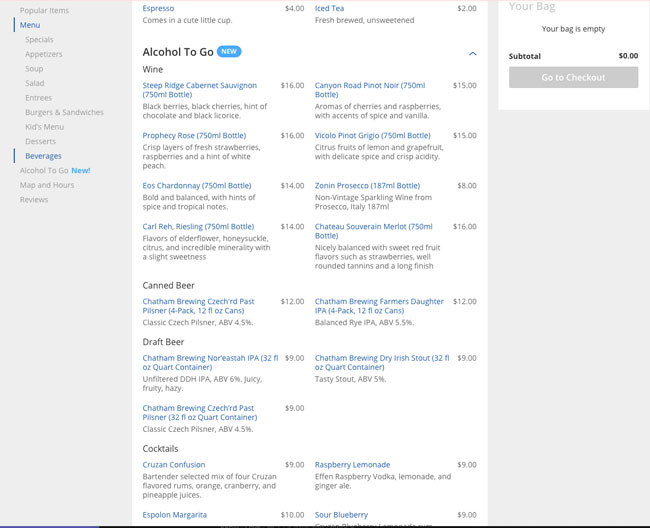 Order your favorite Wunderbar cocktail and have it delivered to your door!
Never leave the house.
Maybe you're in the mood for some Mexican food? Order from Coyote Flaco and have Delivery.com do the work. Order nachos and margaritas for a night of binge TV watching.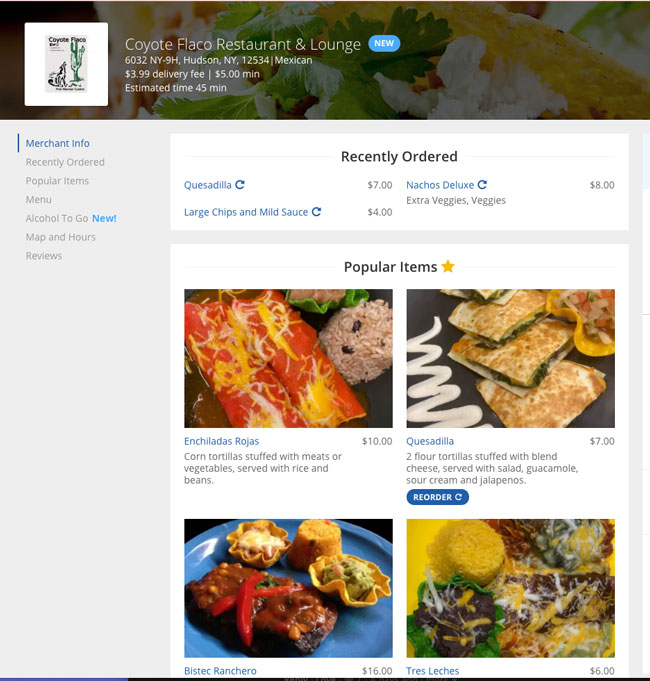 Enchiladas, Quesadillas and more!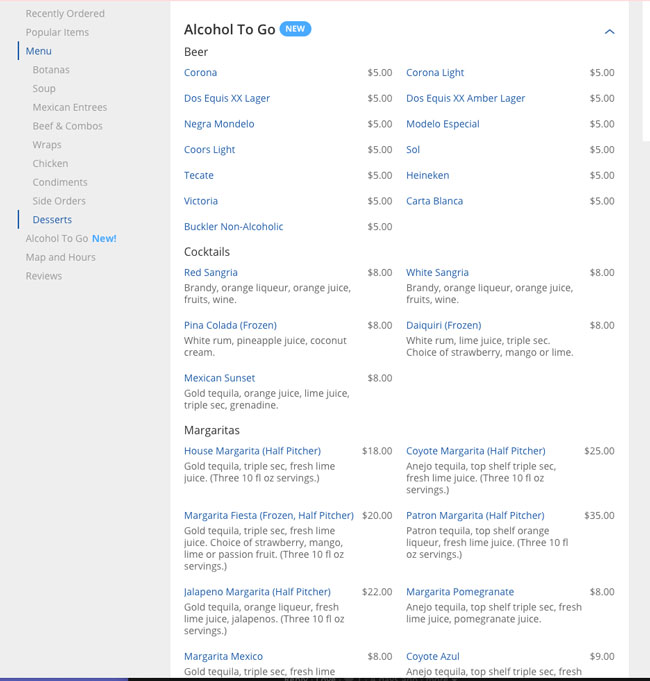 Margaritas Delivered! Sample menu.
Starting Saturday, you will have the option, via Delivery.com, to order Half Moon's famous pizza! It's so famous, Half Moon's pizza has its own instagram account!
If this is your first time, use the coupon code below. Once you start, you'll see the advantages of Delivery.com– save time AND help our local restaurant businesses!