Written by Sarah Davis and Katherine Kim
If you love art and jewelry, the newest gallery in Hudson, NY is an experience that cannot be missed. A recent transplant from New York City, Chris Davies is a renowned designer with a unique approach to making and exhibiting jewelry. His sought after designs are owned by many private collectors and are in the permanent collection of the Museum of Fine Arts, Boston. Utilizing a background in art history from Vassar and a fashion design degree from Parsons School of Design, Davies creates a curated experience where ancient and contemporary fine art are presented side by side with exceptional handmade fine jewelry.
Davies is a passionate about ancient art and there is classical and literary air to his designs. Ask about one of his pieces and he may weave a story about the entrance to the ancient city of Babylon and the Ishtar gate. He will describe the azure, emerald and golden tiles dripping with exotic plants while he dangles a bejeweled necklace in front of you which incorporates the same striking colors. Each piece has a unique story and way in which the colors and forms take shape. Davies has the spirit of a 19th-century explorer and his jewels feel like wearable excavated treasures. There's a feeling of ancient design and modern wearability in the work. Think: Indiana Jones meets Blade Runner on a very genteel Midnight in Paris set design.
left: Waterlily Earrings: Ear pendants in chalcedony, pavé moonstone and baroque pearl over-woven in mandarin garnet, peach moonstone and 18k gold
right: Ishtar Necklace: Sautoir style tassel necklace in golden South Sea pearls, pavé demantoid garnet, kayanite, woven turquoise and 18k gold
left: Caravel Earrings: Sculpted 18k gold
right: Palace Clouds Bracelet : Sculpted 18k gold, Carved Ebony Wood
Appointments are required to experience this hidden jewel box which is located at a secret address in a Victorian town house on Hudson's historic Warren street near the new Maker hotel. Davies' jewelry is showcased in modern chrome and glass vitrines relocated from the legendary Barney's in NYC. The walls are hung with important paintings and ancient sculpture is shown throughout. Along with the jewelry, some of the art is for sale.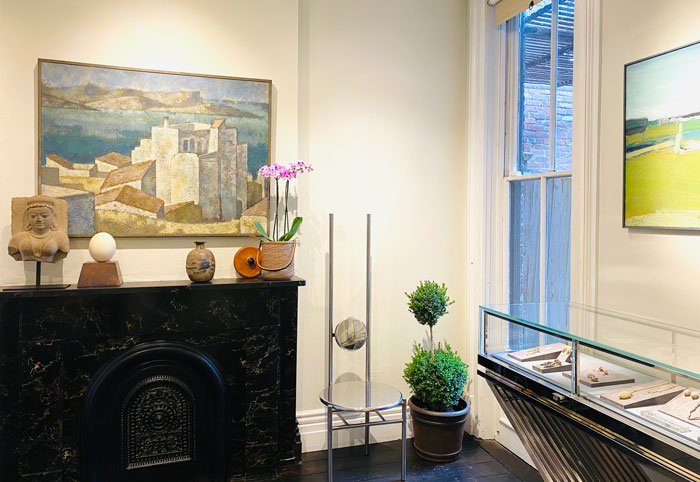 Spanish Cubist painting, Gandhara Sculpture, Midcentury Chrome Chair, Pre Columbian Pottery, Nantucket Basket, Vitrine with assorted fine jewels
Davies' use of exacting techniques are on display including his signature woven 18-karat gold granulation, sculpted gold, cloisonné enamel, and pavé stone setting. Davies trained as a couture dressmaker as well as a jeweler so there is an exceptional attention to detail and finishing that is immediately recognizable.The jewels have the lightness and elegant ease of wearing that only a hand made haute couture creation can have. There is an almost spiritual mood that arises when you put one of his pieces on. You have never worn an earring that feels so sublime.
left: Zelda Earrings: Ear pendants of diamond cut black spinel woven over natural rock crystal and white gold
right:Scheherazade Earrings: Ear Drops in woven 18k white and yellow gold over rock crystal
left: Damask Necklace: A circle of cloisonné enamel beads and rock crystal netted in woven 18k white and yellow gold.
right: Zoe Necklace: A sautoir tassel style necklace composed of deep eggplant peacock rare high luster pearls, pavé and woven amethyst
Sign up on his site for event notifications. His first opening will be on October 17 and it will be co-hosted by our own Hudson Eye. There will be timed entries.
His jewelry exhibitions rotate monthly and the fine art will rotate quarterly. Davies is constantly creating and most of the work is sold before it ever gets shown online. Prices begin at $2,500.00. The artist creates limited work for a select clientele. This is work you need to experience in person; though rumor has it that Davies is willing to give virtual appointments and send pieces to vetted collectors as well.
Make a private appointment to experience the gallery by emailing : cd@chrisdaviesnewyork.com