Did you know that on Fairview Avenue, you can get a kielbasa grilled on the spot then topped with mustard and fresh sauerkraut!? Kielbasas are Polish style meat sausages and you can find them fresh (or pickled!) at the Hudson Polish Delicatessen located at 303 Fairview Ave in the same parking lot as the 14K Jewelry Store. Voted Best Specialty Food Store in Columbia County two years in a row, it has a grill just outside its doors along with outdoor dining.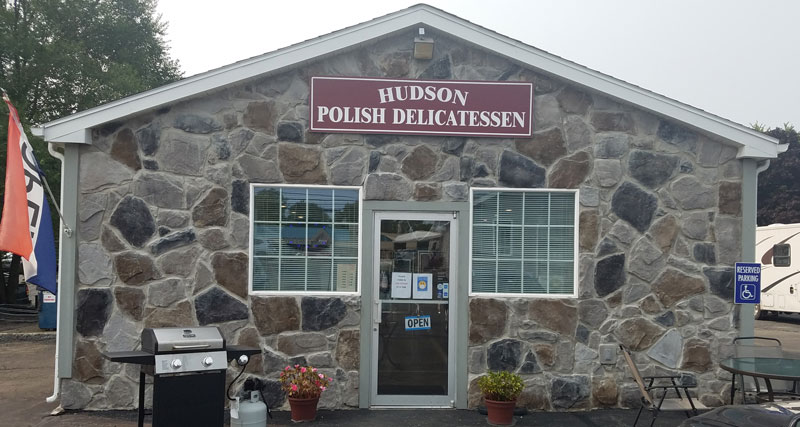 We ordered authentic pork kielbasas (delivered regularly from NYC and sometimes Chicago) and the husband and wife owners, Slavek and Margaret Golebiowski, originally from Wroclaw, Poland, put them on the grill along with bread and then topped them with fresh sauerkraut and they were delish! Our kielbasas were very juicy and tasty. If you're like me, Korean and love everything pickled, then you'll love the fresh sauerkraut. It's a very generous serving for one person and more than reasonably priced at $6.99 each. They have a large selection of kielbasas and it's one of their biggest sellers.
In addition to hot foods, you can order sandwiches made with various Polish cold cuts, many types of pâté, cheeses. They also have soup, homemade cheese blintzes and placki ziemniaczane (potato pancakes)! Some things need to be ordered ahead of time. Check their website for the most up to date offerings.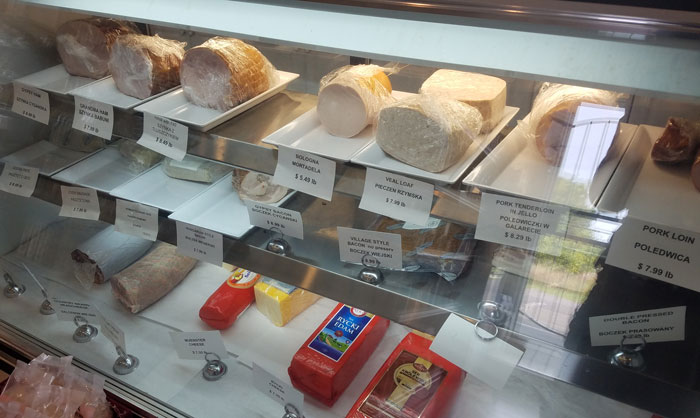 If you don't have time to eat there or forgot to order ahead for pickup, they have a well-stocked Polish grocery store with amazing frozen pierogis, more kielbasas, herring, mackeral, salmon. What are pierogis? Pierogis are Polish style dumplings with either a sweet or savory filling and are usually pan fried. Yummm. In addition, there is an amazing array of pickled foods, soups, jams, drinks, syrups, and sweets all from Poland. These are items that cannot be found at a regular grocery store. Alas, if you are looking for something unique, it is certainly worth a visit.
When I was there a new customer, Jeremiah Jones, was checking out. I asked him what brought him into the store, and he said he had been to Poland and loved the food, so he wanted to stock up on authentic Polish foods and treats.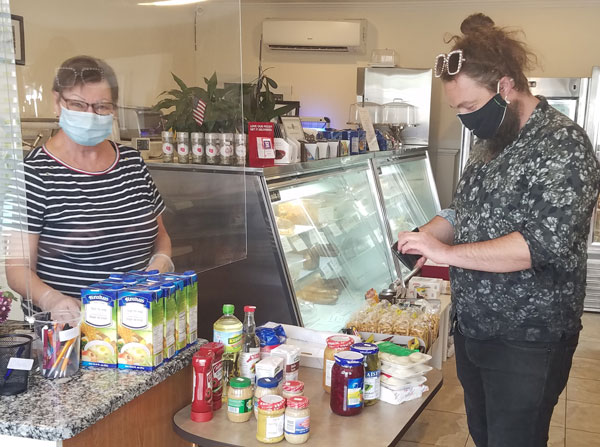 If you prefer carbs over meat, there are weekly deliveries of baked goods and sometimes desserts from one of the best Eastern European artisan bakeries in Brooklyn, Northside Bakery. The busiest times of the year are Christmas and Easter for dessert orders from the Northside Bakery and the Hudson Polish Delicatessen can handle your bakery orders, large or small.
There is curbside pick up and also it is possible to place larger orders for parties. Just give them a call or stop by.
Now, if you're thinking to yourself, this is all lovely information, but my feet are cold and my baby needs a vest, then today is your lucky day. You can also find 100% sheep's wool slippers and the cutest little vests in the store. They are super warm and cuddly and also come from Poland.
For the most up to date information on hours and offerings check their website.
Katherine Kim
katherine@trixieslist.com
Instagram @wanderingberet