Matt and Margie, owners at Lawrence Park. Watch the Video above!
Have you had a drink at Lawrence Park, yet?
The bar at 3rd and Warren (across from the Maker on 3rd Street) has a few different seating areas – two outdoors – making it an ideal location for drinking al fresco and maintaining social distance.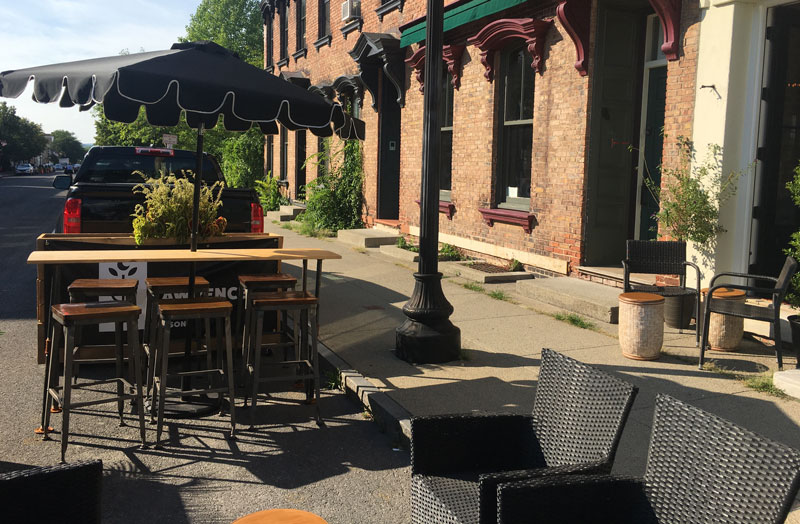 Lawrence Park is taking advantage of Hudson's Shared Streets program this summer! They have a great set-up in the front of the building, on Warren Street. You can sip a drink and eat a small plate while watching passers-by.
One of their specialty drinks is the FIESTA on Warren – it's a mezcal margarita with grapefruit juice as opposed to lime.
Or, if you would like a more quiet, private setting, go to their backyard patio! It's private and shady!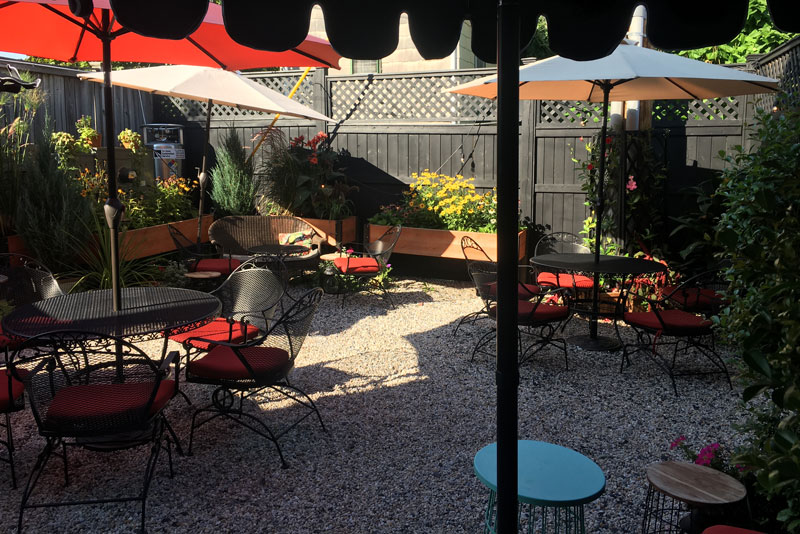 Lawrence Park has two indoor seating areas – in front, by the bar, and a more exclusive back area.
There's a lot of old-world charm in the back room. If you're going to have a drink in this room with friends, in those big leather chairs, I think that the stories told must also be BIG! BIG ideas! BIG plans! Be Bold!

You finished a novel, or you're back from an African safari! (Reality might be you just finished a TrixiesList blog post or returned from Disney's Animal Kingdom.)
Go ahead, embellish in this room! Pretend you're puffing on a cigar as you talk!

Could you have a Happy Hour without carbs? NO! No one has a "Happy Hour" and eats a salad!

Happy Hour at Lawrence Park is Sunday from 3-5pm. There's $5 house wine/can of beer and a $5 BIG PRETZEL with mustard and spread.
Hours, summer 2020
Monday 5-10pm
Tuesday 5-10pm
Wednesday – CLOSED
Thursday 5-10pm
Friday 5-Midnight
Saturday 3-Midnight
Sunday 3-10pm – Happy Hour 3-5pm – $5 house wine/beer and $5 pretzel
Kitchen closes an hour before closing time!
They are located at 260 Warren, corner of 3rd and Warren. CLICK HERE on the TrixiesList business listing for FB/IG/Website, and pics!
Here's a copy of their menu:
See you there! Quack! Quack!