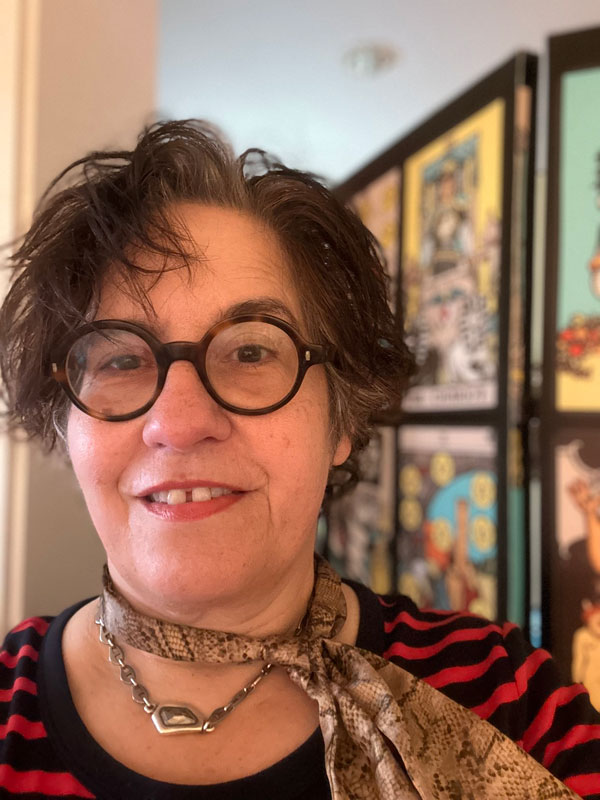 For information on Holiday Reading Gifts for Yourself or a Loved One: jilldearman@gmail.com / www.jilldearman.com. Tell me "Trixie sent me!" for a discount.
Hola Friends, I include a meditative exercise for each sign called "Jill's Quantum Jump." Here's what to do: find a quiet place, close your eyes, and use this hypnotic suggestion to imagine yourself embodying a parallel version of yourself for a couple of minutes. Take pleasure in the feelings that arise. Continue playing this game throughout the week. Make notes on what arises. –JD
Aries (March 21–April 19) Archetype: The Warrior
Your ruler Mars is transiting your house of travel right now making this a fine time to jump into a spontaneous vacay. Think about what destination best suits your sense of adventure right now. You've been erring on the side of respectability for awhile now, Aries and you may need to let your bad boy/girl/what-have-you loose to play. According to Aries card Three of Wands, you need to tie up a few loose ends first and then you can really let your freak fly. This card is also associated with the herb Crocus Sativuse (better known as Saffron) which promotes circulation. Get yourself back in circulation in another zip code or on another continent!
Jill's Quantum Jump: Imagine what it would feel like to possess the power of flight. Where would you go first?
Taurus (April 20–May 20) Archetype: The Builder
We may be in fun-loving Sagittarius season but Venus, your ruler is passing through sultry Scorpio in your house of love. What does this mean for you? Well, if you have the chance to lie back and think of England while someone intriguing pursues you, please: get comfortable, Gov'nor or Milady. You have serious things on your mind this time of year with the Sun and Mars in your psychologically intense 8th house, so allow yourself a little sexual healing. Balance, Taurus, balance!
Jill's Quantum Jump: Jump: If you had no worries on your mind, what lovely scene would you want to live out?
Gemini (May 21–June 20) Archetype: The Messenger
Your ruler Mercury will be transiting your house of business partnerships making this a good week for some private talk in smoke-filled rooms. Oh, I forgot it's the 21st century. Make that a strong thread of DMs with influencers? However you slice it you are in a good position to negotiate deals and improve your quality of life. You are also very keyed into your life path and your best self. And so while you improve your own fortunes, you will be able to help others along the way. For inspiration, check out Spectacle at Olana Historic Site. And make a big generous spectacle of yourself!
Jill's Quantum Jump: If you could live in the past and in the future simultaneously how would you present yourself?
Cancer (June 21–July 22) Archetype: The Caretaker
Venus transits fellow water sign Scorpio this week and passes through your extroverted fifth house. Mosey over to the Hudson Milliner where there's always some jolly surprise. And spend a good part of the week saying "yes" to invitations. You may get a creative inspiration that floors you and your inner circle. Do something with this idea. Making something meaningful in the world is likely to be your greatest joy this week so don't just plop on the couch, please! Alluring as that thought may be!
Jill's Quantum Jump: Imagine you had the power to bring joy to the world (cue the tune); what would your first step be?
Leo (July 23–August 22) Archetype: The Leader
The Moon in Leo over the weekend should bring you some good luck and good vibes. With your ruler the Sun in fellow fire sign Sagittarius you probably have the right energy to take the lead in any social situation. Let's face it, everyone is still in a post-pandemic awkward state. You are the one to spread warmth and humor and get people out of their monkey-minds. And while you're at it why not take the lead in Saturday's Winter Walk? It's not like you despise attention? The more outrageous your vibe the better.
Jill's Quantum Jump: What is making you really laugh these days? Scoop up more of it!
Virgo (August 23–September 22) Archetype: The Gardener
The moon in your sign on December 4th, 5th and 6th should give you a boost of confidence especially in work matters. The end of the year is almost here, but you still have time to wheel and deal before everyone goes on vacay. To add spice to the mix: when dreamy Neptune goes Direct in your house of love on December 6th you may feel a subtle shift in how you perceive yourself in relationships. Think back to early summer when Neptune first went retrograde. What was going on? What made you doubt yourself? Now is your time to start anew with lessons learned.
Jill's Quantum Jump: Imagine yourself as a winner who never second-guesses yourself and set the intention to be that version of yourself.
Libra (September 23–October 22) Archetype: The Artist
Go on with your bad self at the Winter Walk on Saturday and let everyone know just how comfortable in your own skin you've become. The moon in Libra on December 7th and 8th brings out that well-known charm of yours. Don't be surprised if former flames and friends who dissed and dismissed you are suddenly clamoring for your attention. Remember that the opposite of love is not hate but indifference. Be blasé and stay open to the sincerity of people of substance. And just to up your self-esteem more, come out bejeweled!
Jill's Quantum Jump: If you weren't afraid of conflict what would you say to people you really trust? Connect to the feeling of being understood.
Scorpio (October 23–November 21) Archetype: The Shaman
Venus is transiting your sign right now Scorpio, making you feel a little sassier than you have in awhile. If you think people are talking behind your back, you're right. And they're talking about how fierce you are. It's okay to rely on charisma this week, and stop trying so hard in all your relationships. Let people come to you. And when you are alone with yourself really indulge in the things that make you feel connected and alive. Stop scrolling and start drawing or playing music or daydreaming about the life you want. That life is emerging.
Jill's Quantum Jump: Visualize and imagine touching what you would put on an altar to show yourself who you are really are .
Sagittarius (November 22–December 21) Archetype: The Traveler
Both the Sun and Mars are transiting your sign and making you feel like dancing, or singing or doing something show-offy and fun. One of the greatest traits of you Saggies is your ability to laugh at yourself and be a real goof. If ever there was a week to indulge in said silliness it would be this one. Your feisty ways may draw people to you even more than usual, and you may find yourself being the connector between wildly different personalities. Instead of the fur flying with tension, the tea will spill and fun will be had by all.
Jill's Quantum Jump: Who makes you feel giddy? Embody the feeling of what you stir up together.
Capricorn (December 22–January 19) Archetype: The Organizer
Venus is transiting your house of friends and community this week making you feel hungry for some company. You probably will still work your buns off because you can't help yourself! But at least save some time on Sunday to hit up the Darcy Simpson Gallery show and cavort with the peeps. In general this is a good time to try to get off your phone and express yourself live and in person as much as possible. You have nothing to fear except people really liking you and telling you so! (Stop cringing at the thought.)
Jill's Quantum Jump: Imagine yourself meeting new people who really change your life for the better.
Aquarius (January 20–February 18) Archetype: The Visionary
Venus is transiting your career house now which might make you feel extra pressured to be perfect. Yes, you do have a lot on your plate, but you don't have to finish everything this week. Strategy is your word of the week. Rather than dealing with career matters off the cuff, make some serious plans for your future. If "adulting" brings out some demons and feelings of shame, take care of your mental health with good friends and self-care. The Aquarian King of Wands is connected to the herb St.John's Wort, sometimes good for a little settling of the nerves.
Jill's Quantum Jump: What makes you feel most capable? Tune in to that secret ingredient.
Pisces (February 19-March 20) Archetype: The Dreamer
Neptune, your ruler goes Direct in Pisces on December 6. Think back to early summer when it went retrograde. That was probably a time of great confusion. If you were to lay out all the details of a perplexing part of your life what would the puzzle look like now? You have the ability to see the end and reverse engineer to take the right steps now. In the I-Ching Neptune is highlighting Hexagram # 64, "Before Completion." Just remember before order is in place, life can look a little chaotic. But it is just a brief moment in time, so roll with it.
Jill's Quantum Jump: If you knew the movie of your life and the scene you are in now had a happy ending, how would that change your mood?
O.G. Astrologer Jill Dearman is the author of Queer Astrology for Men and Queer Astrology for Women, the crime novels Jazzed, The Uncanny Case of Gilles/Jeannette (set in Hudson), and many other books. She analyzed the city of Hudson's chart for Chronogram. Jill is also a PT Prof. of Writing at NYU. If you are interested in learning more about your chart, getting a card reading, etc., visit www.jilldearman.com.
My services and guidance do not constitute or replace, and should not be construed as financial, legal, medical, psychiatric, psychological, or any other type of professional advice on any subject matter. If you require such advice, please consult a licensed professional. Bada-Bing!