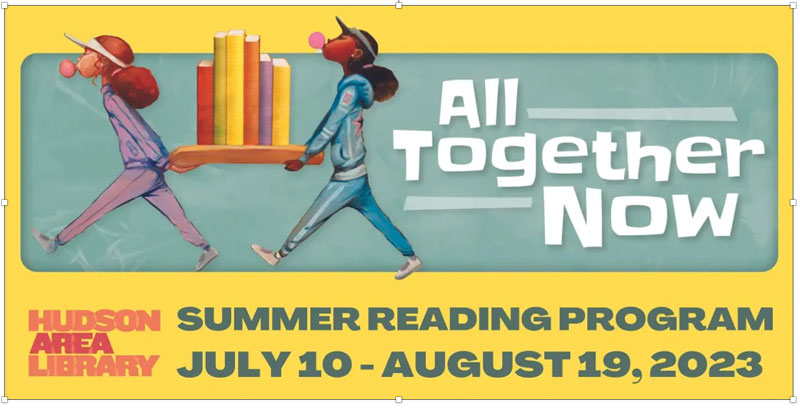 The Hudson Area Library kicks off its 2023 Summer Reading Program July 10 – August 19
Summer Reading is a national celebration of books and readers that goes on all summer long. This year's theme is "All Together Now" and the Hudson Area Library has a ton of free community-centered events, giveaways, raffles, and activities planned for readers of all ages.
To kick off the fun, the library will host a Ready for Summer Party on Tuesday, July 11, 5pm at Half Moon on Front Street in Hudson with DJs Sarah Van Buren (SVB) and Matthew Cullen. There will be free books and activities for kids, a backpack giveaway, free pizza tickets for Summer Reading registrants, and more (while supplies last)!
Stop by the library to pick up your Summer Reading Program calendar or visit https://hudsonarealibrary.org/2023/06/sr23/ to learn about the full line up of free events and activities. We look forward to seeing you!
For more information about the Hudson Area Library Summer Reading Program, and/or to register for any of the special events, email programs@hudsonarealibrary.org or call 518-828-1792 x101