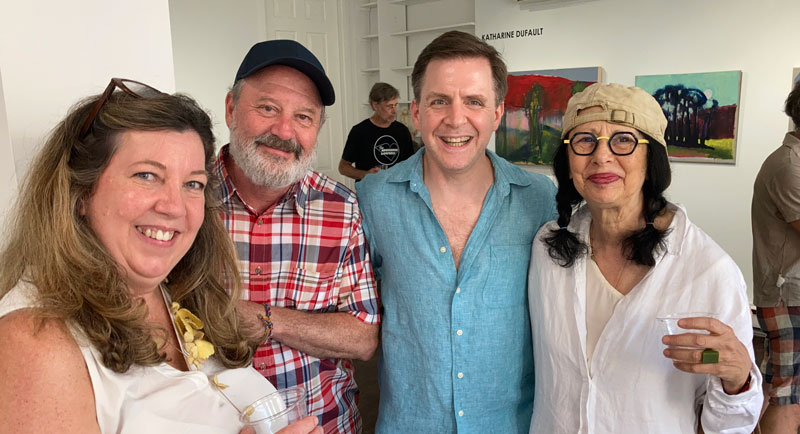 (left to right) Ellen D'Arcy Simpson (D'Arcy Simpson Artworks), Michael Simpson, Jeremy Bullis (Window on Hudson), Jane Ehrlich (Open Studio Hudson) at Susan Eley Fine Art Gallery in July 2021
Open Studio Hudson is next weekend, October 9-10th in the City of Hudson. Un-curated artists share their work and studio throughout the city.
Here's a little Q/A between Trixie's List and Jane Ehrlich, organizer of Open Studio Hudson:
Q: What inspired you to start Open Studio Hudson?
OPEN STUDIO HUDSON 2021 celebrates the arts and artists in our community. During the two day event the general public is invited to view artists' working studios, and to experience independent creative environments.
Hudson had several iterations of Art Walks in the past but nothing in recent years. Most towns in and around the Hudson Valley were having successful Open Studios events, and I decided to see if there was any interest. The first Open Studio meeting took place in 2019 in the back room at Red Dot over cocktails and beer. Over 20 artists showed up with a lot of questions and excitement, and many of the artists had never met although living in close proximity. We had a clear opportunity to connect artists to one another and the community.
Q: How do you think Open Studio Hudson has helped Hudson artists?
Participating artists are not juried, they are not filtered by curators or gallerists, just by a shared location. This allows opportunities for emerging and mid-career artists to show works that may not otherwise be seen. It allows for the artist to take chances and experience the spontaneous reactions of visitors. Visitors are an interactive part of open studios and the experience is mutually informative.
Q: Have there been any challenges with COVID?
The pandemic impacted us all in profound ways, and caused OSH 2020 to go on pause because of safety concerns. This year we are requiring all artists and visitors to wear masks and encourage social distancing.
Q: What is the best way to view the art and visit the artists?
Our website OpenStudioHudson.com lists all participating artists with photos of their work, and there is a downloadable map of the open studios.
The maps will be distributed around town in stores, coffee shops, restaurants, and wherever else we can drop them. Most of the studios are walkable from the center of town.
Q: For someone who might be an art novice, what do you recommend, if anything?
Take the tour, talk to the artists, ask questions about their process and work. This is an opportunity to immerse yourself in Hudson's creative community.
Q: Are there plans for next year?
Open Studio Hudson is an annual event and there are plans in the works exploring funding sources so that we can grow the event and support artists in our community.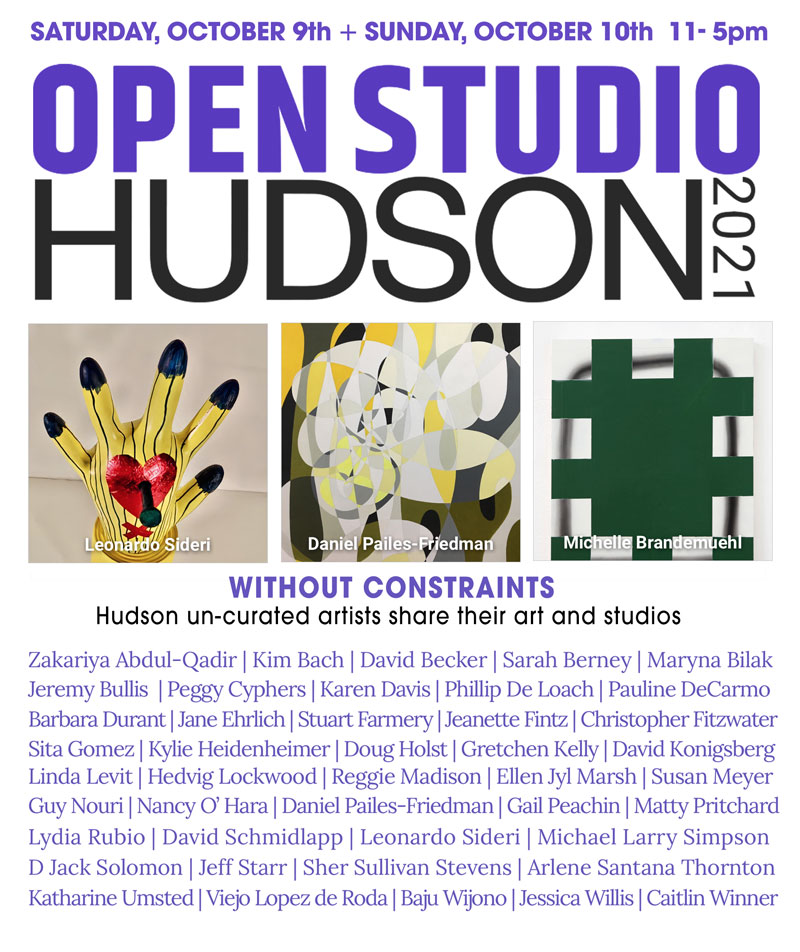 For more information, please visit their website, OpenStudioHudson.com