The amazing, energy-producing Stuyvesant Falls is a less than fifteen minute drive from Hudson – or an easy bike ride.
Stuyvesant Falls Park (about ten-fifteen minutes north off rte 9/Fairview) offers a picturesque place to overlook the falls and Kinderhook Creek and have a picnic lunch or, use a grill and have a BBQ!
Before you go, you MUST watch the youtube video, The Little Plant that Could is BACK. (thanks to Lisa Durfee for pointing it out). See below. The falls generate enough electricity for the nearby town. The plant used to generate electricity for the Albany-Hudson Electric Trolley that shuttled people between the two cities in about an hour.
Over the years, the trolley stopped, and the electric company let the plant fall into disrepair. The town of Stuyvesant organized, and through eminent domain, regained control of the building. The power plant was refitted and today provides clean, renewable energy to nearby homes.
The former Albany-Hudson Electric Trolley line is in the process of becoming part of the bike trail, the Albany-Hudson Electric Trail.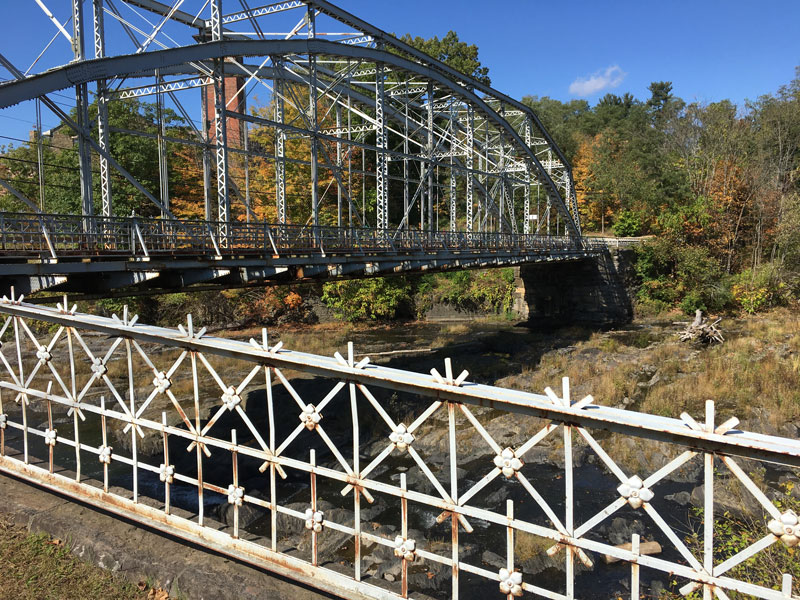 Stuyvesant Falls is the perfect spot to stop for pictures and leaf-peeking.