(aka She Slurps Seashells on the Seashore)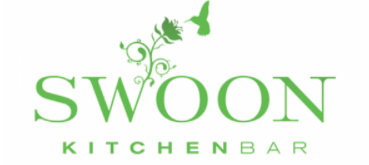 Swoon at 340 Warren Street is one of those romantic places with pretty lighting, and just enough background noise from the conversation din of other patrons to feel private. I have a few friends that I would meet at the bar and have great conversation about happenings in town, have a few glasses of wine or their famous Health Margarita, and slurp down oysters by the dozen before they run out of them (or the happy hour special was over!) For a time Swoon was the only place to get oysters on the half-shell, and in the summertime—you'd find me there almost every Thursday or Friday.
Alas—it's a whole new world, and you can't dine inside Swoon just yet, but you certainly can dine outside. They're open for takeout and outdoor dining on Thursdays 12-8PM, Friday and Saturday 12-8PM(ish), and Sundays 12-6PM.
Swoon was my first dinner out since the pandemic shut us all down. I have been doing lots of takeout to support our local businesses, but I figured it was time to put on something other than yoga pants and be out in the world. It was a perfect opportunity to meet up with another couple and tell our stay-at-home stories and be happy to be out on Shared Summer Streets.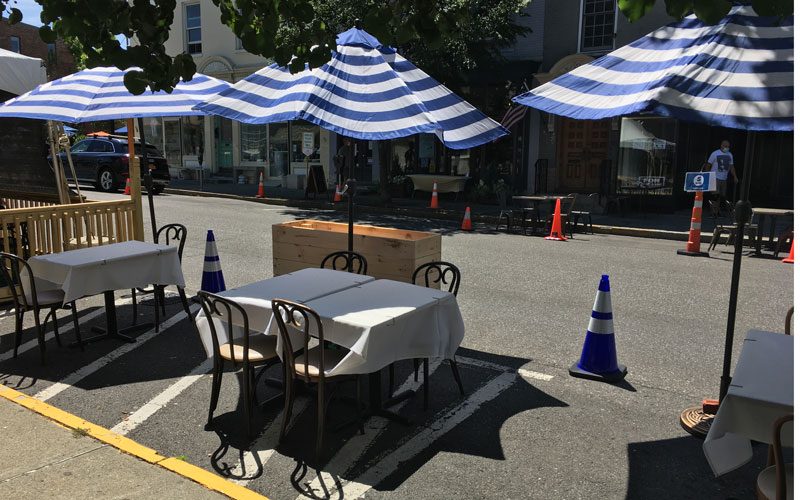 Swoon's outdoor dining
Chef Jamie Parry's dishes are thoughtful and beautifully executed. I will forever recommend the House Made Pappardelle Bolognese to anyone who might be a first-time diner at Swoon. It was the first dish I had when I moved to Hudson, and it is definitely near and dear to my heart. Click here to see the full menu.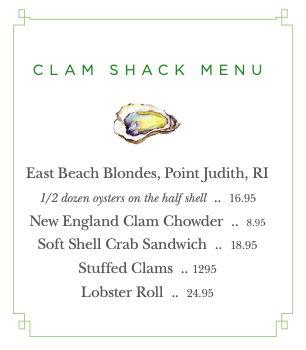 Our dinner was all about the The Clam Shack's special menu of fresh seafood (brought in from Maine earlier that day, even). We ate gleefully, happy to be both sipping drinks and seeing our friends in our usual spot and also to witness the new burgeoning street happenings. Hey all—there were congas and socially distanced dancing that made our night. People strolled, eying our dishes in jealousy. It was a beautiful night!
Special thanks to our servers, Marc, Julie, and Lisa, and of course, to the Chef for a couple of little samples of dishes he's testing out.
What we ordered:
Oysters—2 dozen. Gone in a flash. So quick, I forgot to take a picture. You know what oysters look like, right? To quote Anthony Bourdain quoting French poet Léon-Paul Fargue, eating oysters is "Like kissing the sea on the lips." (I'll take any opportunity to reference Mr. Bourdain.) These oysters are just that– a salty, briny, sweet kiss from mermaid on a hot summer night.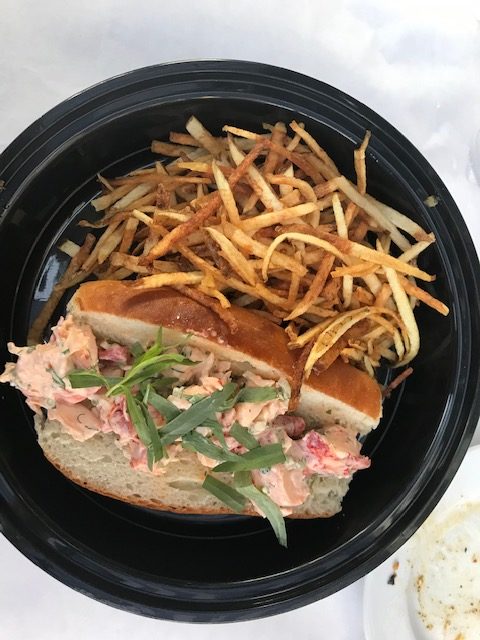 Lobster Roll—It's summer, Lobster Rolls are standard. Swoon's is not. Whether you like the buttery or the slight mayonnaise types—theirs is top-notch. It has fresh tarragon on it, and it makes all the difference. It was served with a pile of their famous shoestring fries.
Soft Shell Crab Sandwich—This is a spectacular sandwich: gorgeous and quite large, that sweet crab meat with a light breading, fried to perfection. Slightly spicy aioli, yup. Would order again. Note that the person who ordered this dish doesn't normally like crustaceans and he was thoroughly impressed, to say the least. If this was a rated scale: 5 stars, or 5 forks, 5 elbow high-fives. Whatever works for you.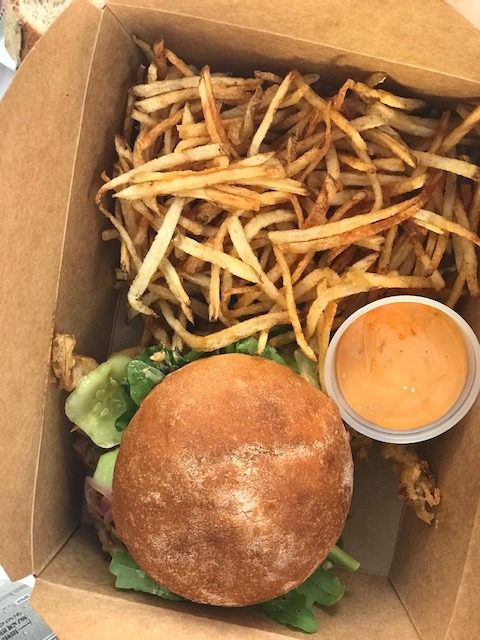 Pan Raosted Salmon with braised white beans, baby bok choy, with an herbed fennel sauce—the only dish ordered on the regular menu, but sticking with our seafood theme. The person who ordered this may have made almost inaudible, "MMMmmmm," while savoring each bit. Chef manages to elevate a simple dish with his technique and use of fresh ingredients.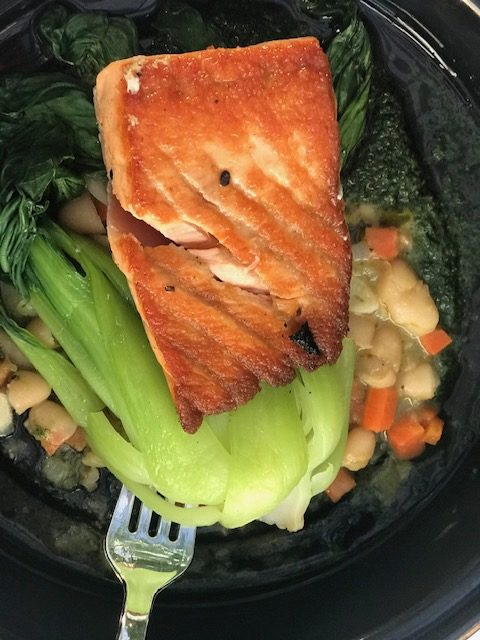 Pro-Tip: Time it to get there around the last seating, at 6:30 or 7 PM to close out the evening like you are in some European city to see how Warren Street is just as beautiful at night as it is during the day.