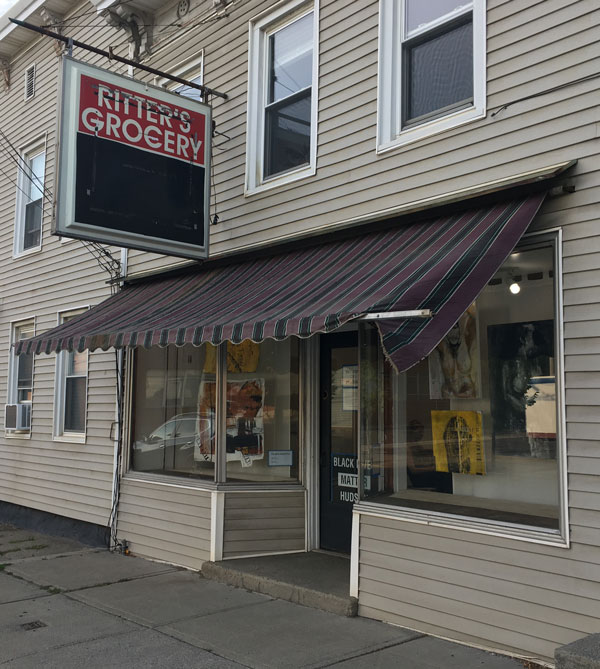 Hudson has a new art space where the art can safely be viewed in person, 24 hours a day, 7 days a week! Sculptor Jeremy Bullis, a very recent shelter-in-place Brooklynite-turned-Hudsonite, who originally hails from Ohio, has been renting an empty store front since March to make his own art and had the brilliant idea of allowing local artists to occupy the space in the windows. It's called Window on Hudson and it's located on Third Street near Allen, in the former Ritter's, where the original lightbox store sign hangs from the second floor with a striped vintage awning just below. From now until August 2, you'll find five amazing paintings by Hudson artist Pauline Decarmo gracing the two storefront windows and additional art by Decarmo indoors viewable by appointment.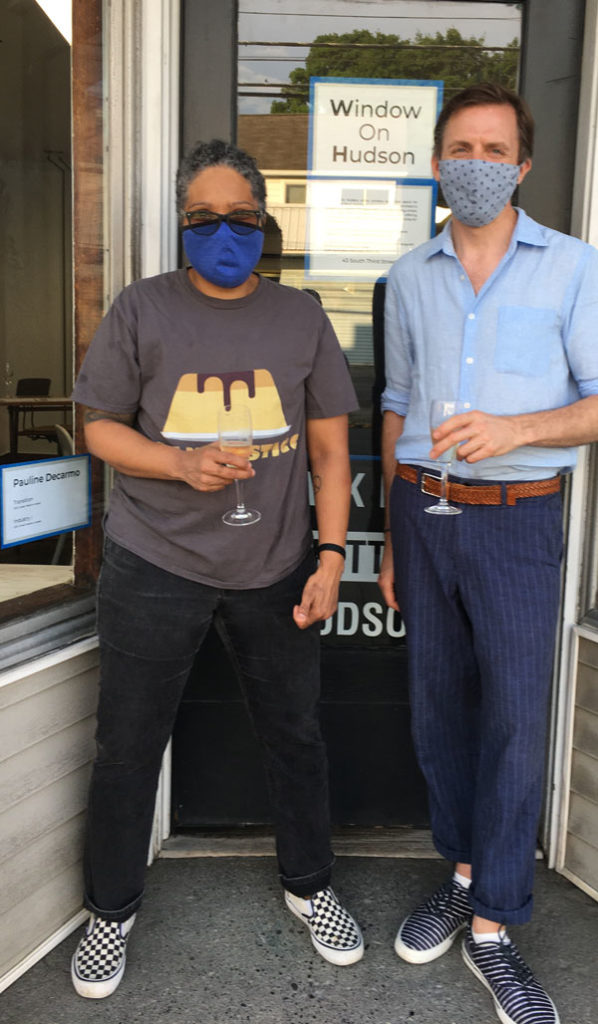 Pauline Decarmo and Jeremy Bullis – with matching sneakers!
Why open an art space during a global pandemic? Why not? Art and design runs in his blood. Bullis' father was a sculptor and painter and Bullis himself brushed shoulders daily with the NYC costume design world at Parsons-Meares. He also has a passion for puppetry design and performance. After visiting Hudson for years, Bullis recognizes a need for space where emerging artists and underrepresented segments of the art community alike could exhibit their art. Though not the first place to exhibit art in storefront windows, it's remarkably fitting in a time that begs for social distancing. And what about the hallmark opening reception where people are packed wall to wall holding plastic glasses of cheap red wine? "There was a small gathering, where people kept their distance and we did a sidewalk toast," says Bullis.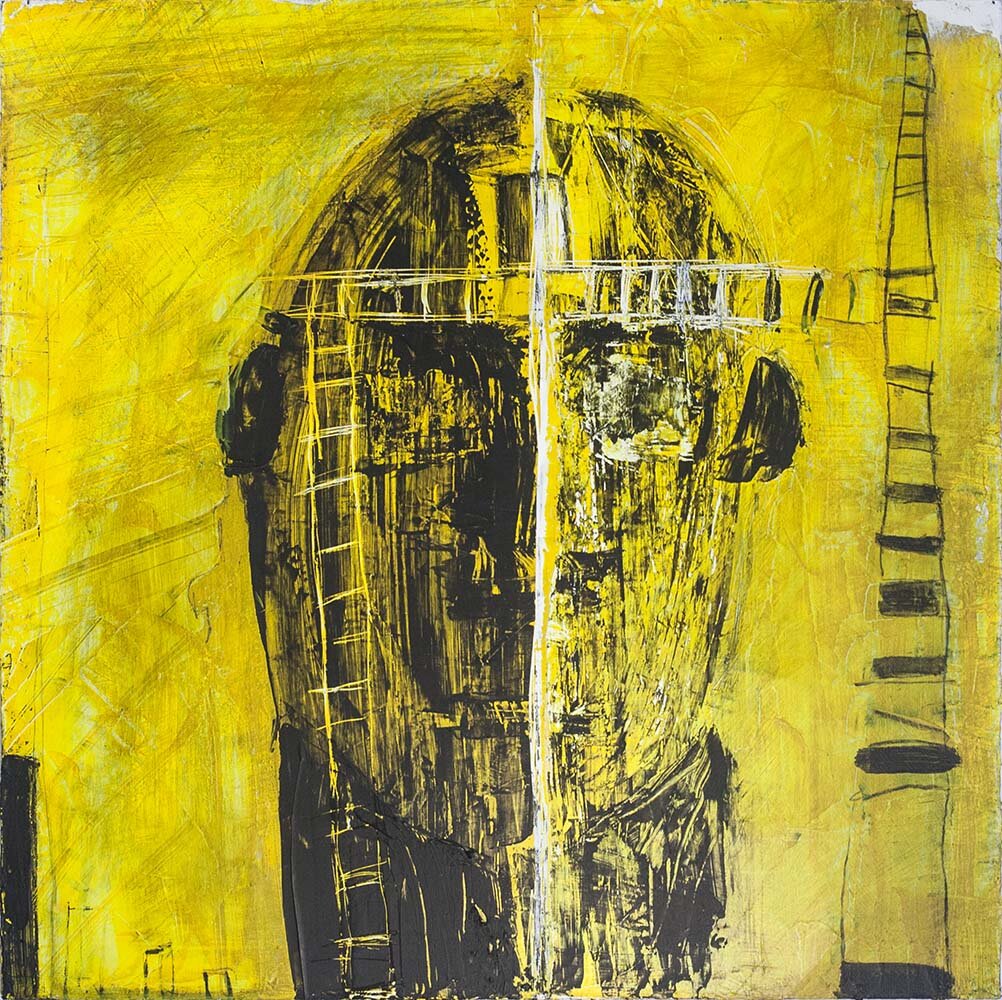 In addition to helping emerging artists and artists without gallery representation, Bullis really wants to fill that gap where certain types of art reside– art that is not part of a trendy movement, not necessarily sought after by profit-driven galleries, not likely to be commercially viable online or in person anytime soon. For now the windows will change hands every month. Next month our own Hudson Eye will take over the space and in September, we will get to see Bullis' art. Any future visions? A possible virtual exhibition space on Window on Hudson's website and of course performance art in a glass walk-in cooler. What? The space used to be a convenience store/deli and a walk-in cooler was left behind. Bullis wants to put the cooler to use. "Maybe for Winter Walk," he says.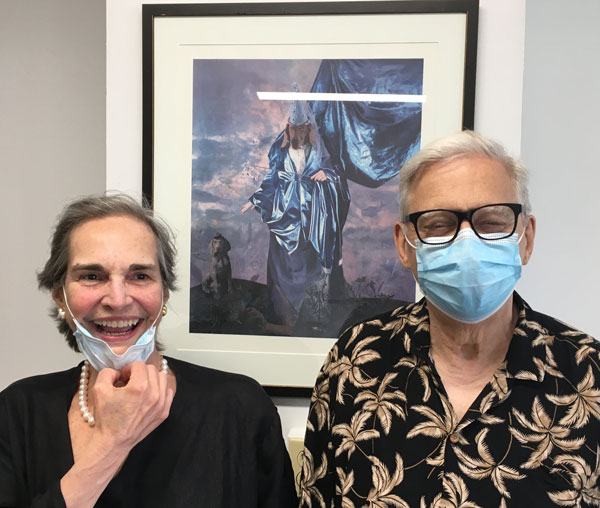 The Polenbergs, Peggy and Myron, at the Opening Reception
Window on Hudson's inaugural exhibition is more than worth the walk down to lower Warren. Pauline Decarmo, who is currently featured on this month's cover of Chronogram Magazine, presents "ESCAPES" her solo show of figurative and "industrial-scape" paintings which I think show how her art was affected by the political climate of the past three and a half years.
The paintings in the left window, Transition (2013) and Industry I (2015), are her earlier works; interesting "industrial-scapes" as she calls them. The lines are delicate, light, colors muted, mood somber. They don't look like they are part of the same show as the paintings in the right window which are a far cry from delicate and soft. In here hangs the really dark (literally and metaphorically) Chasing the Masters I (2017), a monochromatic figurative work; the almost unsettling figurative work Right Before (2017); and my favorite, Twins (2017).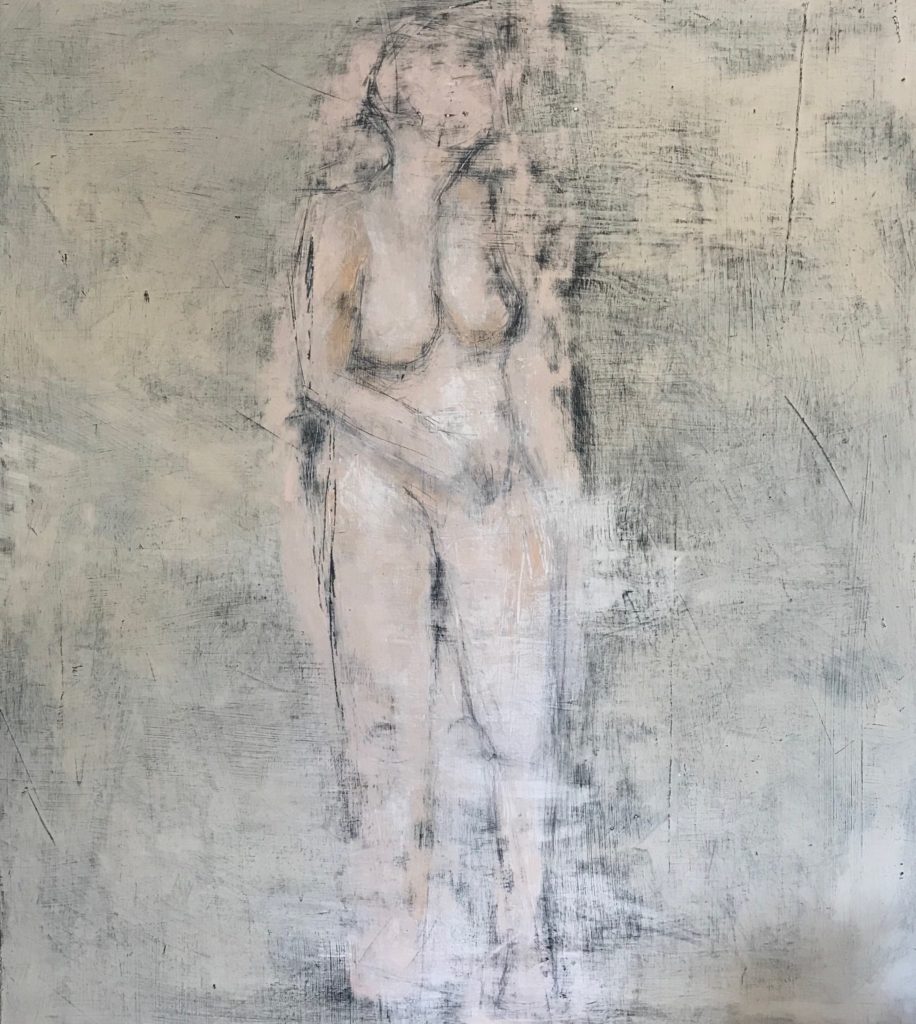 Human Condition (2020), mixed media and acrylic on panel, 40 x 36 inches.
I asked her what her show is about and why it was called "ESCAPES." She replied something to the effect of "I grew up in Queens, in the projects…I fell in love with the industrial form…metal…it was safe," says Decarmo. "Safe?" I asked. "Yeah, it wasn't always safe…I was surrounded by ladders…metal…I needed to be aware of how to escape dangerous situations…these paintings are flashbacks to good times…and bad times."
As we continued to talk about all sorts of things, what kept coming up was how Decarmo was affected by the political changes that took place in 2016, the global pandemic and especially the Black Lives Matters protests. This is personally what I see in Decarmo's show. When she talked about the political climate, that's where I heard strong emotion and passion.
After our chat, I revisited the show and I see now how the paintings all relate. The paintings in the left window are pre-2016. The paintings in the right window are 2017-present. My other favorite work is Twins. Like most of Decarmo's recent works, there are only indications of a face and the emotion is expressed in the gesture, lines, brushstrokes and color. Aesthetically, this work bridges the industrial-scapes to the figurative works. The means of escape are all around. The delicately painted ladders cut across the face horizontally and vertically and there is even a small door located near the "third eye." The head is composed of short broad vertical movements.
Just above it hangs Right Before, a profoundly striking, but at the same time unsettling, figurative work that from afar looks like it might have soft impressionist strokes but when viewed up close has strong, definitive brushstrokes. Right Before is loaded with heavy emotion and maybe even rage, from the gesture, to the harsh color choices and the intentionally blurred face. Chasing the Masters I is even darker. In a time when New York galleries and Instagram are replete with flat figurative and abstract works with solid definitive lines and suppressed emotion, it's refreshing to see works with deep shadows, uninhibited brushstrokes and spewing with emotions.
Her most recent work, Human Condition (2020), is viewable inside. It is almost an optimistic response to the works in the windows. Decarmo returns full circle to a light palette, delicate lines and a less aggressive gesture.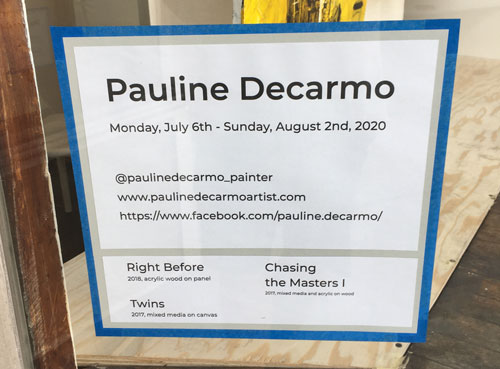 Window on Hudson is located at 43 S. Third St in Hudson, New York. Street parking is easy and it's steps away from Warren St.
For all you artists and curators out there, Window on Hudson is accepting submissions for subsequent shows. Reach out on Instagram at @WindowOnHudson where you will soon find a link to its website. Alternatively, send them an e-mail to submissions@windowonhudson.org.