Young at Heart Painting Classes Return to Olana State Historic Site this Fall
HUDSON, NY – The Olana Partnership is bringing back its popular painting classes for older adults to Olana State Historic Site this Fall with two expert teaching artists – Wennie Huang and Shawn Dell Joyce. Dell Joyce will offer in-person "Sketch Your Landscape" classes and Huang will offer a virtual series titled "A Brush with the Past." During each program, participants will be immersed in and inspired by Frederic Church's 250-acre artist-designed landscape and paintings, and the views from Olana.
"This will be our third year partnering with Shawn Dell Joyce to offer outdoor artmaking classes throughout Olana, making the site's living landscape painting accessible to adults of all ages and abilities."
"Young at Heart: Sketch Your Landscape" will be offered Tuesday, September 26 through Thursday, September 28 from 9:00 AM to 12:00 PM.  During each three-hour program participants will be provided with basic sketching materials, watch a short live demo by Shawn Dell Joyce, and experiment with sketching their own view of Olana's landscape. This program is part of The Olana Partnership's inclusive, anti-ageist, and participatory series of creative skill building programs at Olana.  Dell Joyce will also be leading a Plein Air painting class for all.  Visit OLANA.org for more information.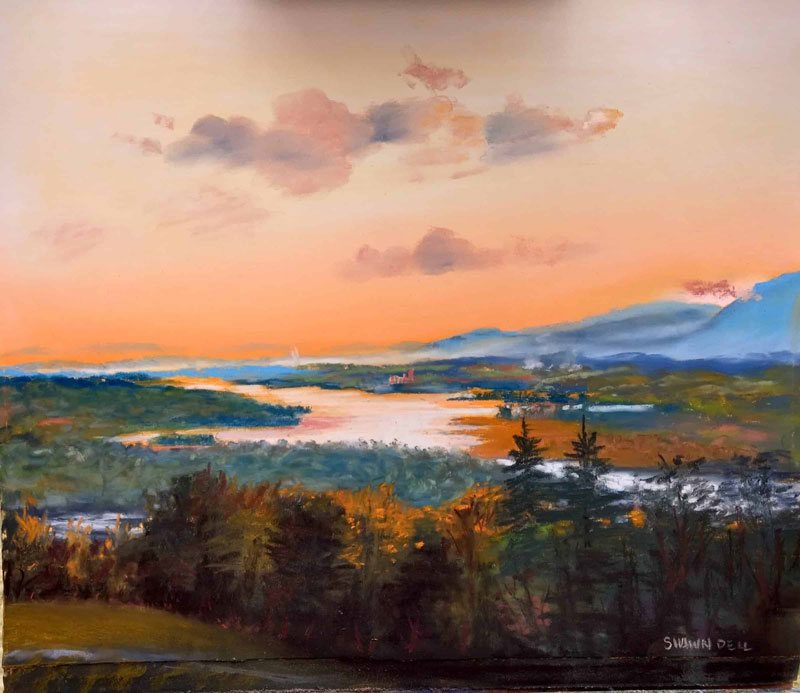 All materials and chairs will be provided for this program. The fee is $250 for non members/$150 for members of The Olana Partnership and advanced registration is required.  Scholarships are available upon request. For more information, please contact education@olana.org or call (518) 751-6938.
Shawn Dell Joyce began teaching plein air classes in 2000 and continues weekly to this day. She founded a plein air school with an arts and agricultural mission based on the historic Hudson River School, called the Wallkill River School of Art. It still exists today as a nonprofit arts organization with a mission of bringing cultural tourism to the Hudson Valley region through plein air painting workshops and events on local farms, historic sites, and open spaces. Her work is included in museum collections in the Georges Pompidou Museum in France and the Museum of Modern Art in New York City.  Dell Joyce was recently featured in Pastel Journal Magazine.
"Young at Heart: A Brush with the Past" will be offered Wednesdays, October 25, November 1, 8, 15 from 6:00 PM to 8:00 PM online on Zoom.  During each two-hour session, participants will create a watercolor painting based on their own collection of personal and family photographs. Teaching artist, Wennie Huang, will begin each weekly session with a demonstration of watercolor techniques you can try from home to translate snapshots of travel, family, and friends into your own unique compositions. Just as the artist Frederic Church collected thousands of photographs throughout his life, participants will be encouraged to cull through their own collection of images and personal snapshots of photographs of places visited, people cherished, and memories worth revisiting to find new artistic inspiration.
Wennie Huang, PSA, received her BFA in Painting from Pratt Institute in 1994 and her MFA in Printmaking from the University of Michigan in 1996. Huang also teaches at Parsons School of Design, Wave Hill, and the Pastel Society of America. She has over 20 years of experience in art education and has taught a variety of children, teen and adult classes and workshops at 92Y since 2005. Her mixed media installations combine paper, wood, print, fabric and photography. Her work has been exhibited at the Bronx Museum of the Arts, Munson-Williams-Proctor Arts Institute, Wave Hill, Detroit Artists Market Biennial and in various NYC galleries.
All sessions will be held on Zoom with an optional Olana site visit available to participants. A tech session will be available to those who are unfamiliar with zoom. A selection of basic materials will be provided to participants in advance of the program via mail. $250 for nonmembers/$150 for members. Advanced registration is required. Partial scholarships are available upon request. For more information email education@olana.org.
The "Young at Heart" series is specifically designed to provide older adults personalized attention, one-on-one instruction, and accessibility accommodations.  "Young at Heart" is an enjoyable opportunity for older adults to meet others, get involved and explore their artistic side at their own pace. As part of the program, participants will socialize with peers, and learn more about Olana. This class is perfect for those with mobility impairments or specific accessibility needs and will take place at easily accessible sites at Olana.
To learn more about and to register, visit OLANA.org/YoungAtHeart, contact education@olana.org, or call (518) 751-6938.
###
About Olana and The Olana Partnership: Olana is the greatest masterwork of Frederic Edwin Church (1826-1900), the famous American artist of the mid-19th century and the most important artist's home, studio, and designed landscape in the United States. Church designed Olana as a holistic environment integrating his advanced ideas about art, architecture, landscape design, and environmental conservation. Olana's 250-acre artist-designed landscape with five miles of carriage roads and a Persian-inspired house at its summit embraces unrivaled panoramic views of the Hudson Valley and Catskill Mountains and welcomes more than 170,000 visitors annually. The landscape is open for guided touring, and reservations are highly recommended. The landscape is open daily 8 AM-sunset.
Olana State Historic Site, administered by the New York State Office of Parks, Recreation and Historic Preservation, is a designated National Historic Landmark and one of the most visited sites in the state. The Olana Partnership is the 501(c)(3) not-for-profit cooperative partner of the New York State Office of Parks, Recreation and Historic Preservation at Olana State Historic Site.