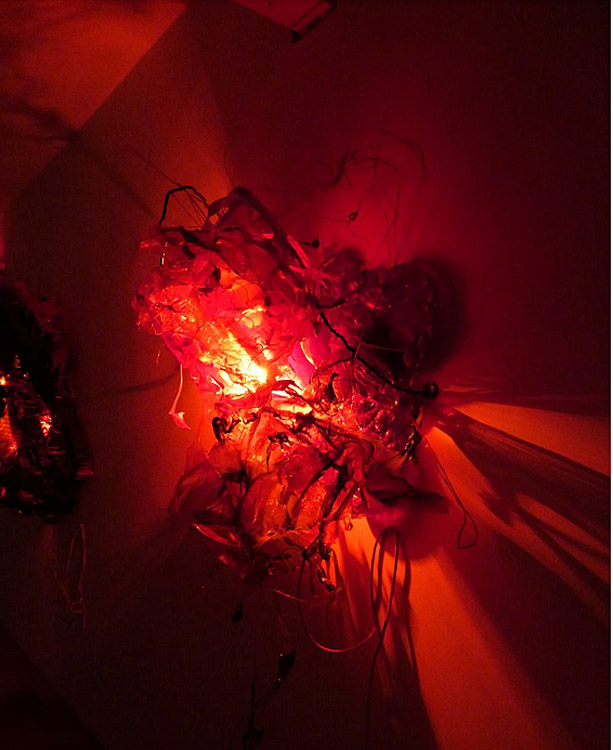 Worlds of Color
An interactive, experiential exhibit on color is going to take up the majority of the summer months at Lightforms Art Center. This color installation will create a magical and educational experience for all ages, a memorable submersion into the multifaceted world of color. Four color/light experience rooms invite the visitor into a full surround color immersion, where doors and windows open into rather nonphysical worlds. In these spaces one can become color itself and let it in through all one's inner and outer senses. A full, deep understanding of the power of color can emerge from this all-out infusion. The color qualities of each room can be contrasted by the next, opening up the total nonverbal language of each color to the other and an understanding of their essence.
Lightforms has invited artists who have worked with color for decades as painters, installation and projection artists. Renowned installation artist Judy Pfaff brings us into the world of red, an installation called corpora that is based on the heart and blood (see illustration). Finnish projection artist Sampsa Pirtola and painter Laura Summer draw the viewer deep into the mystery of the color blue, while Martina Angela Müller's installation flows with living rivers of gold and silver into a contemplative world of purple.
The front gallery will glow with large scale paintings by Daniel Mullen, a new art sensation from the Netherlands whose pure geometry and gradated color invite into large scale three-dimensional spaces of weightless luminosity.
Scientific/experiential color presentations with experiments on colored light/shadows and color phenomena and other lectures and workshops will complement the exhibits throughout the summer