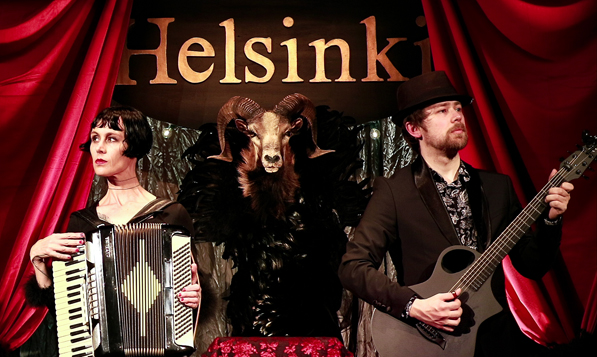 Wish You Were Hear: Club Helsinki's first live/virtual show w/Girl Blue & Dust Bowl Faeries duet
WISH YOU WERE HEAR (pilot episode)
Saturday October 24, 8pm EST (New York!)
WATCH HERE: https://youtu.be/4oj_pb9RILs
Helsinki Hudson is opening their doors for the first time since March 2020 for the pilot episode of Wish You Were Hear, a live/virtual show produced by Corey Aldrich and presented by Helsinki Hudson.
This first episode of Wish You Were Hear will feature the spectacular music of Girl Blue, girdled by the wistful songs and morbid amusements of the Dust Bowl Faeries duet.
GIRL BLUE is singer, songwriter and producer Arielle O'Keefe. She writes emotionally-driven pop music, combining real feeling and storytelling with gorgeous melodies and catchy hooks. She's been widely praised for her excellent lyricism and powerhouse vocals. Both her debut single "Fire Under Water" and her cover of Fleetwood Mac's "Dreams" have been featured on Spotify's New Music Friday playlist, and have charted virally. She continues to release music independently from Troy, New York
DUST BOWL FAERIES duet: Dark Carnival Dream Music.
The Dust Bowl Faeries duet (Ryder Cooley & Jon B Woodin) will intrigue and enchant you with dark cabaret songs on accordion, singing saw and acoustic guitar. Hailing from the New York Hudson Valley, this dark carnival band's eclectic repertoire of original songs draws inspiration from post-punk and Gypsy music. As always, the duet will perform with their taxidermy spirit animal, Hazel the Ram.
"Carnival, silent-movie-era, fin de siecle, Lynchian, full on baroque with a touch of Jethro Tull." Ric Kallaher, 2019