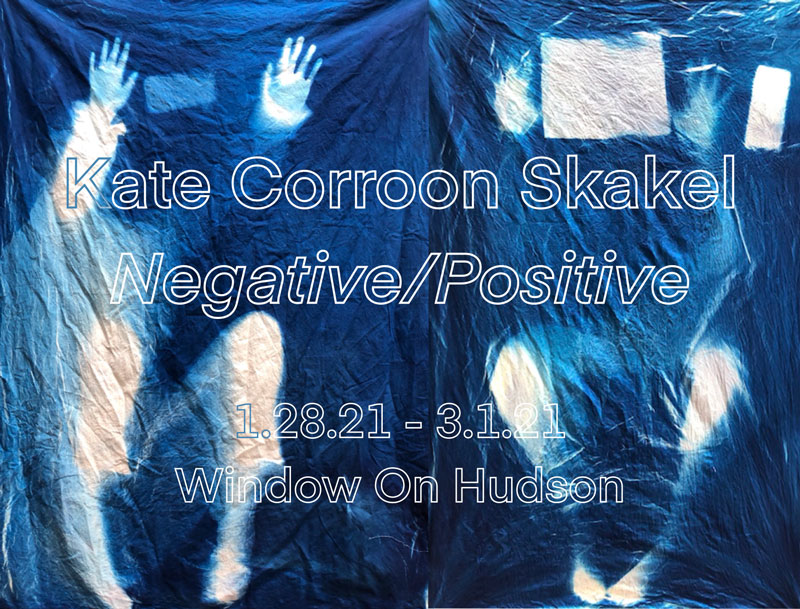 Window on Hudson: Kate Corroon Skakel
Artist's Reception
Kate Corroon Skakel
Saturday, February 13th
3-5pm – with an In Window Cyanotype Creation at 3pm!
Window On Hudson
43 South Third Street 
Hudson, NY 12534
Window On Hudson is thrilled to present its second exhibition of 2021. Kate Corroon Skakel
is presenting Negative/Positive, a series of cyanotypes on view from January 28th – March 1st, 2021.
Skakel will be showing several new works in both the windows and indoor gallery space. And, for
the first time at Window On Hudson, she will create a new piece on site. This process, or
performance, will take place Saturday, February 13th, 2021, at 3-5pm, weather permitting.
Kate will be creating a new work in the North Window from 3-3:20pm.  Additional pieces are on view indoors.  Kate began these works as a study of quarantine and time spent in isolation.  She says, "I position my body onto pieces of  fabric and expose myself in the sun for twenty minutes, creating ghostly shadows of my own  personage.  Each position can be viewed as either a yoga pose, or a body in duress.  This is intentional, as both have been a prominent part of my time in quarantine.  The title of the show, Negative/Positive, also references this – am I 'happy' (positive)? Or am I 'sad' (negative)?  It is also a reference to photographic and printmaking processes – the positive is  produced by the negative.  My feelings, as well as my body, are not entirely understood in these works.  My body becomes a stand in for all of us in lockdown.  After all, we are all alone, together."
Negative/Positive is on view until March 1, 2021.  If you are unable to attend the reception but would like to see the indoor works we are happy to make an appointment for private viewing.  A catalogue of Skakel's works for sale will be provided upon request.
You can follow Kate on instagram at @kate.corroon.skakel and see more of her work at https://www.kateskakel.com/
We take Covid-19 and your health very seriously.  Our front door will remain open at all times.  We encourage visitors to bundle up and appreciate the art and each other's company outside in small, distanced clusters.
We hope to see you healthy and safely on Saturday.