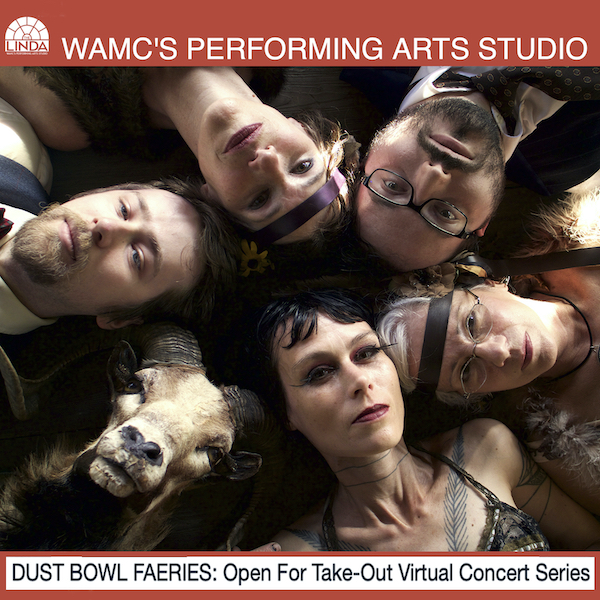 WAMC The Linda's Live Virtual Concert w/DustBowlFaeries FULL BAND! Mon. Feb 22nd
WAMC The Linda's Open For Take-Out Virtual Concert Series presents:
Dust Bowl Faeries – Full Band!
Monday February 22nd, 8pm
(rescheduled from Feb 1st due to a blizzard)
Come celebrate (virtually) with dark carnival band Dust Bowl Faeries on Monday Feb. 22nd for their first official FULL BAND concert since February 2020. The band will be performing some new songs written during the pandemic along with their gothic tango-polka standards and a number of songs from their recent album, The Plague Garden.
Tickets are $10 to support the band/venue. A youtube viewing link will be emailed to ticket holders, all tickets purchased for Feb. 1st will work for the new date
TICKETS: https://www.eventbrite.com/e/dust-bowl-faeries-open-for-take-out-virtual-concert-series-tickets-134571088749
DUST BOWL FAERIES, Dark Carnival Dream Music
"Americana by way of pagan cabaret" Bay Area Reporter, 2020
Dust Bowl Faeries is a dark-carnival band from New York. Their eclectic repertoire of songs draw inspiration from circus, post-punk and Eastern European folk music. Accordion, singing saw, ukulele, lap-steel, guitar and percussion combine to create the Dust Bowl Faeries otherworldly sound. The band was founded by Ryder Cooley and Hazel, a disembodied taxidermy ram who performs with the Fairies as their mascot-spirit animal. Ryder and Hazel are joined by Rubi LaRue, Jon B. Woodin, Liz LoGiudice & Andrew Stein. Their debut self titled album, produced by music critic Seth Rogovoy, features Tommy Stinson (Replacements) & Melora Creager (Rasputina). The band released two EP's with producer Floyd Fisher in 2018 and 2019, and their new album, The Plague Garden, co-produced by Mike Schoonmaker, was released in November 2020. Dust Bowl Faeries have been working with filmmaker Lisa M. Thomas/Thin Edge Films on a series of music inspired videos, including (most recently) Candy Store, a music novella, which premiered on MXDWN magazine in October 2020.
"The band creates sounds both mystical and ethereal, and have drawn comparisons to Gogol Bordello, David Lynch, Dresden Dolls and Dead Can Dance" Stitched Sound, 2020
Website: https://dustbowlfaeries.com/