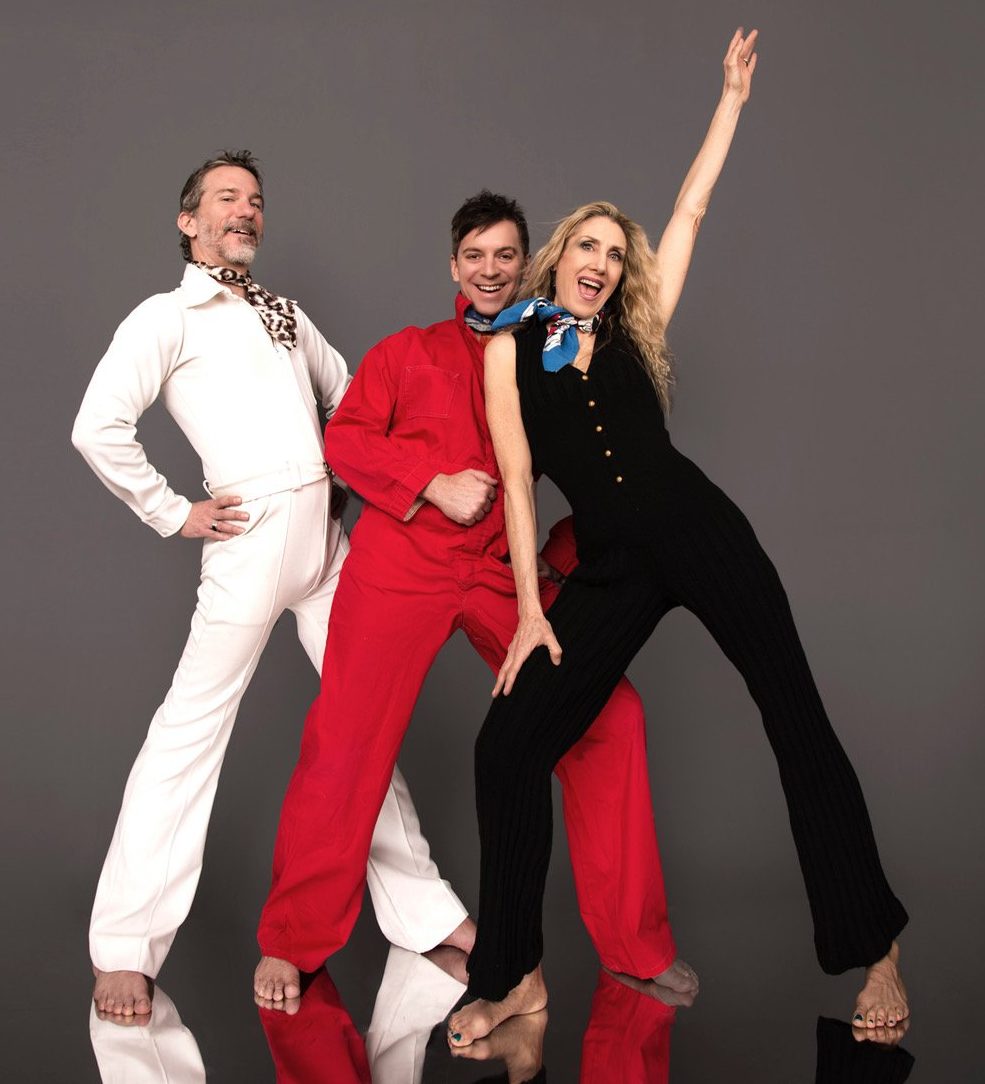 UNITARD
Dangerous Adult Comedy
Saturday, November 19 at 7pm
Buckle up your bustier, Hudson! Unitard — NYC's naughtiest, no-holds-barred comic trio — are heading to Hudson Hall to slap us out of our collective malaise with the biting wit and snappy satire that have made them the toast of the New York comedy scene. Unitard perform their hilarious brand of comic sketches and monologues with a distinctly queer sensibility on Saturday, November 19 at 7pm. Tickets are $20 at hudsonhall.org or by phone at (518) 822-1438.
Unitard, who enjoyed a 5-year residency at Joe's Pub, is made up of the combined talents of Mike Albo (former New York Times columnist and author of The Underminer as well as established solo performer), Nora Burns (of the comedy group The Nellie Olesons), and David Ilku (member of the Dueling Bankheads).  Collectively and individually, they have performed in venues and festivals across the US, including: We're Funny That Way, Toronto; Aspen Comedy Festival; Toyota Comedy Festival; HBO Workspace, LA; PS122, NYC; Highways, LA; SF Sketchfest, San Francisco; Andy Warhol Museum, Pittsburgh; Theater Offensive, Boston, as well as Portland OR, Seattle WA, Provincetown MA and Columbus OH. Some of their work has been featured on, CNN, Bravo, VH1, Logo TV, and Comedy Central.
Unitard has developed a cult following in their almost 20-year collaboration, collecting celebrity fans such as The White Lotus' Jennifer Coolidge, "I spit out my cocktail! One continuous laugh from start to finish"; RuPaul, "She-larious!"; and actress/comedian Sandra Bernhardt, "It's everything: off the charts funny, brilliant, edgy, scathing, out there.  Unitard hits it hard!". Critics have also fallen for the group's wild yet clever antics; they were a "Critics Pick" in The New Yorker, New York Magazine calls them ""Highbrow/Lowbrow Brilliant", while Boston Herald called them "Comic gold!".
Mike Albo is the author of the novels Hornito and The Underminer: The Best Friend Who Casually Destroys Your Life (co-written with Virginia Heffernan), as well as the novella, The Junket. His writing has appeared in numerous magazines, anthologies, and web sites, including New York Magazine, GQ, Out, The New Yorker and The New York Times. As a solo artist, he's performed all over the US, Canada and in Europe. Solo shows include Mike Albo, Mike Albo; Spray; Please Everything Burst; My Price Point; and most recently, an Off-Broadway production of The Junket, directed by David Schweizer.
Nora Burns is a founding member of the comedy groups Unitard and The Nellie Olesons and has performed across the country in venues from PS122, LaMama, and Joe's Pub in NYC to Highways, Cavern Club and HBO workspace in LA. She has also performed at the Aspen Comedy Festival, Just for Laughs in Montreal and We're Funny That Way in Toronto. Her second solo show, David's Friend opened at LaMama to rave reviews in The New York Times and was performed at Hudson Hall in 2019. She has appeared in the films Florent: Queen of the Meat Market, Nick and Norah's Infinite Playlist, Broken Hearts Club and Boys Life 3, among others. Her television appearances include Logo's "Wisecrack" comedy show and the "Sandra Bernhard Experience."
David Ilku first appeared in various performances in New York City night clubs. He has worked in theater projects with the New York Theater Workshop, Drama Dept., the Culture Project, and TWEED Theater Works, among others. His film credits include Imagine I'm Beautiful, Love Hunter, In Our Nature, Full Grown Men, Risk, Blue Steel, Godass, Night Journey, and Liquid Sky. He also co-wrote and performed the short film Salvation for Giorgio Armani. TV credits include "Spin City," "The Cosby Show," and Comedy Central's "Premium Blend." He was one-half of the comedy duo The Dueling Bankheads and was an Island Records recording artist in the band World at a Glance.

More acclaim for Unitard:
"The three launch cynicism and media skepticism into orbits of hilarity." –  AOL Anywhere
"A satirical triumph with no time to apologize for its hipness." –  The Boston Globe
"All I can say is: 'It's about time!' Hilarious." –  IN News Weekly
"Rapid-fire sketch comedy . . . Unitard has certainly distinguished itself with their razor sharp writing and savage performances. Their satirical edge is spot on." –  Provincetown Magazine