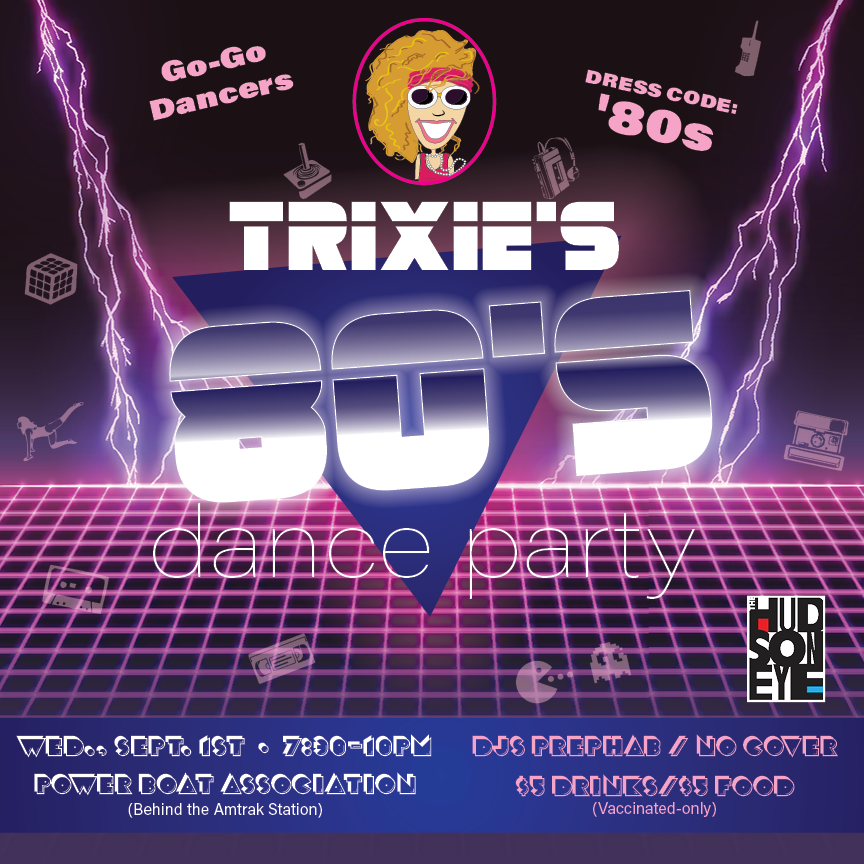 Trixie's '80s Party
At the Power Boat Association – ON THE WATER!
NO COVER – all night '80s music – Dress '80s
DJ's prephab
gogo dancer, Ivan the Egg Man
$5 drinks/$5 food – they'll be grilling sausage and peppers on the outdoor patio deck.
Vaccinated-only
Go to Waterfront Wednesday, then stop by for a drink/dance!
Sponsored by The Hudson Eye
Active in Hudson since 2006, Jonah Bokaer Arts Foundation presents The Hudson Eye, arranged by ascendant curatorial voice Aaron Levi Garvey. The Hudson Eye is an artist-driven 10-day annual public program and urban showcase, focusing on Dance, Music, Performance, Film, Visual Art, Dining Out, Nightlife, and Hot Topics Panels highlighting issues of interest to the local community. Taking place August 27th-September 6th 2021 as a celebratory close to Hudson's peak tourism weekend of the summer, we work deeply at all levels of the city to consider what it means to be part of the Hudson community fabric, and look inward at our own relationship to the region over the past 15 years. The Hudson Eye was born to be shared annually in partnership, and steers an anonymous $50,000 Local Matching Grant to Hudson.