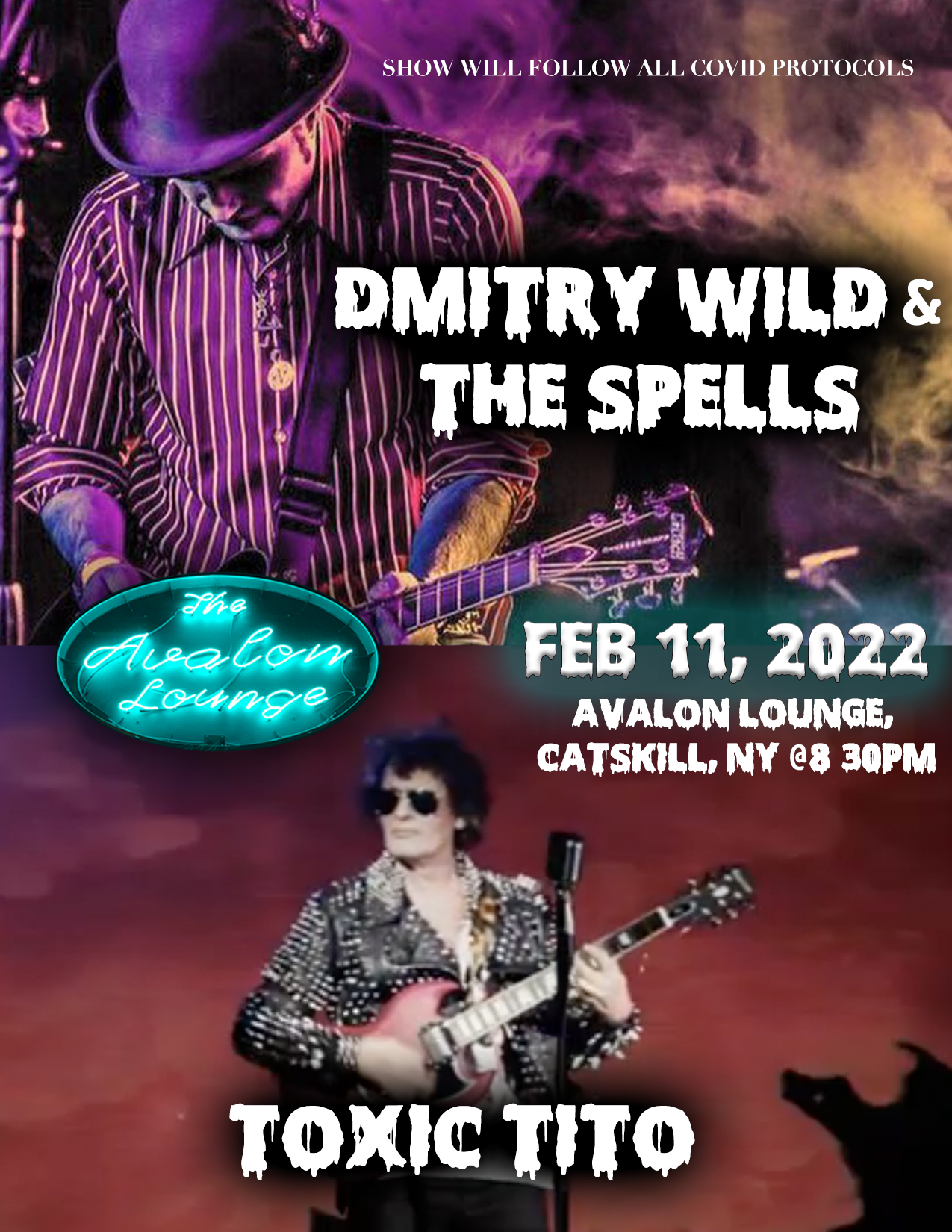 Toxic Tito + Dmitry Wild & The Spells @Avalon Lounge
EXPERIENCE LIVE 2 Local Rock Acts in 1 night.
(This Show wIll follow all Covid Protocols.)
Toxic Tito are a powerful, no-frills New York City punk band led by Venezuelan-born Luis Accorsi, who came up in the 80s scene playing CBGBs and working as an art dealer for Keith Haring, Futura and others; they'll play a mixture of originals and classics by The Ramones, The Sex Pistols and more.
—-
Dmitry Wild & The Spells
(Vintage rock, '80s, eastern European, rockabilly, with Gothy Western influences)
Upon escaping the pandemic with a move upstate to Hudson, New York, he launched a more solo trajectory as the main writer, composer, guitarist and a singer of all material. With performance, emotion, and lyrics at the core of his music, live shows take on a theatrical and, at times, mystical experience roller coasting through multiple musical styles, vintage rock, '80s, eastern european, rockabilly, and at times Gothy Western influences. Currently, performing under the name Dmitry Wild and The Spells with the band of true conspirators,Tommy Love on Drums and Robert Paley on Bass.
Will feature Ryder (Dust Bowl Fairies) on saw.
Check out "Don't Need Anybody"

MUSIC VIDEO filmed around Hudson.
"Upbeat, positive, and catchy. With memorable riffs and a notable feel-good vibe… Wild delivers his vocals with casually defiant flair, surrounded by rolling waves of shining guitar riffs, a slinky bassline groove, kicky drum hits, and crashing cymbals. The ambiance is exciting, yet laid-back at the same time and captures a true rock 'n' roll spirit" ~ Big Takeover Magazine