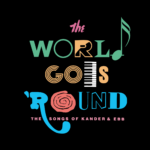 The World Goes 'Round
SEPTEMBER 10–OCTOBER 3, 2021
Music by John Kander
Lyrics by Fred Ebb
Conceived by Susan Stroman, David Thompson and Scott Ellis.
It's only fitting that our season concludes with a title that resonates with our experiences this past year — a reminder that through our hardships and triumphs, "The World Goes 'Round".
A brilliantly constructed retrospective of musical theatre collaborators, Kander and Ebb. The World Goes 'Round is a stunning revue from the Tony award-winning team's songbook. Filled with humor, romance, drama and nonstop melody, this show is a thrilling celebration of life and the fighting spirit that keeps us all going.
From Cabaret to Chicago, the hit-parade features unforgettable gems, including "Mr. Cellophane," "Maybe This Time," "Cabaret," and "New York, New York," seamlessly interwoven into a passionate, harmonious, up-tempo evening of musical theatre.
Its first time being presented on our stage, The World Goes 'Round is guaranteed to warm your heart as we celebrate the conclusion of our 2021 return season.