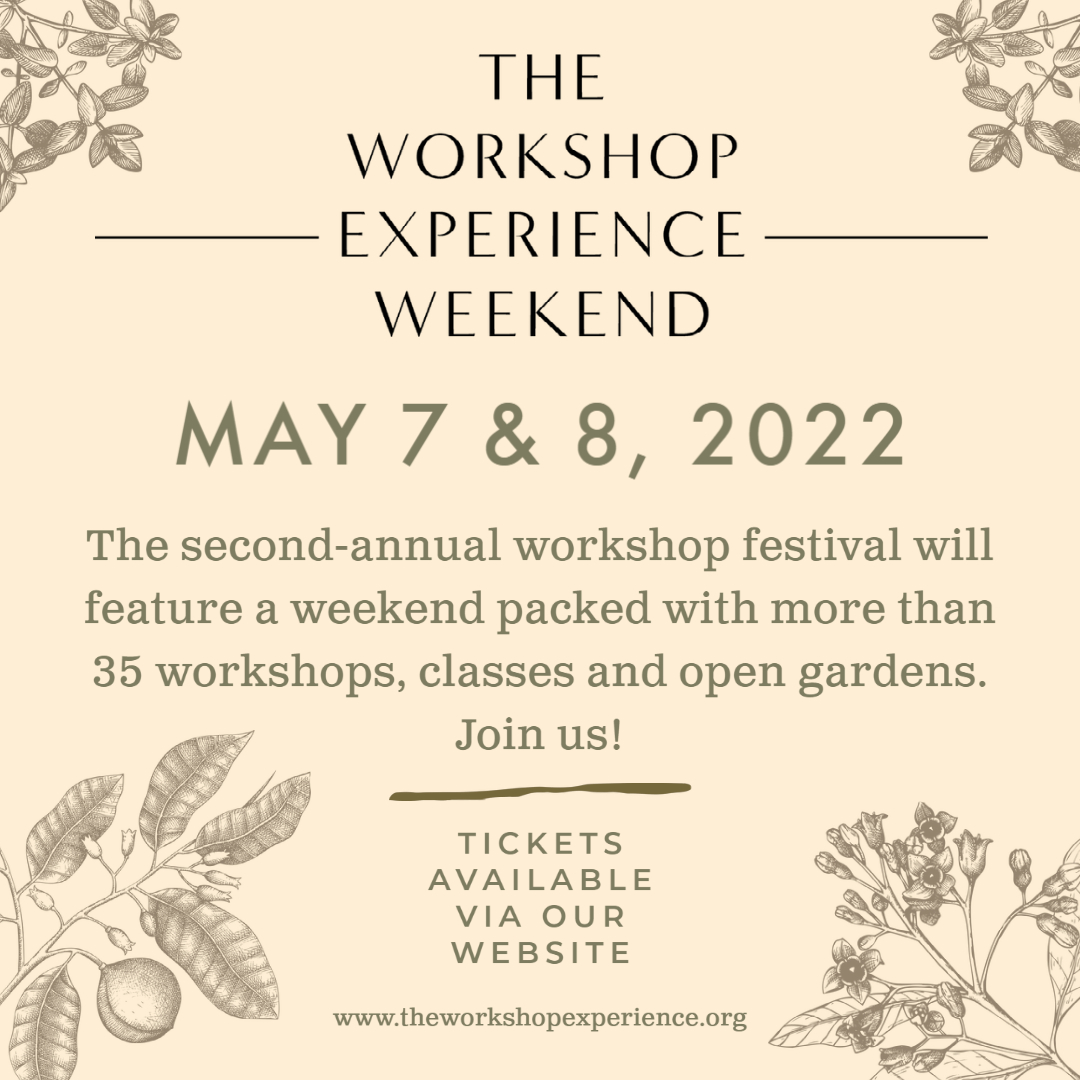 The Workshop Experience Weekend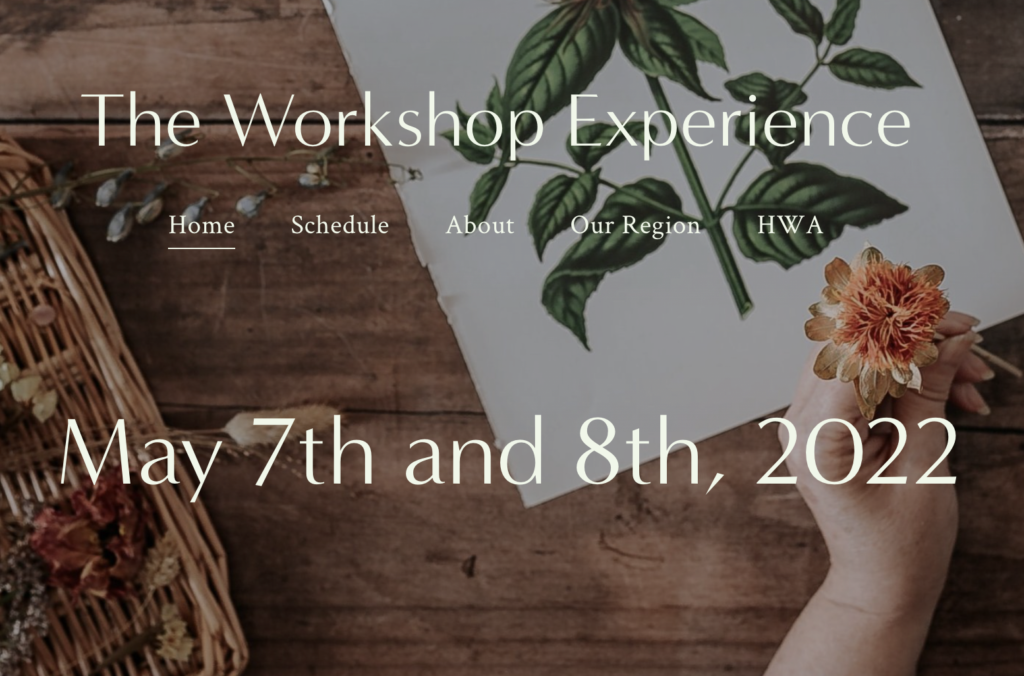 Exciting news! The Hillsdale Workshop Alliance's second-annual workshop festival- The Workshop Experience– happens May 7th and 8th, and will be packed with over 35 workshops, classes, and open gardens in nine locations throughout Hillsdale, Ancram and Copake (in the Hudson Valley's Columbia County).
The Alliance is a small group of local producers and creatives who curate and promote experiential learning led by renowned experts in a diversity of fields in and around Hillsdale, NY. Whether taught by area experts or visiting makers/instructors, the goal is high-quality workshops presented in beautiful settings that can be enjoyed by local audiences and visitors alike. And although the Alliance was formed only last year, workshops have been a mainstay in the town for much longer, thanks to the area's vibrant creative community and skilled makers.
There are a variety of workshops scheduled for the festival weekend, which focus on culinary arts, garden/florals, crafts, writing, dance, textiles, and even hula hooping.
A few of the workshops that will be held during the Workshop Experience weekend include:
● "Language of Flowers: An Introduction to Pollinator Ecology" with Rebecca McMackin (The director of Horticulture at Brooklyn Bridge Park, published by and featured in The New York Times)
● "Chinese Spring Rolls & Wontons" with Kian Lam Kho (Food writer, cooking teacher, and food consultant specializing in Chinese cuisine. He is the author of Julia Child First Book Award-winning Phoenix Claws and Jade Trees: Essential Techniques of Authentic Chinese Cooking.)
● "The Tao of Hula Hooping" with Annie Humphreys (Author of The Tao of the Hoop.)
● Open garden tours by Margaret Roach (Lead garden writer at Martha Stewart Living and Newsday, and since April 2020 at The New York Times. Margaret is also the author of 3 garden books, including A Way to Garden.) , Peter Bevacqua and Mark McDonald
● "Movement For the Non-Dancer" with Aubrey Lynch (Dean of Faculty and Student Affairs at American Ballet Theater Jacqueline Onassis School, former principal with Alvin Ailey American Dance Theater, and original cast member and associate producer of The Lion King.)
● "Sheep to Yarn: An Introduction to Fiber Processing" with Margot Becker (Hudson-based artist, weaver, and educator.)
● "A Creative Writing Mini-Retreat" with Libba Bray (NYT bestselling author of young adult fiction) and Susanna Schrobsdorff (Editor at Large for Time magazine)
● "Dahlia's Delight: Growing Better Dahlias" with Jenny Elliott (Tiny Hearts Farm owner and head grower.)
● "Augmented Reality VR and the Metaverse" with Tom Westerlin (Immerse Director with over 20 years of experience in virtual reality, augmented reality, CG content, and video games.)
● "Herb-Infused Cooking" with David Wurth (Chef and owner of CrossRoads Food Shop, and former Chef de Cuisine at Savoy in Manhattan.)
● "Say Cheese! Cooking Class" with Justin Chapple (Culinary director-at-large at Food & Wine, host of video series Mad Genius Tips, for which he was twice nominated for a James Beard Award.  Author of Just Cook It!.)
● "Understanding Soils and Composting" with Annie Novak (Founder and head farmer of the nation's first commercial rooftop farm, Eagle Rooftop Farm, in Brooklyn; manager of the Edible Academy at the New York Botanical Garden; founder and director of Growing Chefs, a field-to-fork food education program.)
● "Blacksmithing" with Marsha Sue Trattner (Owner and operator of She Weld, a Brooklyn Welding Studio.)
● "Passive House 101" with Steve Bluestone (Former developer/builder/property manager in NYC, Steve and his partners built Passive House structures, including some of the smallest and some of the largest. His Passive House certified home in Hillsdale was the first certified Passive House structure in all of North, Central, and South America that uses AAC -autoclaved aerated concrete blocks- for exterior structural walls.)
● "Podcasting 101" with Mat Zucker (Host of popular podcast Cidiot.)
● "Mushroom Walk with Catskill Fungi" with John Michelotti (Founder of Catskill Fungi, which produces triple-extracted health tinctures from fungi that are wild-crafted or grown on their family farm.)
● "Tree Walk" with Chris Roddick (Arborist and Foreman of Grounds at the Brooklyn Botanic Garden and author of The Tree Care Primer.)
● "Indigo Dyeing" with Diana Rupp (Owner of Make Workshop, author of SEW: Sew Everything Workshop and Embroider Everything Workshop, and dubbed the "youthful doyenne of sewing" by The New York Times.)
● "Raising Chickens in Your Backyard" with Jessica O'Neill (Co-Founder and Executive Director of Just Roots, an organization working at the intersection of local food, farms, and healthcare, and president of the Heath Agricultural Society.)
● "Regarding Cocktails for the Home Bartender" with Georgette Moger-Petraske (Cocktail and spirits journalist and author of best-selling memoir Sarah Petraske Regarding Cocktails.  Hosts weekly salon, Regarding Oysters, in her Manhattan brownstone teaching cocktail making, oyster shucking, and spirits pairing.)
● "Tending to Honeybees: a Holistic Approach" with Sha-Na Dahl (Co-owner of Lu-Na Blooms & herbs, where they grow medicinal herbs. She has been a steward of herbs and honeybees since 2011, and Sha-Na spent time at the Spikenard Farm Honeybee Sanctuary where she learned biodynamic farming and gardening methods and how intrinsically involved the honeybee is.)
Boxed lunches will be available for advance online pre-order for guests wishing to take in two or more events per day from the schedule. Selections will be offered by Roe-Jan Brewing Co. and Copake General Store.
MORE ABOUT THE HILLSDALE WORKSHOP ALLIANCE:
The Hillsdale Workshop Alliance includes Margaret Roach (garden columnist for "The New York Times"), Matthew White (owner of Hillsdale General Store and HGS Home Chef), Jenny Elliott and Luke Franco (organic flower farmers and owners of Tiny Hearts Flower Shop), Mark Halthusen (owner of Spring Hill Farm), Aubrey Lynch (Dean of Faculty and Student Affairs at American Ballet Theatre Jacqueline Kennedy Onassis School), Jim and Pam Carden (owners of Taconic Ridge Farm), Dana and Lindsay Bowen (owners of Sylvan Motor Lodge), and Lewis Cleale (owner of Nobletown Fiber Works).