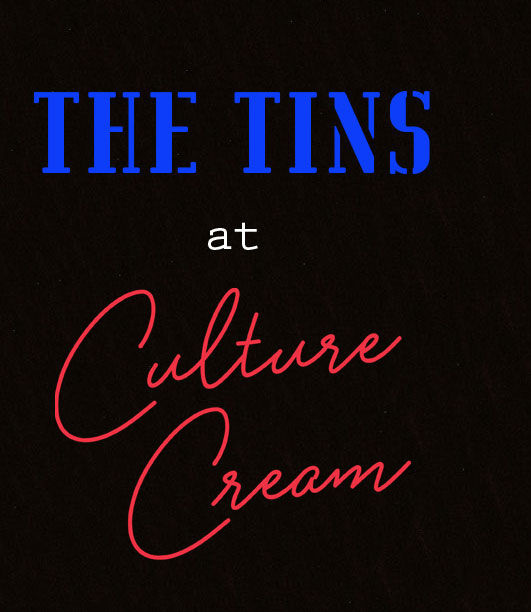 The Tins will be popping-up at Hudson's new local ice cream shop, Culture Cream on Warren Street
Hudson, NY, August 4: — Over the last year, two friends, Marcio Kelmanson and Guillermo Giraldo went on a mission to find the best tinned fish in the world and amplified them with fresh, seasonal ingredients to serve deep flavor in shared plates with perfect pairings.
Dishes like Mack Boats place Moroccan mackerel fillets over endives filled with labneh, mint, and angel hair chilies. Spiced Sardines in Tomato Sauce is a simple presentation of the tinned fish augmented with simple seasoning and fresh herbs — Features a secret tomato sauce recipe passed down over generations from the cannery owners in Portugal. In addition, the plump mussels from Galicia feature a uniquely creamy texture and intense flavor. They are served with radish, and an emulsion made with the oil from the tin. Dinner will be paired with a selection of crisp, racy wines to complement the umami-driven food.
Just as The Tins is readying for their first service in the Hudson Valley, tinned fish is gaining momentum stateside with recent stories on Vice, Nylon, Vogue, Eater, CNTraveler, among others.
About the founders:
G. Giraldo was a special projects editor at La Cucina Italiana magazine. He has worked at kitchens, restaurants, and bars like Blue Ribbon Brooklyn and Frescobaldi wine bar Firenze.
Marcio Kelmanson is a creative director for St Regis, Target, Verizon, Calia by Carrie, among others.
Pop-up details:
August Tue 17, Wed 18 / 6pm and 8.30 pm / Prix Fixe w/ drinks and Culture Cream treats inc. $75 pp. / Pre-paid booking via The-Tins.com
Culture Cream. 318 Warren St, Hudson, NY 12534.