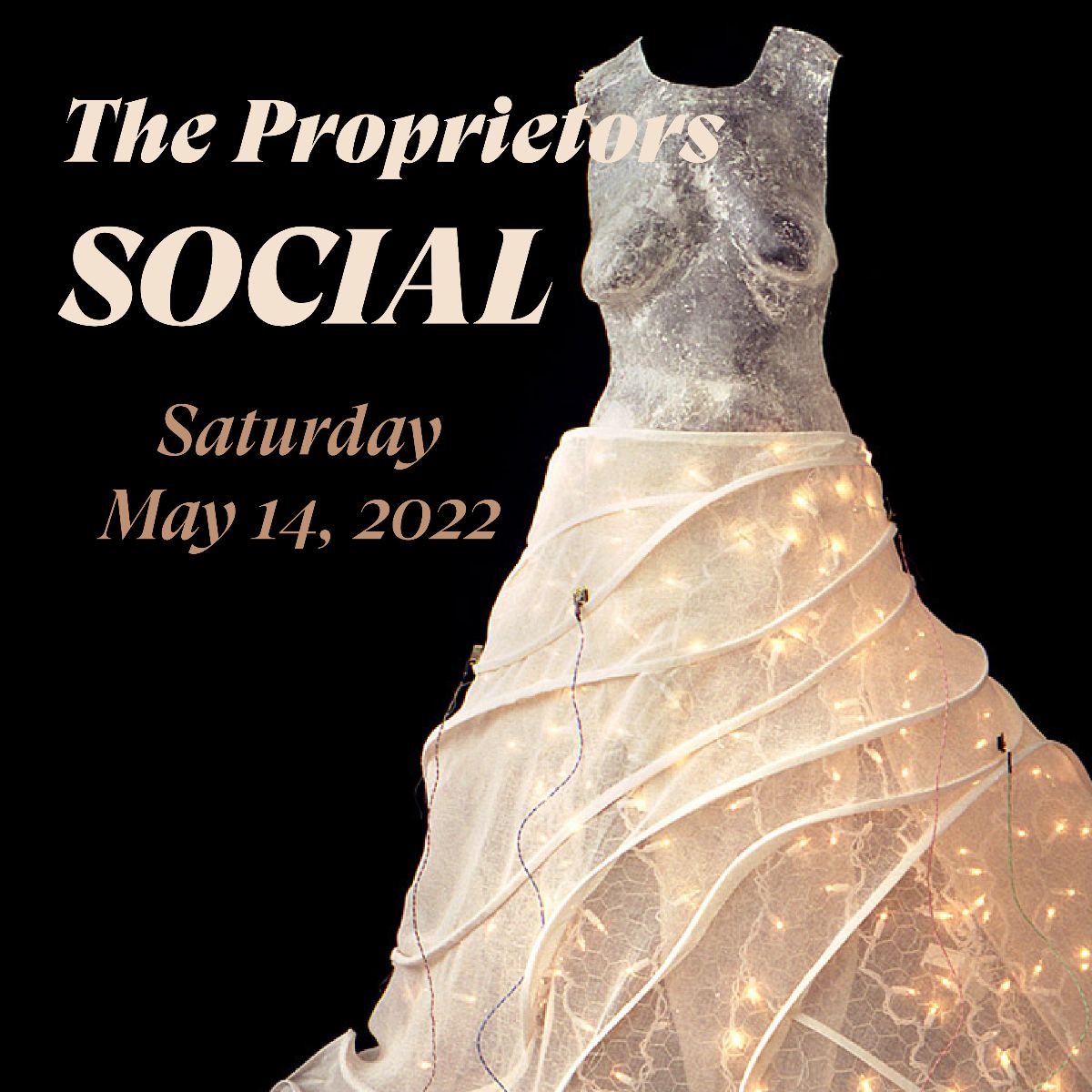 The Proprietors Social
The Proprietors Social features a new installation by BESSIE award-winning visual artist and costume designer Barbara Kilpatrick, and the premiere of a new dance work by Rashuan Mitchell and Silas RienerThe event marks the debut of Merchants Social, the newest restaurant by Chef John DeLucieOpen to all, event supports Hudson Hall's mission of offering quality cultural offerings for the entire community
Hudson Hall offers the best of local and regional culinary and creative talent at its annual fundraising gala, The Proprietors Social, on Saturday May 14 from 6pm.
Join us for a magical evening of the best of local and regional art, performance, and farm to table food, all to benefit Hudson Hall's mission of providing dynamic cultural programs for the whole community.
Grab a drink and wander amongst the ethereal forms of Barbara Kilpatrick's stunning exhibition Nearly Stationary before heading upstairs to catch premiere performances by Silas Riener + Rashaun Mitchell, or wander outside to a transformed City Hall Place for a fun street party vibe complete with live music and a raw bar courtesy of Merchants Social (debut opening!). Finally, the moveable feast takes you across the street to either Merchants Social or Swoon Kitchenbar for a delicious three course meal.  Tickets start at $150 for cocktails and $300 for dinner (limited capacity)Dress: Brilliantly! Taking place in multiple locations – outdoors on City Hall Place, indoors in Hudson Hall's galleries and grand performance hall, at Swoon Kitchenbar (340 Warren Street) and with the debut of Chef John DeLucie's new restaurant, Merchants Social (333 Warren Street) – guests will enjoy world class food, drinks, visual art and performance while supporting Hudson Hall's mission and work in the community. The independent artists and community organizations that make up our creative community are greater than the sum of their parts, providing jobs not just for artists, technicians, and administrators, but creating attractions that provide social and economic benefits. To celebrate their contributions, for every dinner ticket sold an artist or community collaborator will be invited to enjoy The Proprietors Social cocktail party and premiere performances. The evening commences with libations and hors d'oeuvres outdoors on City Hall Place and indoors in Hudson Hall's first floor galleries, where Barbara Kilpatrick's exhibition/installation Nearly Stationary: Performance and the Still Object will be on view. Upstairs in Hudson Hall's historic 1855 theater, guests can catch two gala premiere performances of a newly commissioned dance work conceived and designed by Kilpatrick and choreographed and performed by dancers Rashaun Mitchell and Silas Riener. The dancers will perform amid Kilpatrick's costumes as live musicians play John Cage's meditative String Quartet in Four Parts, the third of which provides the title for the work. The party then moves to Swoon Kitchenbar and Merchants Social to enjoy a three-course farm to table meal.  "We are so thrilled to be able to join forces with our talented neighbors to create a unique, fun, and delicious evening out for Hudson Hall's supporters and creative collaborators," says executive director, Tambra Dillon. "Indoors, outdoors, upstairs and down, food, art, dance, music – The Proprietors Social is a moveable feast for the senses, all to benefit Hudson Hall's mission of providing quality, accessible cultural programming for the entire community." Tickets start at $150 for cocktails and $300 for dinner and can be purchased online at hudsonhall.org or over the phone at (518) 822-1438.  Hudson Hall requires proof of vaccination to attend this event. View Hudson Hall's full COVID-19 Safety Policy at hudsonhall.org/visit.ABOUT MERCHANTS SOCIALWorking with local farms to showcase the bounty of the Hudson Valley, Merchants Social is the newest restaurant from Chef John DeLucie and partners. The restaurant debuts in May, with an adjacent butcher and fish shop to follow this summer. Taking its name with a nod to the history of this whaling and maritime river town, Merchants Social is located in the circa-1855 Italianate building at 333 Warren Street, which housed the restaurant Ca'Mea for the past 20 years. The Merchants' team has reinvented the restaurant space with bar and lounge, raw bar, open kitchen dining room and a beautiful, expanded backyard patio. The Hudson Valley-centric menu by Chef Kevin Rubis features purveyors and suppliers from across the region is set to make Merchants Social the latest must-dine hot spot of the sustainable food movement.ABOUT SWOON KITCHENBAROpened in 2004, Swoon Kitchenbar is one of the Hudson's most beloved neighborhood brasseries serving seasonal, local produce, meats, and products. Says the New York Times, "the food is startlingly fresh and beautifully presented and, despite its sophistication, tastes close to the earth."ABOUT NEARLY STATIONARYNearly Stationary is a two-part, multi-floor exhibition, installation and performance event conceived by BESSIE award-winning visual artist, Barbara Kilpatrick. Opening May 7 to June 12, 2022, and spanning 20 years of sculpture, drawings, photographs, and collaborations with contemporary dance, the first-floor gallery exhibition leads to a second-floor installation of Kilpatrick's costumes in Hudson Hall's historic 1855 theater. Central to the installation is a newly commissioned dance work created by Rashaun Mitchell + Silas Riener, who, in a series of fourteen "events" from May 14 to June 5, perform new choreography amid, and in dialogue with, Kilpatrick's costumes. Musicians will perform John Cage's meditative String Quartet in Four Parts, the third of which provides the title for the work. Also included in the program are two free talks – John Cage specialist James Pritchett on May 21 and a conversations with the collaborators on June 5.   For over twenty years, Barbara Kilpatrick has collaborated with contemporary choreographers, including Vicky Shick and Jodi Melnick to create sculptures, sets and costumes that integrate with the performances and its dancers.  Her solo exhibitions have included installations at The Kitchen, Dance Theater Workshop, Danspace Project at St Mark's Church, and the New Arts Program in Kutztown, Pennsylvania. In 2012, Kilpatrick's work Bearskin, a performance for puppets and movement artists, was presented at FIAF (French Institute / Alliance Française). Her photographs have appeared in The New York Times, Dance Magazine, and Village Voice.Rashaun Mitchell + Silas Riener are New York-based dance artists. Their work involves the building of collaborative worlds through improvisational techniques, digital technologies, and material construction. They met as dancers in the Merce Cunningham Dance Company and since 2010 they have created over 25 multidisciplinary dance works, including site-responsive installations, concert dances, gallery performances, and dances for film in venues such as the Brooklyn Academy of Music, Barbican Centre, REDCAT, The Walker Art Center, and MoMA/PS1. Throughout they have maintained a commitment to queer culture and aesthetics. Their partnership intentionally blurs authorship and maintains a deep commitment to collaboration with a diverse community of dancers, performers, artists, and cultural institutions.  Rashaun Mitchell is a Guggenheim Fellow (2014), Foundation for Contemporary Art grantee (2013), a New York Dance and Performance "Bessie" Awardee for both sustained achievement in the work of Merce Cunningham 2004-2012 (2011) and for "Outstanding Emerging Choreographer" (2012), and a Princess Grace Dance Fellowship Awardee (2007).Silas Riener is a graduate of Princeton University and NYU's Tisch School of the Arts. He is a Bessie Award-winning dancer, the recipient of Gibney's Dance-in-Process Residency Award (2015), and Baryshnikov Arts Center's Cage Cunningham Fellowship (2019).John Milton Cage Jr. (September 5, 1912 – August 12, 1992) was an American composer and music theorist. A pioneer of indeterminacy in music, electroacoustic music, and non-standard use of musical instruments, Cage was one of the leading figures of the post-war avant-garde. Critics have lauded him as one of the most influential composers of the 20th century. He was also instrumental in the development of modern dance, mostly through his association with choreographer Merce Cunningham, who was also Cage's romantic partner for most of their lives.