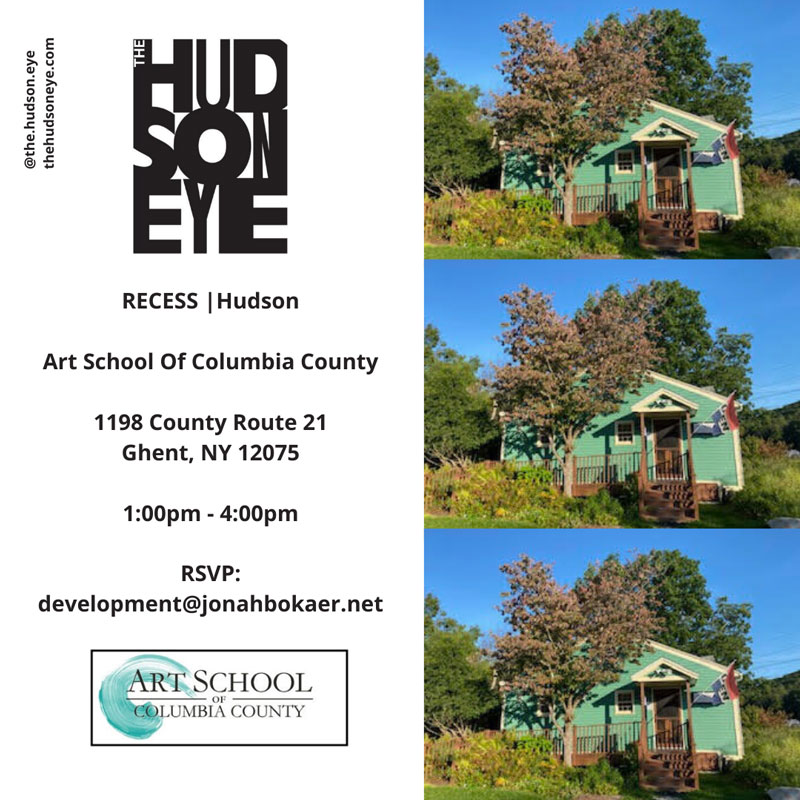 The Hudson Eye RECESS: Art School Of Columbia County
The year round work of curator Aaron Levi Garvey has grown a monthly series, RECESS, which partners with peer Columbia County organizations monthly each year. This lovely group also connects our Artists, Audiences, Patrons, Collectors, Boards, and Young Donors group in an organic way. It is also fun – and safe :).
This weekend we spotlight the intimate Art School Of Columbia County, and their new leadership, Nancy Rogers. A Tour with the leadership of the space is possible (refreshments served!), and also a Figure Drawing Workshop with a Live Dancer from Columbia County is more active participation for artists of all ages, media, and career levels – which brings our dance and artworld communities closer we hope.
Please feel free to RSVP via development@jonahbokaer.net, or for the active workshop signup, on our partner's website here. Artist supplies will be provided.
RECESS X Art School of Columbia County
Collaboration with The Hudson EyeTier #1: Figure Drawing Workshop with Live Dancer*development@jonahbokaer.netTier #2: Private Tour of CCSA, with Leadership, and Producers Circle Light Refreshments Served with each Tier Saturday, March 26th 1:00pm-4:00pm Art School of Columbia County 1198 County Route 21 Ghent, NY 12075 RSVP: 
(*For Workshop RSVP: $45 non-members, $41 members which includes Live Dancer Modeling Fee, and Artist Supplies)
Please join the Art School Of Columbia County x The Hudson Eye for RECESS, a relaxed afternoon of figure drawing in a studio setting (and private tours of ASCC). The human figure as muse has long inspired those who draw, sculpt and paint. In this afternoon workshop a live figure model, from the dance local community, will pose in the studio offering safe, live inspiration for practicing visual artists of all media. Short poses will lead into longer ones, offering opportunities for people to "warm up" in their visual ideation as artists. There will be emphasis placed on the figure taking poses that have its roots in dance, moving gracefully from one to pose to another, while also invoking Figure Drawing genre as it has existed in 2D and 3D traditions in the visual arts. Drawing and painting media are welcome. This workshop will be safely limited in size to ensure a creative and supportive environment for everyone.
Refreshments and hospitality are arranged by the Producers Circle of The Hudson Eye.https://artschoolofcolumbiacounty.org/