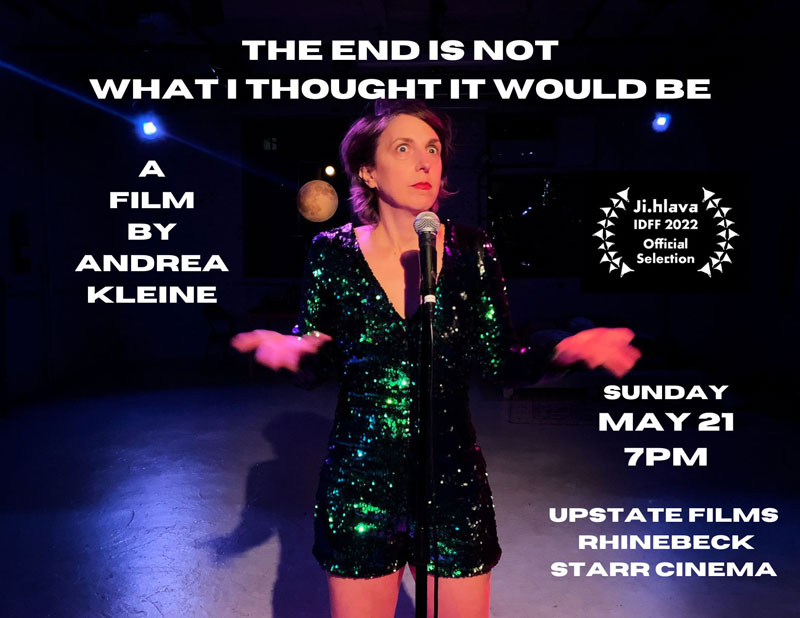 THE END IS NOT WHAT I THOUGHT IT WOULD BE
The End Is Not What I Thought It Would Be: a film by Andrea Kleine [Ji.hlava IDFF trailer] from Andrea Kleine on Vimeo.
Film Screening at Upstate Films in Rhinebeck, Sunday May 21 at 7pm
In December 2020, forced to cancel her theater project due to the Covid-19 pandemic, writer/director Andrea Kleine (along with composer Bobby Previte) moved into The Chocolate Factory Theater and lived in the shuttered New York City venue for two weeks with an air mattress, a toaster oven, a cooler of frozen Trader Joe's meals, and an inflatable kiddie pool to bathe in. Every night they performed on stage for no one. Completely unscripted, THE END IS NOT WHAT I THOUGHT IT WOULD BE is a hilarious and heartbreaking film about what it means to be a performer without an audience.
Andrea Kleine is a writer and a performance artist. Her recent works have been commissioned by New York Live Arts and The Chocolate Factory Theater, and her hybrid performances have been presented at many other venues in New York City since the 1990s. She is the author of the novels, CALF, a Publishers' Weekly Best Fiction Book of 2015; and EDEN, a finalist for a Publishing Triangle Award in LGBTQ fiction. Her work includes fiction, essays, performances, and, most recently, films. She is a five-time MacDowell fellow and a New York Foundation for the Arts fellow. She has been described as an "enigmatic and eccentric" (The New York Times), "brainy, allusive Downtown artist" (The Village Voice), whose work is "wry, poignant" (The New York Times), "something like genius" (ArtVoice).
Commissioned by The Chocolate Factory Theater and made possible by The New York State Council on the Arts with the support of the Office of the Governor and the New York State Legislature.