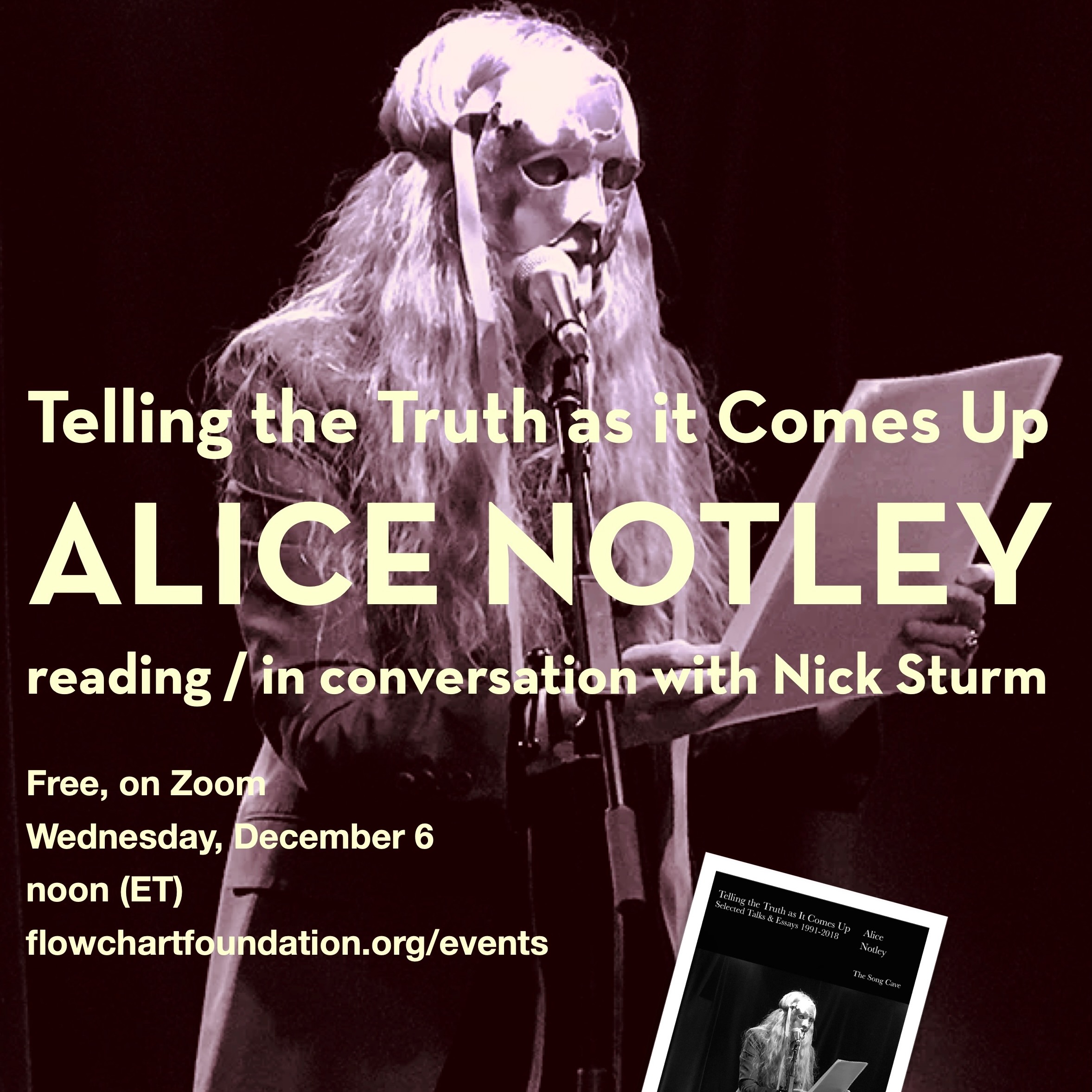 TELLING THE TRUTH AS IT COMES UP: Alice Notley & Nick Sturm—reading & talk
In celebration of the publication of Telling the Truth as It Comes Up: Selected Talks & Essays 1991-2018 (The Song Cave) by Alice Notley, please join us for this special virtual event to hear Notley read from the collection, and then be joined by editor and lecturer Nick Sturm. The two will be zooming live from Alice's appartment in Paris.
This new collection of essays by Notley offers a significant contribution to literature, reimagining the possibilities of writing in our time and the complicated business of how and why writers devote their lives to their craft. Whether she is writing about other poets—Ed Dorn, Allen Ginsberg, Homer, bpNichol, Douglas Oliver, or William Carlos Williams—noir fiction, the First Gulf War, dreams and what they're for, or giving us insight into her own work, Notley's observations are original, sobering, and always memorable. This collection often eschews the typical style of essay or lecture, resisting any categorization, and is consciously disobedient to academic structures in form. The results are thrilling new modes of thinking that may change the ways we read and write.
Alice Notley was born in Bisbee, Arizona in 1945 and grew up in Needles, California in the Mojave Desert. She was educated at the Needles public schools, Barnard College, and The Writers Workshop, University of Iowa. She has lived most extensively in Needles, in New York, and since 1992 in Paris, France. She is the author of numerous books of poetry, and of essays and talks on poetry, and has edited and co-edited books by Ted Berrigan and Douglas Oliver. She edited the magazine CHICAGO in the 70s and co-edited with Oliver the magazines SCARLET and Gare du Nord in the 90s. She is the recipient of the Los Angeles Times Book Award, the Griffin Prize, the Academy of American Poets' Lenore Marshall Prize, and the Poetry Foundation's Ruth Lilly Prize, a lifetime achievement award. Notley may be most widely known for her epic poem The Descent of Alette. Some more recent titles include Eurynome's Sandals, Benediction, Certain Magical Acts, and For the Ride. And now available are Early Works, composed of Notley's first four books along with a section of unpublished early poems; and the six-book epic, The Speak Angel Series. Notley is also a collagist and visual artist, and some of her artwork may be found in the book Runes and Chords. She is also the author of a new book of talks and essays called Telling the Truth as It Comes
Nick Sturm is a Lecturer in English at Georgia State University and Visiting Faculty in Creative Writing at Emory University. He is editor of Early Works by Alice Notley (Fonograf Editions, 2023) and co-editor of Get the Money!: Collected Prose, 1961-1983 by Ted Berrigan (City Lights, 2022). His work has been published at Poetry Foundation, The Brooklyn Rail, Jacket2, Chicago Review, ASAP/J, Women's Studies, and Post45. More information about his research, scholarship, and teaching can be found at nicksturm.com

Toward opening new possibilities for discovery, thought, connection, and joy, The Flow Chart Foundation explores poetry and the interrelationships of various art forms as guided by the legacy of gay American poet John Ashbery.
Poetry provides a powerful conduit for examining, questioning, and resisting the status quo. By featuring generative, exploratory work that defies simple consumption, we expand our ability to question, to speak, to think, to dream, to accomplish. The Flow Chart Foundation offers new ways to discover and enjoy poetry, showcasing contemporary artists from a diversity of cultural, ethnic, gender-identified, age, ability, economic, and aesthetic viewpoints. Our programs feature the work of artists who help us challenge assumed perceptions of ourselves, one another, and the world. We love artistic work often thought of as "challenging," and strive to offer inviting means for productively engaging with and enjoying it.
Through programs for both general and scholarly audiences that showcase innovative art by creators across disciplines, we feature new work that reflects and engages transformative values. We do so online, through our Flow Chart Space, and with partner organizations dedicated to serving our local community. We also celebrate Ashbery and his art as an inspirational and generative force, inviting engagement with his work through the Ashbery Resource Center, a special collection library and online resource that provides opportunities for deep exploration and scholarship.
The Flow Chart Foundation, Inc. is a 501(c)3 nonprofit organization raising funds to support its programs with contributions tax-deductible to the full extent provided by law.