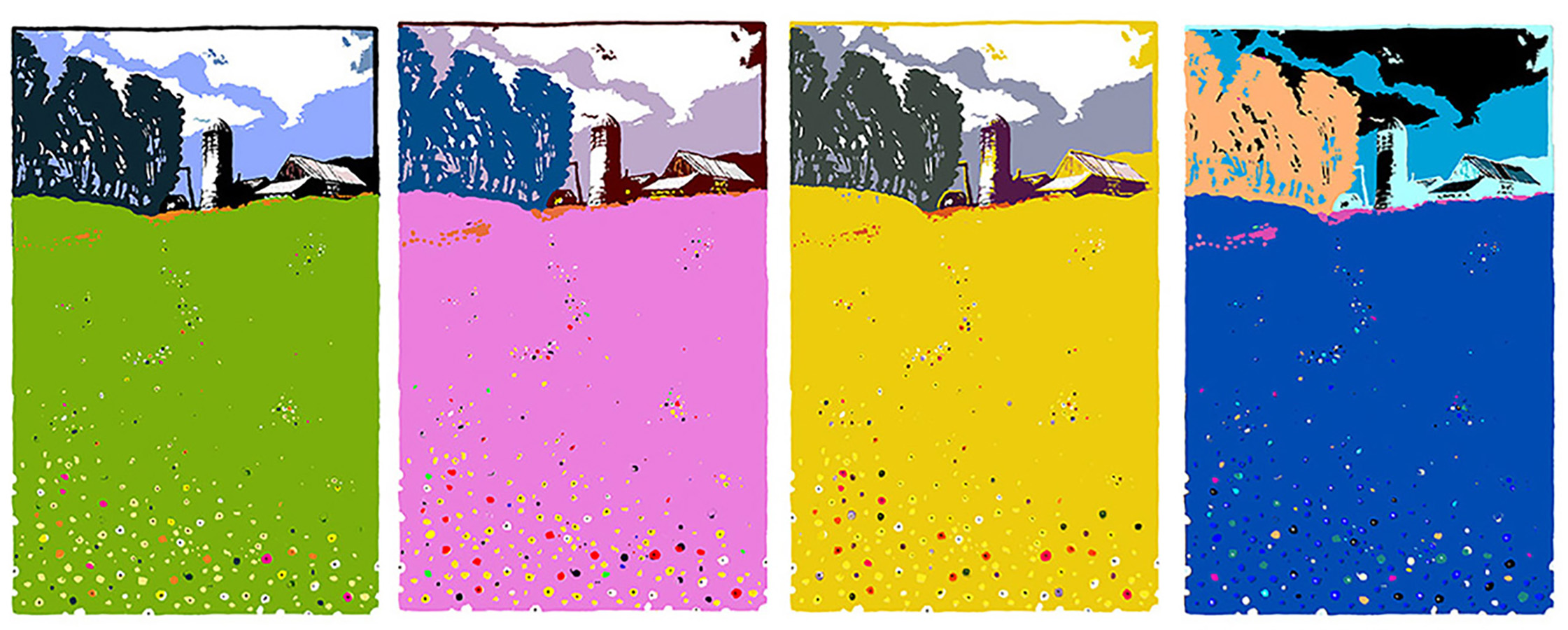 Stephan Marc Klein: "Berkshire Borderlands"
Stephan Marc Klein: "Berkshire Borderlands"
December 3 – December 26, 2021
510 Warren Street Gallery
510 Warren St., Hudson, NY
(518) 822-0510
510warrenstreetgallery.com
Hudson, NY – 510 Warren Street Gallery is happy to present the recent work of Stephan Marc Klein in a show of prints and watercolors titled "Berkshire Borderlands" beginning on Friday, December 3rd and continuing until Sunday, December 26th. On December 4th. the gallery will be welcoming visitors during Hudson's Winter Walk. Covid protections are practiced at 510 Warren Street Gallery.
Since he moved to Western Massachusetts four years ago, Stephan Marc Klein has been entranced by the rural landscapes of the Berkshires. Drawn to the endless permutations of barns, fields, flowers, roads and sky in this part of the world, his recent work is in part a visual rhapsody of the area. Klein has sketched in many forms of analog media throughout his life but, with the advent of the iPad and such programs as ProCreate, has recently become fascinated with the aesthetic tension generated in the borderlands between analog and digital processes, between the abstract and the representational, between unique works and reproduction. Through his work, Klein asks himself and his viewer, "What, in the age of digital manipulation, is an original?" His current show is mainly comprised of images that have resulted from working back and forth between the handmade and the computer generated. It also includes a series of what Klein calls "snapshot paintings," miniature hand-painted watercolors of Berkshire scenes and details—any of which might become the basis for a new work of art generated by the play between a pen on paper or a stylus on a screen.
Stephan Marc Klein, Ph.D. is an award-winning retired architect and professor of interior and museum exhibition design. He holds a Doctorate in Environmental Psychology. With this body of work, Klein explores the nature of borders, a liminal place with implied intention to cross through or forward, a felt state of impending action as we move across and within the landscapes he has created for this show.
Also on exhibit in December is the works of Morgan J. Burns, Ian Wilson Clyde, Trevor Hunter, Kate Knapp, John Lipkowitz, Nina Lipkowitz, Hannah Mandel, James Manning, Alice McGowan, Paul Neuckel, Anna Oliver, Marilyn Orner, Peggy Reeves, Kenneth Sahr, Doris Simon, and H. David Stein.