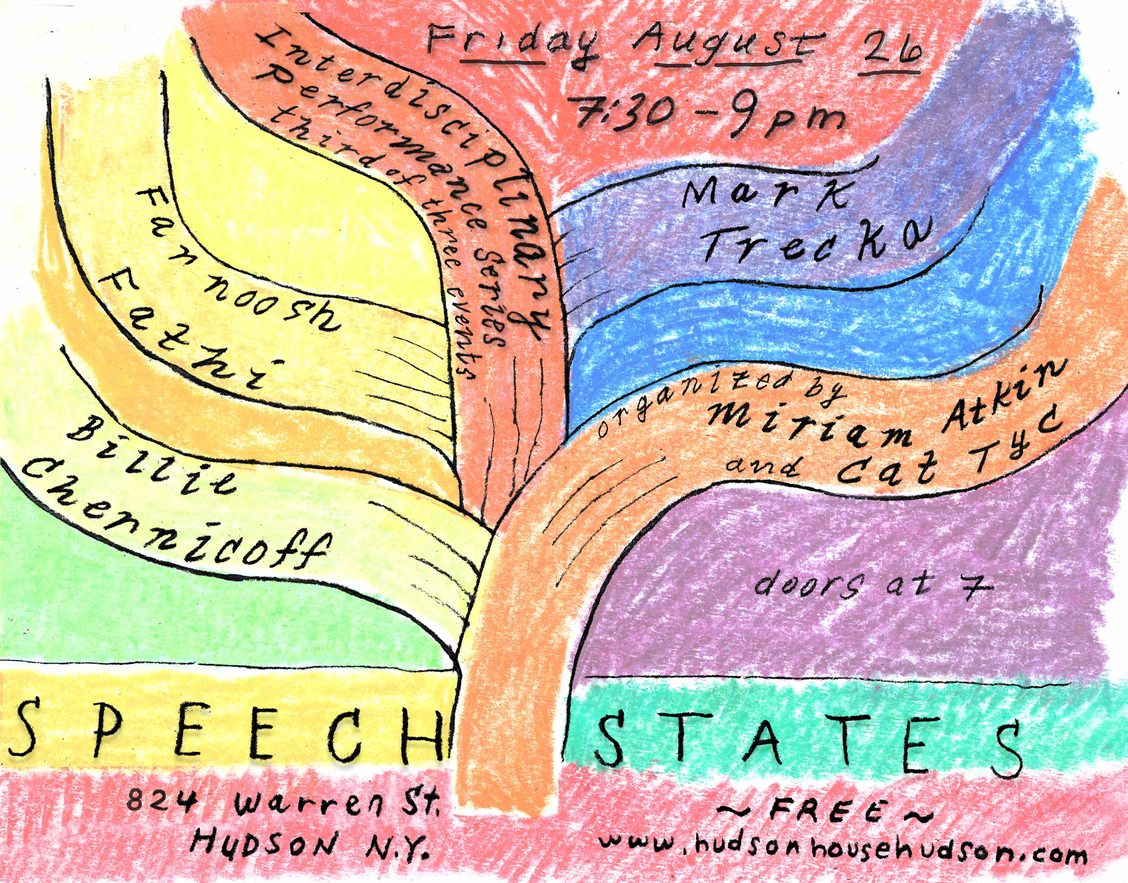 SPEECH | STATES
Friday, August 26, 7:30-9 pm doors at 7
refreshments to follow performances
Organized by Miriam Atkin and Cat Tyc
FREE!
Farnoosh Fathi is the author of Great Guns (Canarium, 2013), editor of Joan Murray: Drafts, Fragments, and Poems (NYRB Poets, 2018) and founder of the Young Artists Language and Devotion Alliance (YALDA). She lives in New York and has taught at The Poetry Project, Poets House, Columbia University and Stanford Online High School.
Billie Chernicoff was conceived in the Free Hanseatic City of Hamburg by a soldier and a ballerina, and born left-handed in Detroit. Now she lives in a blue house in the village of Catskill, New York, one block from the Hudson River. She is tending her fifth garden. Minor Secrets, to be released from Black Square Editions in 2022, is her fifth book of poetry.
https://caesuramag.org/posts/poetry-billie-chernicoff https://jacket2.org/commentary/billie-chernicoff-marian-alphabet https://www.columbapoetry.com/billiechernicoff.html
Mark Trecka is a Chicago-born writer, sound artist, singer, and activist. His work often utilizes intermedial techniques, engaging various juxtapositions of text and sound to explore both explicit and implied meaning.
Trecka's writing has appeared in the Los Angeles Review of Books, The New Inquiry, Salon, Vice, Medicine for a Nightmare, and elsewhere. He has collaborated with Susan Alcorn, Raven Chacon, Midwife, A-Y/dancers, Audra Wolowiec, Drekka, Walt McClements and others, and has presented workshops on intermedial sound art practices for Dia Art Foundation.
His third full-length solo recording, Implication (Whited Sepulchre Records) was released in October 2021 and was preceded by Acknowledgment in May 2021. Other solo recordings include Everything Falling Crosses Over (2019, Orphanology) and In Ellipsis Landscapes (2020, The Flenser).
In the first half of 2021, Trecka created new work for broadcast sound and in-chat text for Palestine's Radio alHara and an ongoing intertextual, intermedial sound collage broadcast for Radio Coyote, produced by artist Raven Chacon and supported by CCA Wattis Institute for Contemporary Arts. Archival episodes of this project are being rebroadcast by Radio alHara throughout 2021, while new episodes are presented on Radio Coyote, as now stewarded by Atomic Culture and supported by the Tulsa Artist Fellowship.
Trecka founded Pillars and Tongues in 2007 and toured and recorded with Dark Dark Dark from 2009 to 2014. He is the co-founder and lead organizer of the Beacon Prison Books Project, a volunteer-run solidarity program that provides free books to people incarcerated throughout New York State, where Trecka currently resides.
Flyer design by Jon Weary