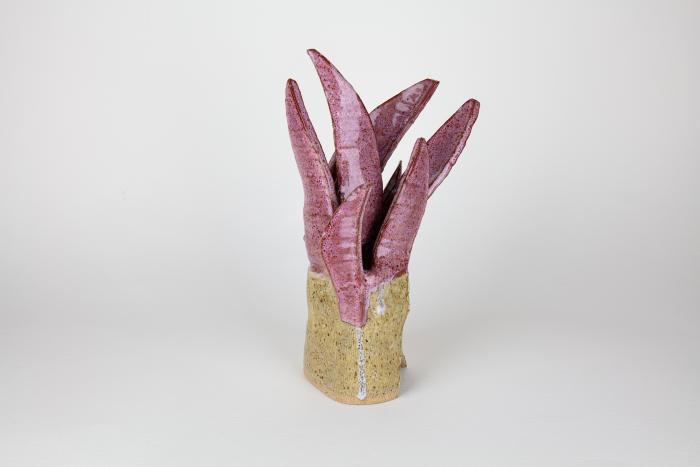 Shoots & Stars: Sarah Lutz & Rachelle Krieger – On View
Susan Eley Fine Art is pleased to present an exhibition of recent works by Rachelle Krieger and Sarah Lutz at its Upstate Gallery. Entitled Shoots & Stars, this two-person exhibition will be on view at SEFA Hudson from November 17 through December 31, 2022. There will be an opening reception on Saturday, November 19 from 5 to 7PM with the artists present. The practices of Krieger and Lutz are rooted in the landscapes around them. They observe, interpret and abstract naturalistic forms and colors into rich, vivid imagery.
In Shoots & Stars, Krieger will exhibit a number of new ceramics. The physical forms of these works are grouped into categories such as "Blossoms," "Husks" and "Shoots." Their lines and curves are drawn from Krieger's paintings. Begun during the pandemic, they were made in tandem with her series of paintings entitled "These In-Between Days." These ceramics are the artist's first explorations into the medium and are evolutions of her two-dimensional works. Displayed on pedestals and on shelves, Krieger's sculptures will be an organic and energetic interjection within the Gallery's unique architecture.
Lutz will present her recent mixed media paintings and works on paper, including monotype prints. Similarly inspired by her direct environments, Lutz chooses to zoom in: underwater scenes, tidal patterns, coral and more. The artist favors a specificity, crispness and clarity in her style and content. Exuberant and dense biological, cellular forms float throughout her paintings and prints, bumping into and merging with other amoebic constellations. Her scale spans from intimate wood panels to monumental canvases—all a microcosm for the world that surrounds us.
In conversation at SEFA Hudson, Krieger's sculptures of brambles echo the biotic forms within Lutz's paintings, for example. Together, the artists capture the vibrancy and changeability of nature—and its power to translate the personal, liminal facets of femininity, of life and of their constant transitions.