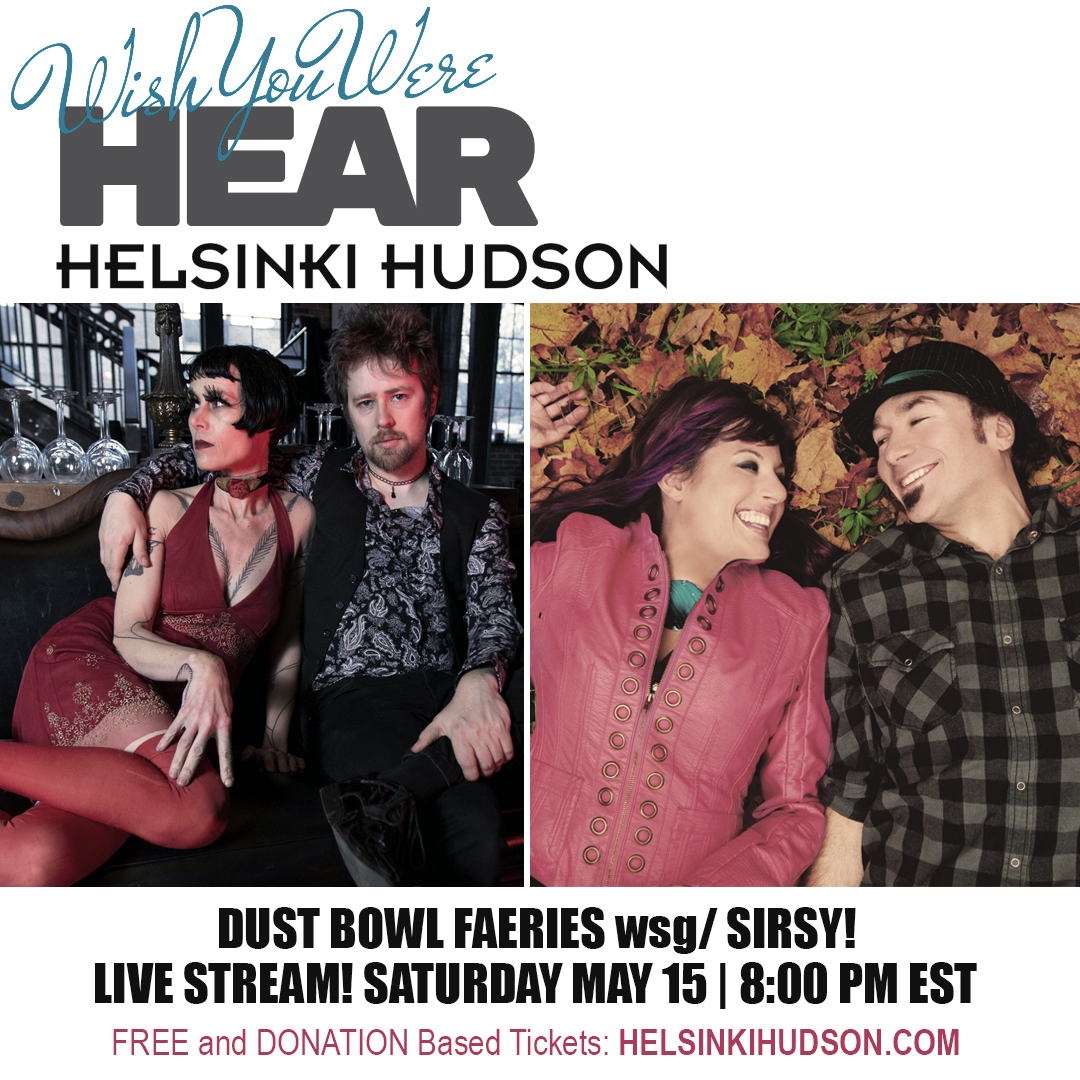 Season Finale, Wish You Were Hear at Club Helsinki w/Rare Acoustic Set by SIRSY!
SATURDAY MAY 15, 8pm
Join Club Helsinki Hudson & Dust Bowl Faeries (duet) for the Season Finale of the Wish You Were Hear virtual series featuring a rare acoustic set by Albany pop-rock duo SIRSY!
The FLOWER POWER Summer Break Show will stream live from Club Helsinki Hudson.
Yes, you need TICKETS, but they are free/donation (to support the musicians)
TICKETS: https://www.eventbrite.com/e/wish-you-were-hear-vii-tickets-152343725183?fbclid=IwAR05QlQ_IoyuV-SuUuZ-iNAKebkUKJSERLWwHjwFX1C_g-DPn7W4IhgTKx0
Hosted by the Dust Bowl Faeries dark carnival duet, the Flower Power show offers a colorful bouquet of sweet and sinister songs. The show streams from a private YouTube link, which is emailed to guests when they register for tickets.
ADVANCE TICKETS RECOMMENDED!
register for tickets at least 30 minutes before the show to allow time for any virtual complexities, and check the youtube link 10-15mins before the show to make sure everything is working!
After a series of winter and spring shows, May 15th will be the last of our Wish You Were Hear episodes until… we don't quite know when! Life is full of mysteries, especially these days, so we will let the sun and the moon and Hazel the Ram guide us on our future virtual journeys together. In the meantime, we are taking a summer break to enjoy the warm weather and outdoor live music concerts, and we hope that you will be able to do the same. Please stay in touch and check the Dust Bowl Faeries and Helsinki Hudson websites for information about upcoming shows, and remember to stay safe as we begin to socially re-connect.
SIRSY
http://www.sirsy.com
https://open.spotify.com/artist/4G1ItxIYGV6Zb7JjVWLxkb
Sirsy is a rock, pop, and soul duo from Upstate NY. They write honest songs, full of sing along melodies, with lots of heart and just the right amount of sass. "It's edgy-feel-good music that's fun to watch". (The Houston Music Blog).
The Boston Globe call SIRSY "the little band with the big sound." SXSW Music Blog says "SIRSY is NOT simply a two piece, the sound they make is a head scratching, WOW!" SIRSY is fronted by charismatic vocalist/ multi-instrumentalist Melanie Krahmer and Mel's husband guitarist Rich Libutti. It's clear they love what they do. And that love is contagious when you see them live. You can't help smiling along with them…
SIRSY has toured for a living for 15 years– playing 250 shows each year all over the US and Canada. They've shared stages with: Grace Potter, Maroon 5, Train, Cheap Trick, the Spindoctors, Collective Soul, Brandi Carlile, Shovels and Rope, Adam Ezra Group, & more. Their song 'Cannonball' was featured in Showtime's hit tv show "Shameless". Sirsy's songs have also been featured on PBS, HBO, and MTVu…
DUST BOWL FAERIES (duet)
Web: http://www.dustbowlfaeries.com
FB / IG: @dustbowlfaeries
the Dust Bowl Faeries duet (Ryder Cooley & Jon B. Woodin) will intrigue and enchant you with dark cabaret songs on accordion and acoustic guitar. Their eclectic repertoire of songs draw inspiration from circus, post-punk and Eastern European folk music. Hailing from the New York Hudson Valley, this dark carnival band was founded by inter-disciplinary artist Ryder Cooley and Hazel, a disembodied taxidermy ram who performs with the Faeries as their mascot-spirit animal. The ensemble recently released a new album, The Plague Garden, and their epic Candy Store video, produced and directed by Lisa M. Thomas
"The band creates sounds both mystical and ethereal and have drawn comparisons to Gogol Bordello, David Lynch, Dresden Dolls and Dead Can Dance" Stitched Sound 2020