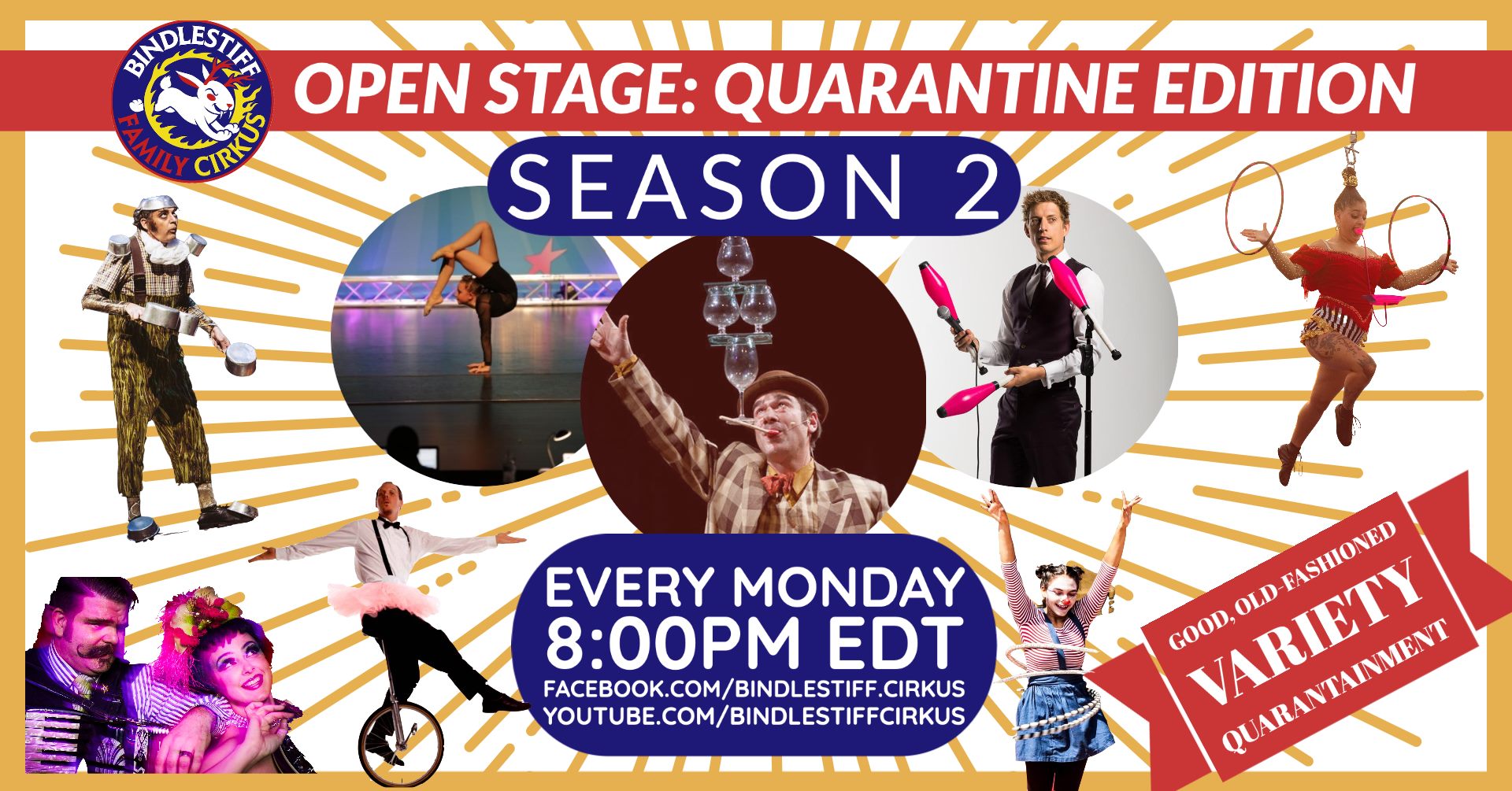 Season 2: Bindlestiff Open Stage Quarantine Edition
Get a first look at emerging talents around the world — all from the comfort of your own home!
Circus • Sideshow • Vaudeville • Burlesque • Dance • Music
Livestreamed right here on Facebook or on our YouTube channel!
⭐ facebook.com/Bindlestiff.Cirkus
⭐ youtube.com/bindlestiffcirkus
at 8:00pm ET / 6:00pm MT / 5:00pm PT every Monday night!
—
Bindlestiff Open Stage Variety Show is breaking out of the confines of a theater, and coming to you in the comfort of your own home. Jump online for a night of variety that will include much more than a simple song and dance.
Enjoy a non-stop variety show experience that may include world famous magicians, gender bending jugglers, circus legends, trained rats, novelty musicians, aerial artists, wire walkers, sideshow performers, puppeteers, living cartoons, physical comedy, contortionists, performance artists, and more.
Hosted by Keith "Bindlestiff" Nelson, the special Quarantine Edition deals with social distance and isolation head on. Using the tools of video conferencing, Bindlestiff's Open Stage will feature each act live in their own location.
The Quarantine Edition is free to all, however we will be "passing the hat" for contributions.
—
Also featuring circus historian, retired NYU professor, burlesque & circus performer, polar bear promoter, and Chairman of the Board of Bindlestiff, Hovey Burgess!
⭐ "Ask Hovey" your circus history questions at bindlestiff.org/askhovey.
He'll answer one lucky inquirer's inquiry every Monday night!
—
"Admission" is FREE, but a $12 suggested donation is encouraged. All donations directly support the artists and our organization!
? To make a donation:
• Venmo @BindlestiffFamilyCirkus
• Paypal paypal.me/bindlestiff
• Text CIRKUS to 44-321
• Visit http://tiny.cc/BFCdonate
—
IF YOU WOULD LIKE TO BE ON (the virtual) STAGE, visit http://bindlestiff.org/open-stage-variety-show-act-submission/.