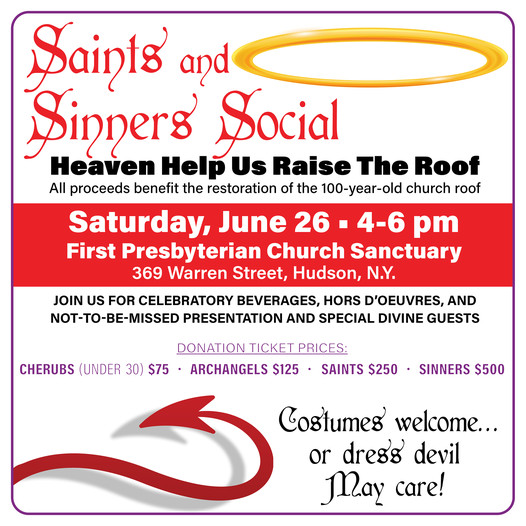 Saints and Sinners Social
First Presbyterian Church Raises the Roof with a Saints and Sinners Social: Heaven Help Us Raise the Roof
Please join OutHudson at this not to be missed event celebrating Pride Month and benefiting the restoration of the First Presbyterian Church.
Meet us in the Church Sanctuary on June 26, 4-6. We'll have a glass of Prosecco waiting for you.
The historic First Presbyterian Church in Hudson, NY, established in 1837, needs a facelift! Well, it actually needs a roof lift. So, we are hosting a Saints and Sinners Social, on June 26, 2021, from 4-6pm, to raise funds for a new roof.
For more than a century, this church has been a beacon to parishioners and community members alike. Now it needs our help. The church and supporters have embarked on a capital campaign to restore this historic structure, prioritizing replacing the 100-year-old roof.
The church has served as a community and social center, and today it houses the Greater Hudson Promise Neighborhood and our local radio station WGXC. It also serves as a center for arts and cultural events.
The First Presbyterian Church has been a pioneer for LGBTQ acceptance and celebration in church. FPC has welcomed our LGBTQ neighbors unconditionally. FPC was the first church in Hudson to officiate (ecclesiastical) same-sex marriages in the 1970s under the pastoral leadership of the Rev. Bob Criswell. In addition, Rev. Kathryn Beilke was the first woman clergy to officiate a same-sex marriage in a Hudson church. This legacy as an accepting community space must be preserved.
The June 26 event will feature bubbles and nibbles as well as special guests like local Hudson Valley-based drag performers, all part of a tantalizing group called Haus of Peculiar.
Are you a saint or a sinner or devil may care? Tell us with your festive costume! We'll see you there.