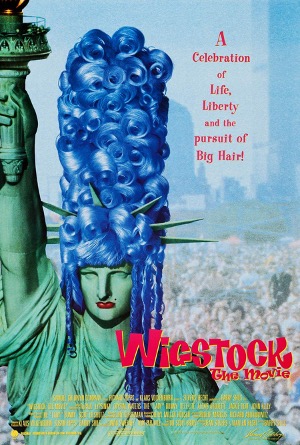 ROSENDALE THEATRE'S MUSIC FAN SERIES CELEBRATES LGBTQ PRIDE MONTH BY SCREENING CLASSIC 1995 CONCERT FILM
"WIGSTOCK: THE MOVIE" CHRONICLES THE NOTORIOUS
NEW YORK CITY DRAG AND MUSIC FESTIVAL;
ONE NIGHT ONLY: WED., JUNE 14 AT 7:00PM
 (Rosendale, NY) – Drag performances have been around since the beginning of theatre, most notably in the classic plays of William Shakespeare. But drag was never as fabulous as it was during the New York City extravaganza known as Wigstock, an annual day-long concert featuring music and wild theatrical performances.
That famed and notorious showcase of talent was captured in the exhilarating documentary WIGSTOCK: THE MOVIE. The film features performances by global sensations RuPaul, Deee-lite, Marc Almond, Lypsinka and Erasure, as well as acts by East Village legends Tabboo!, Mistress Formika, The Dueling Bankheads, Joey Arias and Wigstock co-creator and hostess Lady Bunny.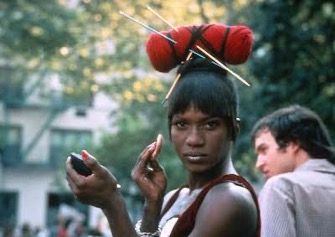 WIGSTOCK: THE MOVIE will screen one night only at the Rosendale Theatre on Wednesday, June 14, at 7:00 PM. The film is presented by Rosendale Theatre's Music Fan Series. The screening will celebrate LGBTQ Pride Month.
Tickets are $10 or $6 for members. Rosendale Theatre is at 408 Main Street, Rosendale, NY. Running time: 1 hr and 25 minutes. Rated R. Directed by Barry Shils. Masks are optional inside the theatre.
For this screening, the Music Fan Series committee has partnered with the Hudson Valley LGBTQ+ Community Center. A Center staff member will introduce the film.
The Center's mission is to support the LGBTQ+ community by promoting well-being, advocating for equity and opportunity, and celebrating our diverse experiences.
After the screening, there will be a Q&A with performance artist David Ilku, one half of The Dueling Bankheads and a performer at numerous Wigstock shows, starting with the first one in the mid-1980s.
Filmed during the 1993 Wigstock in Tompkins Square Park and the 1994 festival at the Christopher Street Pier, the movie includes interviews backstage with performers as they get dressed and made up. Performers Alexis Arquette and Jackie Beat serve as the tour guides for this mind-blowing experience.
As a safe, supportive environment based in Kingston, NY, the Hudson Valley LGBTQ+ Community Center provides services, programs, events, and professional resources to unite the lesbian, gay, bisexual, transgender, and queer/questioning community across lines of age, race, gender, and economics. Since our founding in 2005, our purpose has been to strengthen, support, and celebrate LGBTQ+ individuals, families, and groups in their efforts to achieve their fullest potential.
ABOUT THE MUSIC FAN SERIES
This film is presented by Rosendale Theatre's Music Fan Series and is part of an ongoing series of big-screen musical films and live concerts, where you can enjoy with people who love music just as much as you do! The Music Fan Series was launched July 4th weekend of 2014, when John Wackman co-organized the Music Invasion Weekend. The program consisted of A Hard Day's Night, Stop Making Sense, The Last Waltz, and Big Star: Nothing Can Hurt Me. To complement the event, the Rosendale Theatre lobby hosted an art exhibition titled: "50 Years of Classic LP Covers," drawn from local fan collections. Since then, a committee of music and film lovers has been curating the Music Fan Series at Rosendale Theatre, programming more than 80 films for appreciative audiences. They are widening that mission to include live concerts.
The Rosendale Theatre, located at 408 Main Street in Rosendale, NY, provides a dynamic forum for presenting and producing world-class films and performance, arts, and education programs. With an emphasis on supporting local and regional artists, the Rosendale Theatre Collective works together with other arts organizations to sustain diverse cultural activities and exchanges for a wide audience, enhancing the economic and business development in our community. rosendaletheatre.org.
++++++++++++++++++++++++++++++++++++++++++++++++++++++++++++++++++
CALENDAR LISTING: Wed, June 14, 7:00 pm. WIGSTOCK: THE MOVIE. 1995 documentary about the annual New York City music and drag celebration. Starring RuPaul, Erasure, Deee-lite and Marc Almond. Rated R. 85 min. $10 general/$6 members. Rosendale Theatre, 408 Main Street, Rosendale, NY. Order tickets online at https://www.rosendaletheatre.org/ Presented by the Music Fan Series.