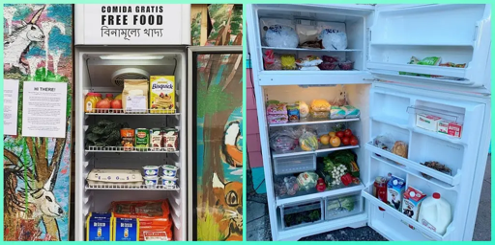 Prepared Food Drive for our Community Free Fridges!
The Hudson Area Library and the Hudson Community Free Fridges are excited to announce a Prepared Food Drive, November 15 – December 1! It has been one year since the Hudson Community Free Fridges opened their doors and, in that time, organizers have received feedback from fridge-users that they would like to see more prepared food inside.
In collaboration with the Hudson Area Library, the fridges are celebrating 365 days of free food with a Prepared Food Drive!
From November 15 to December 1, community members are invited to purchase meals from local restaurants and drop them off at the library, to be delivered to the fridges. Donors may also drop off the meals to the fridges themselves, but in that case, contents must be carefully labeled. Also, please note: food must be made in a certified kitchen (no homemade food).
For more information, visit: hudsonarealibrary.org/prepared-food-drive.
Drop-off Locations: Hudson Area Library and Hudson Community Free Fridges –
The fridges are located at Lil Deb's Oasis (747 Columbia St.) and Kitty's (60 S. Front St.)