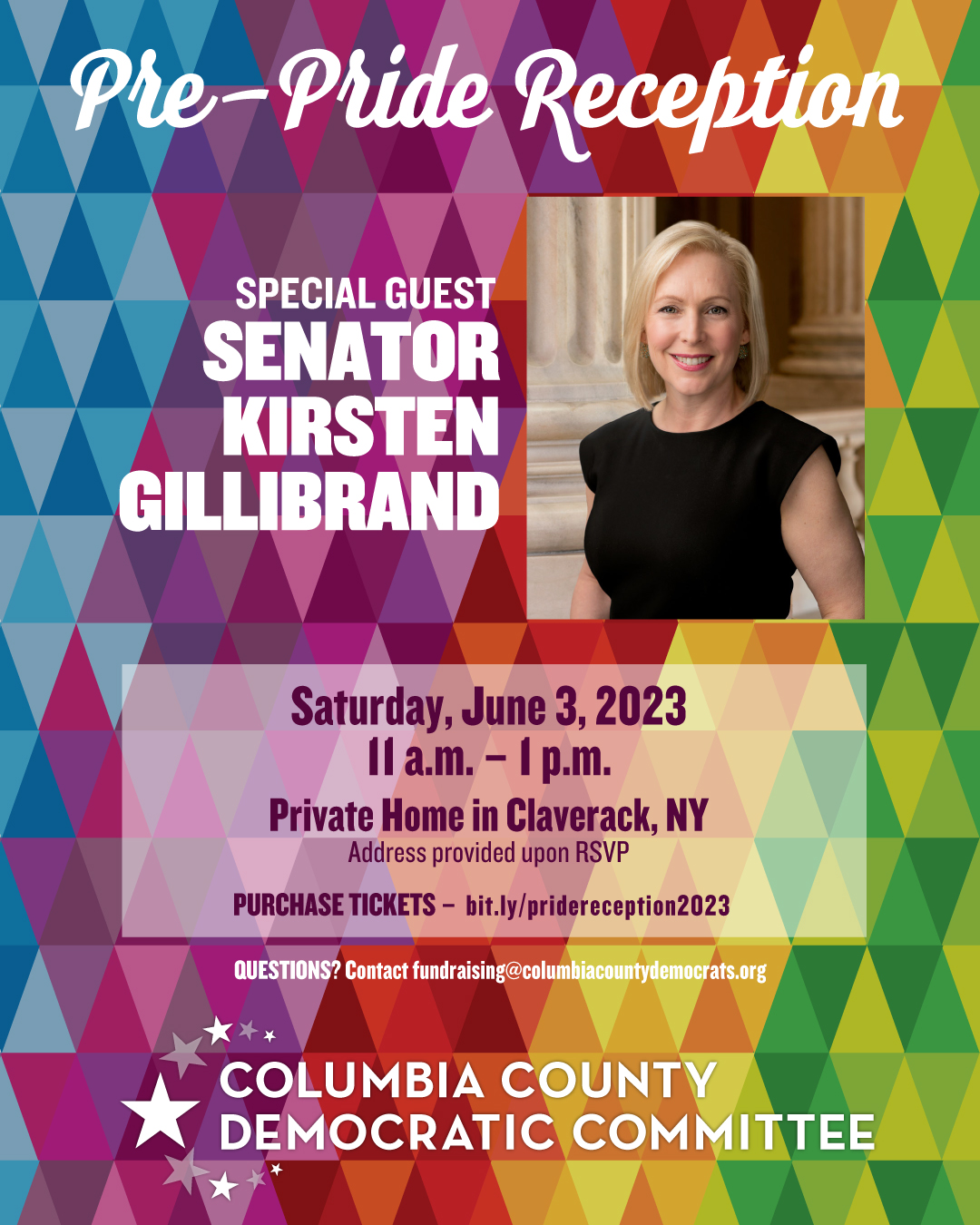 Pre-Pride Reception with Senator Kirsten Gillibrand
The Columbia County Democratic Committee cordially invites you to their Pre-Pride Reception with special guest Senator Kirsten Gillibrand
In addition, District Attorney candidate Chris Liberati-Conant, and other special guests, will be speaking on Saturday, June 3, in Claverack to raise money for the Columbia County Democrats, celebrate Pride, and have fun.
Don't wait to purchase your tickets at bit.ly/pridereception2023. Limited quantities available.
Your support will help all of our Columbia County Democratic candidates win in November!
And we will continue the celebrations after the Pre-Pride Reception by joining fellow Democrats, elected officials, and candidates as we march in the OutHudson Pride Parade!
Pre-Pride Reception
Saturday, June 3, 2023
11:00 a.m. – 1:00 p.m.
Purple Host* $5,000
Blue Host* $1,000
Green Host* $750
Yellow Ticket $500
Orange Ticket** $250
*Member of Host Committee
**Early Bird ticket; very limited quantities
Purchase your tickets at bit.ly/pridereception2023
To pay by check, please email fundraising@columbiacountydemocrats.org
Questions? Email fundraising@columbiacountydemocrats.org
All funds solicited in connection with this event are by the Columbia County Democratic Committee (CCDC), and not by Senator Kirsten Gillibrand.
Paid for by the CCDC. All monies benefit the CCDC. Contributions made to the CCDC are not tax deductible. Produced and printed in house. Special guests are subject to change based on availability. We cannot offer refunds due to changes in the program.