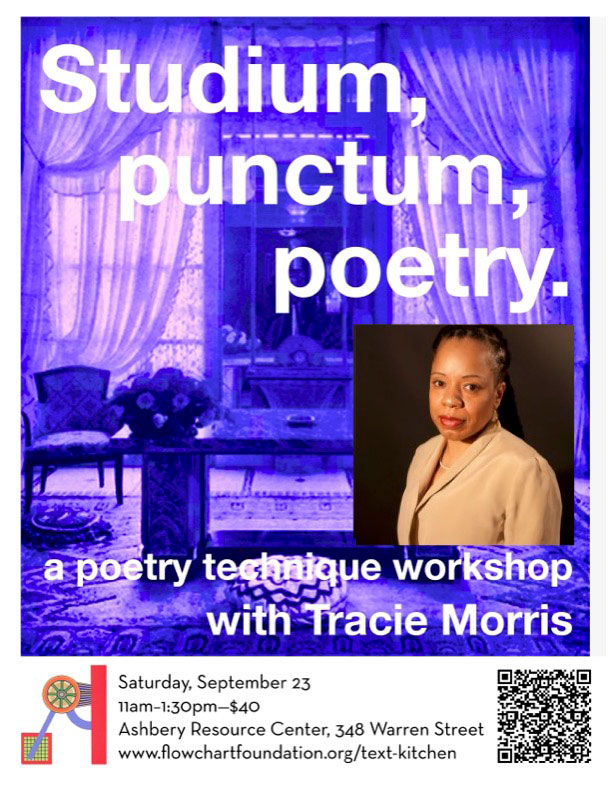 POETRY WORKSHOP WITH TRACIE MORRIS
Don't miss this very special Text Kitchen workshop, around a single table, surrounded by John Ashbery ephemera.
In this intimate in-person workshop, we will look at ways in which technique helps us to see the distinction between the poem subject and the heart of the matter. Sometimes these are the same thing in a poem, sometimes they're not. Either way we can fine-tune our understanding of the different roles each plays. We'll look at visual, musical and conceptual poetry approaches to explore, write and edit central themes in our work, emphasizing the short form.
__________
Tracie Morris is a poet, scholar and vocalist working in multiple media. She has performed extensively around the world. Her sound installations have been presented at numerous institutions, including the Drawing Center, Ronald Feldman Gallery, Thomas Hirschhorn's Gramsci Monument presented by Dia Art Foundation, Jamaica Center for Arts and Learning, Dia: Chelsea, The Kitchen Performance Space, The Museum of Modern Art, The Silent Barn, and The Whitney Biennial. Morris is the recipient of awards, fellowships, and grants for poetry and performance, including NYFA, Creative Capital, and the Guggenheim Foundation, as well MacDowell and Yaddo residencies. Her work has been extensively anthologized and recorded. Her most recent poetry collection, human/nature poems, was published by Litmus Press this year. Tracie is Professor of Poetry at the University of Iowa Writers Workshop, having first been their inaugural Distinguished Visiting Professor of Poetry.