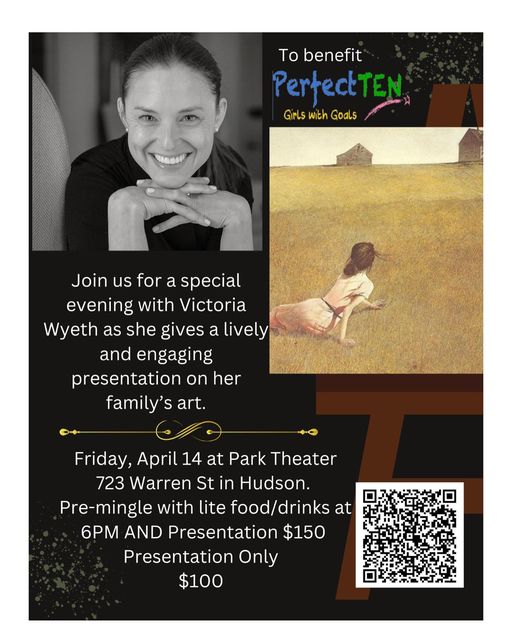 Perfect 10 Fundraiser with Victoria Wyeth
Victoria Wyeth, granddaughter of Andrew Wyeth, niece of Jamie Wyeth, and great-granddaughter of NC Wyeth, will give an audio/visual presentation on her family's artistic legacy in a benefit for Perfect Ten After School.
The event will take place at Park Theater, 723 Warren Street, Hudson, NY 12534 on Friday, April 14.
There will be a prepresentation mingle with Victoria with nibbles and drinks provided by local Hudson businesses from 6-6:45 PM. Victoria's approximately hour-long presentation begins at 7 PM. The Wyeth family name references an artistic dynasty spanning three generations of American painters. N.C. Wyeth was one of America's foremost illustrators in the 20th century. His images are well-known through treasured childhood books such as The Deerslayer, Robin Hood, The Last of The Mohicans, and Treasure Island. His son Andrew is remembered as one of the greatest artists of the 20th century. Primarily a realist painter, his favorite subjects were his surroundings whether in Maine or Chadds Ford, Pa. His son Jamie has continued in the realist approach of the Brandywine School tradition: painters who worked in the rural Brandywine River area of Delaware and Pennsylvania portraying its people and landscape.
Victoria Wyeth, as the only grandchild of Andrew Wyeth, spent most of her childhood into adulthood absorbing the stories of "Andy." She became heir to all of the tales behind the paintings and with this inside knowledge, has become a popular speaker worldwide on her family's legacy. According to Ms. Wyeth "I feel it's time the world saw the Andy in Andrew Wyeth. My hope is that people who love his work will now fall in love with him as a person – a husband, a father, and of course, a grandfather." Victoria's energetic and impassioned presentation brings a personal level to the art and her enthusiasm is infectious. A gifted photographer herself, Victoria has stepped into the role of preserver of the Wyeth Family name.
Perfect Ten After School is the only Hudson-based organization that offers daily afterschool programming for girls between the ages of 8-18. Our mission is to empower girls with the courage and skills to develop and achieve their personal goals and build an independent, self-supporting future in adulthood. We do this via programs that focus on tutoring and mentoring, food security, workshops, participation in community events, field trips, and so much more. We depend on the community's financial support to fund our programs. All proceeds from this event will benefit Perfect Ten. Thanks to Victoria for her pro-bono participation as well as Park Theater for the donation of the use of their facilities. A pre-event mingle, with beverages and hors d'oeuvres will begin at 6 PM along with the opportunity to talk with Victoria. Her presentation begins at 7 PM and will last approximately an hour.
Capacity is limited with seats for 50.
Pre-presentation Mingle AND Presentation: $150
Presentation Only: $100
Tickets are available at: https://donorbox.org/victoria-wyeth-1