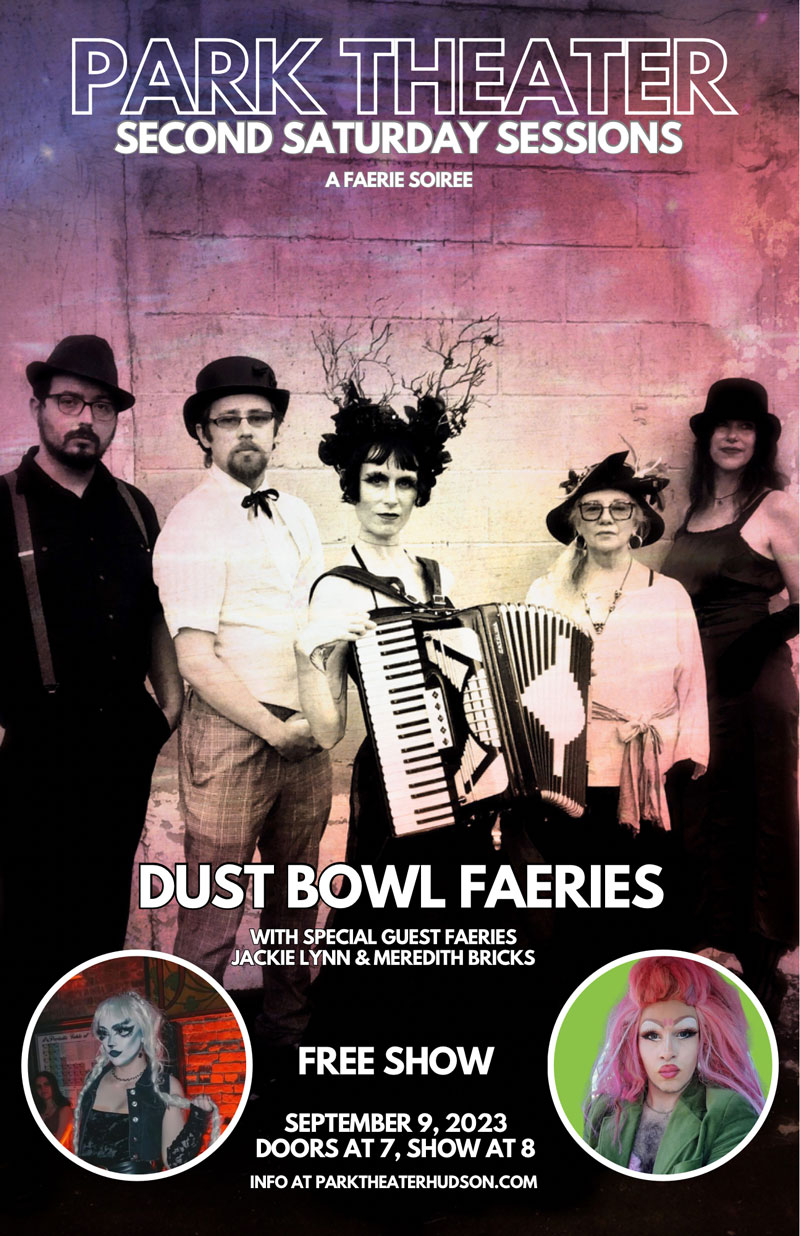 Park Theater: Second Saturday Sessions: Dust Bowl Faeries with Jackie Lynn and Meredith Bricks
Summer's End Faerie Soiree: Dust Bowl Faeries & Friends at Park Theater Hudson with faerie drag performances by Meredith Bricks & Jackie Lynn. Saturday September 9th, doors 7pm, show 8pm.
Saturday September 9th dark carnival music and magical happenings await you at the historic Park Theater Hudson on upper Warren St. As summer fades into fall, join Dust Bowl Faeries for a Summer's End Faerie Soiree. Come early and save a seat, enjoy a special faerie cocktail at the bar. Faerie/masquerade costumes & dancing encouraged! HEARSULA the pink Teenage Euthanasia hearse will be showing videos from a pop-up coffin TV screen before the show.
Park Theater Hudson
723 Warren St. Hudson NY
Doors 7pm, Music 8pm
https://www.parktheaterhudson.com/
http://www.dustbowlfaeries.com
Dust Bowl Faeries, dark carnival dream music
"You can almost smell the gas lamps in the street & the absinthe being poured." Americana Highway
A faerie-tale fusion of dark cabaret, delirious polka and gothic spaghetti western music, Dust Bowl Faeries is a dark-carnival band from the New York Hudson Valley. The band's eclectic repertoire of songs draw inspiration from circus music, murder ballads and Eastern European folk tunes. Accordion, singing saw and acoustic guitar combine to create the Dust Bowl Faeries otherworldly sound. The band was founded by Ryder Cooley (faerie queen) and her taxidermy spirit animal, Hazel the Ram. Ryder and Hazel are joined by Jon B. Woodin (rocket faerie), Liz LoGiudice (river faerie), Andrew Stein (time faerie) & Rubie LaRue (feisty faerie).